Description
Better Uptime is my go-to tool for website or device monitoring. Having worked as a network engineer in the past, I have a full understanding of the features Better Uptime offers. If you're a small or medium business or a website owner that manages multiple websites then getting this tool is a no brainer. Here's a list of all the features Better Uptime offers (since publishing this article – they are constantly releasing new features so make sure you check out their website):
Alerting
E-mail alerts
Slack, MS Teams
Phone call alerts
SMS
Push notifications (iOS & Android)
Zapier
Webhooks
Incident management
Second by second incident timeline
Smart incident merging
Post-mortems
On-call calendar & scheduling
Comments & Collaboration
Advanced incident escalation rules
Manually triggered incidents (Slack & Web)
On-call calendar ICS export
Google & Outlook Calendar integration
Uptime monitoring
HTTP(s) keyword checks
Screenshots & error logs
Multi-location & Geo-specific checks
Multi-step incident verification
Heartbeat monitoring
SSL monitoring
Ping
TLD expiration monitoring
TCP/UDP port monitoring
POP3/IMAP/SMTP
DNS server monitoring
Status pages
Custom sub-domain with HTTP(s)
Customizable design
Public status subscriptions (E-mail & API)
Google Analytics pixel
Google Search opt-out
Password-protected status page
Embeddable system status notice
Integrations
Restful HTTP API
Heroku
E-mail incidents
Datadog
New Relic
Grafana
Prometheus
Splunk On-Call (VictorOps)
Zabbix
AWS Cloudwatch
Google Cloud
Microsoft Azure
Reporting & Analytics
Historical uptime & SLA
Incident cause synthesis
Team member-based segmentation
Security & Privacy
GDPR-compliant
Two-Factor Authentication
Role Based Access Control
Multiple Teams
Single Sign On
Audit Logs
Customer Support & Success
E-mail Support
Phone Support
Product Strategy Session
Dedicated Customer Success Manager
Custom SLA
Now, if you're not very technical then don't worry, Better Uptime is very easy to use and their support time will be able to help you and guide you through the entire onboarding process. A bit thumbs up for the support team.
RELATED ARTICLES
Here's a list of articles I've written regarding this tool:
PRICINGS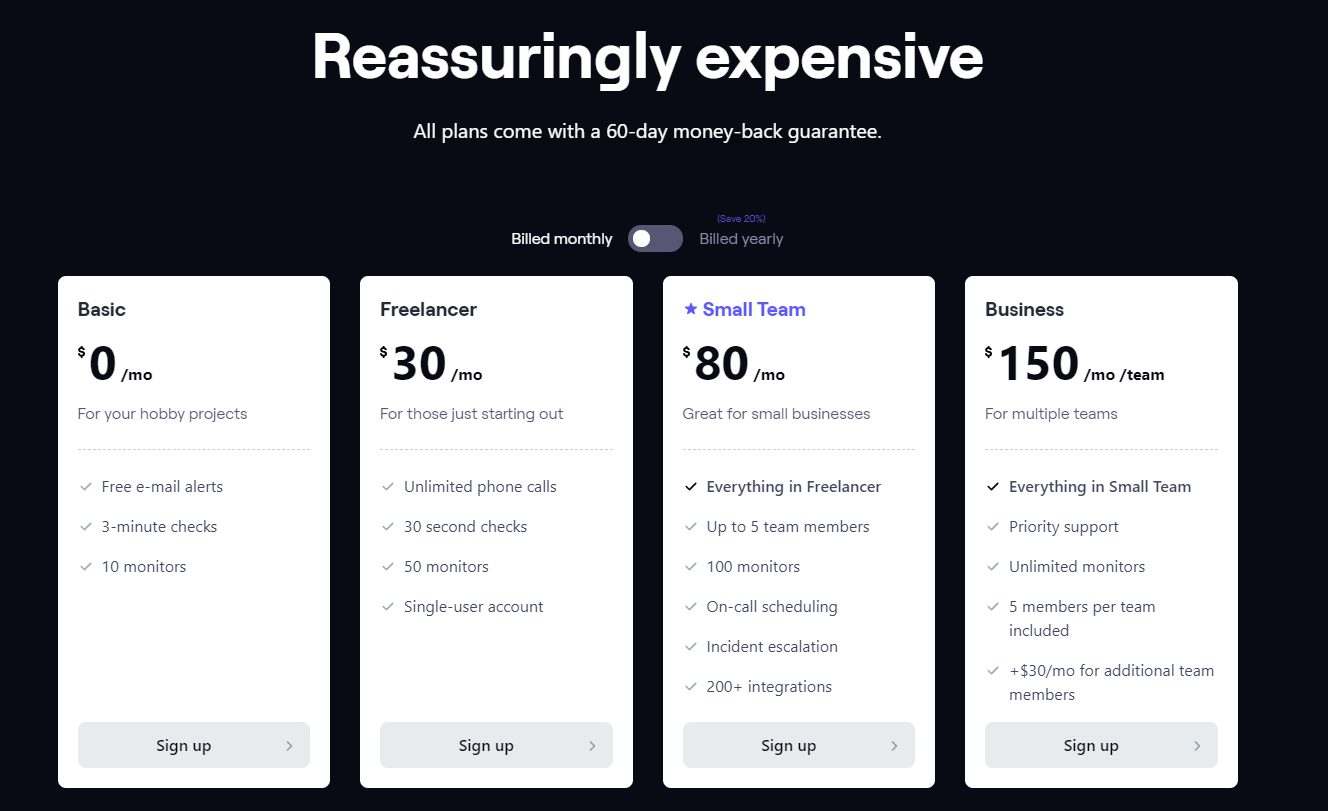 BASIC $0/month
Free e-mail alerts
3-minute checks
10 monitors
This should be sufficient if you just need to monitor several websites and don't need all the additional features. For a business owner who just has 1 website, you can use this. If you need the additional features then upgrade to one of the below plans.
Freelancer $30/month
Unlimited phone calls
30 second checks
50 monitors
Single-user account
Small Team $80/month
Everything in Freelancer
Up to 5 team members
100 monitors
On-call scheduling
Incident escalation
200+ integrations
Business $150 /mo/ team
Everything in Small Team
Priority support
Unlimited monitors
5 members per team included
+$30/mo for additional team members

If this article helped you in any way and you want to show your appreciation, I am more than happy to receive donations through PayPal. This will help me maintain and improve this website so I can help more people out there. Thank you for your help.
HELP OTHERS AND SHARE THIS ARTICLE
LEAVE A COMMENT