Description
Invideo is the platform for amateur and professional video creators. With a library of 65 million free videos and 12 million royalty free images, InVideo enables you to make professional videos from premium templates, images and music.
This online video editor makes it easy to make a professional-quality video for any occasion. You'll get an amazing video without having to worry about creating the video from scratch. Invideo comes with quite a number of templates so you can easily start creating the perfect video. I have been using Invideo for creating marketing videos and Youtube intro videos. If you need a tool to create quick and professional videos, then Invideo is the tool you should use.
RELATED ARTICLES
Here's a list of articles I've written regarding this video editing tool:
PRICINGS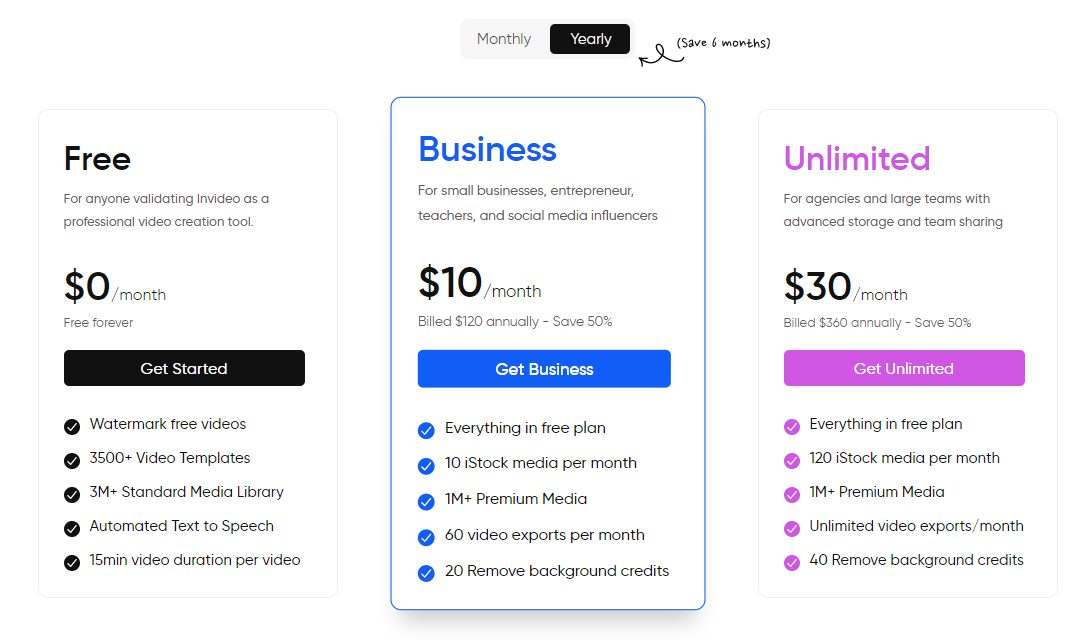 The FREE account is for anyone validating Invideo as a professional video creation tool. The free tier includes the following:
Watermark free videos
3500+ Video Templates
3M+ Standard Media Library
Automated Text to Speech
15min video duration per video
You can upgrade the account to the BUSINESS or the UNLIMITED plan.
The business costs $10/month (Billed $120 annually – Save 50%)
Everything in free plan
10 iStock media per month
1M+ Premium Media
60 video exports per month
20 Remove background credits
The Unlimited plan costs $30/month (Billed $360 annually – Save 50%)
Everything in free plan
120 iStock media per month
1M+ Premium Media
Unlimited video exports/month
40 Remove background credits

If this article helped you in any way and you want to show your appreciation, I am more than happy to receive donations through PayPal. This will help me maintain and improve this website so I can help more people out there. Thank you for your help.
HELP OTHERS AND SHARE THIS ARTICLE
LEAVE A COMMENT

I am an entrepreneur based in Sydney Australia. I was born in Vietnam, grew up in Italy and currently residing in Australia. I started my first business venture Advertise Me from a random idea and have never looked back since. My passion is in the digital space, affiliate marketing, fitness and I launched several digital products. You will find these on the portfolio page.
I've decided to change from a Vegetarian to a Vegan diet and started a website called Veggie Meals.
I started this blog so I could leave a digital footprint of my random thoughts, ideas and life in general.
If any of the articles helped you in any way, please donate. Thank you for your help.
Affiliate Compensated: there are some articles with links to products or services that I may receive a commission.