Our fitness training group decided to start a 30-day burpee challenge last month and I finally completed it. I did something similar back in November 2017 and you read about it in this article: November Burpee Challenge
The challenge consisted of doing daily burpees (starting at 5 burpees a day and increasing it by 5 every day) and on the 7th day there is a rest day to either rest or catch up. I tried performing the strict (as best as I could but at times it did get a bit sloppy) burpees with push-ups. I still did this burpees challenge along with my daily 5 KM runs and zoom workouts. So yes 3 different exercise workouts per day.
Here's the chart I created which details the number of burpees to perform on a daily basis. This chart was sponsored by Fitness Mania – the online shopping marketplace store for fitness.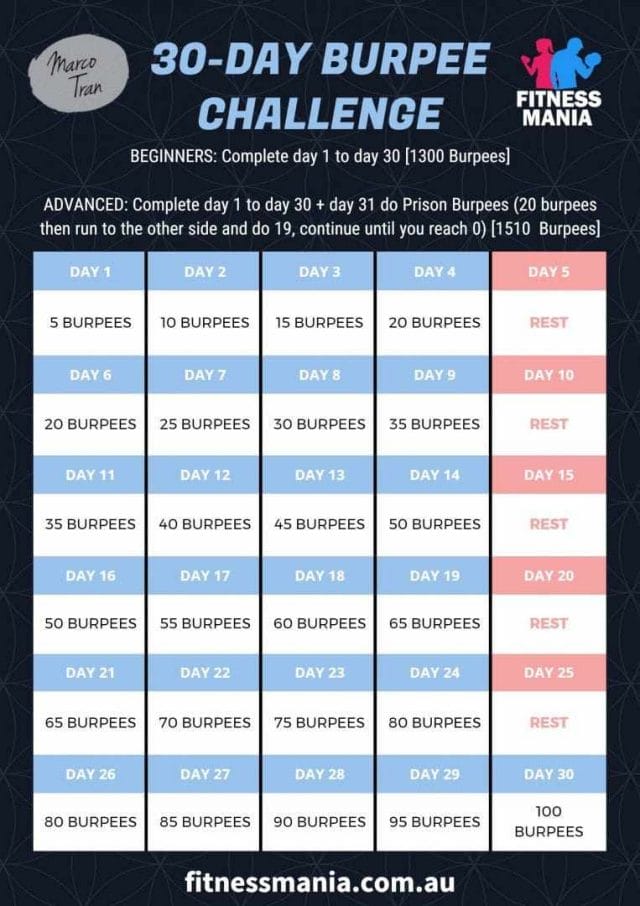 The total number of burpees from the 30-day challenge will be 1300, which includes the 5 rest days. The last day is the hardest as it's 100 burpees and you will be obviously sore from the previous days' burpees.
As you can see from the chart, there is also the advanced portion of the challenge where on day 31 you do the prison burpees. This involves starting with 20 burpees on one side of the room, then run across the other side and do 19, then run back and keep going until you reach 0. It took me roughly 20:24 to complete the prison burpees. In total, you will end up doing 210 burpees just for this exercise and if you can do this below 20 minutes then you can claim to be the hardest man in the yard!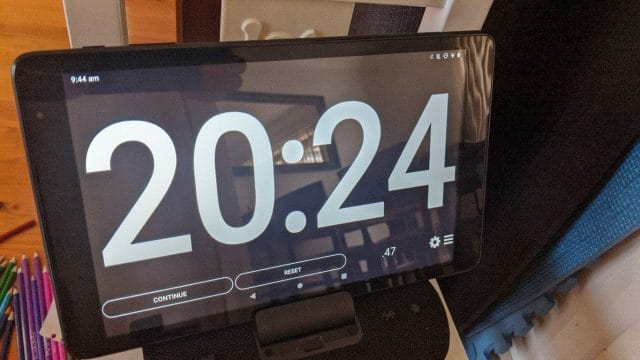 Also, since there were rest days in the 30 Day Burpee challenge I decided to continue and do another 5 days of burpees (to replace the rest days). I've managed to complete it so now I'm on day 37 (130 burpees). So the beast mode burpee challenge that I created for myself is to see if I can do the 60 days burpee challenge, which means adding an extra 5 burpees per day and with no rest. In total, over the 60 days, you will end up doing 6585 burpees. That's a lot of burpees and I'm not sure which day I will throw the towel and give up.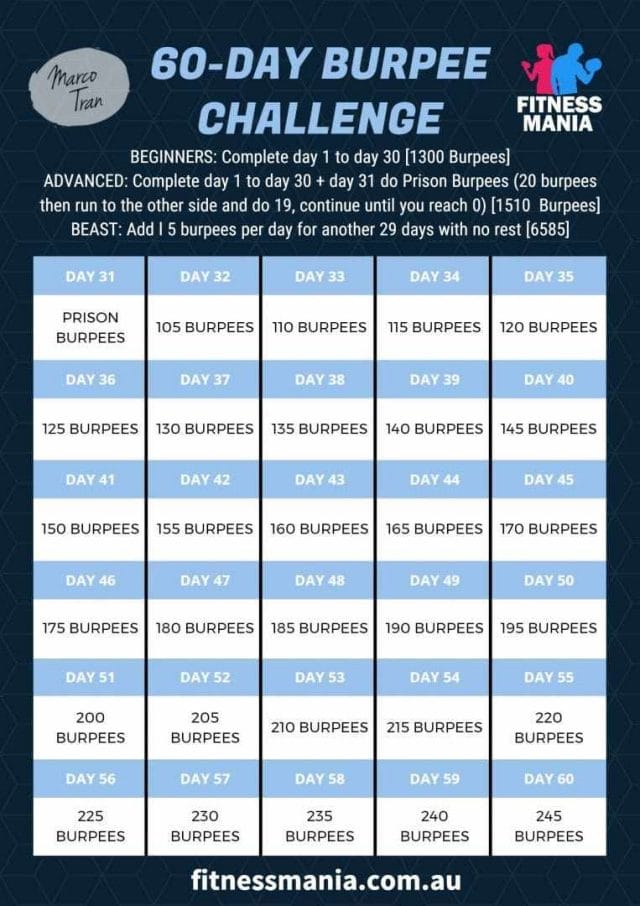 Here are a few tips that I learnt from doing this challenge. Apply them to your own challenge if you need them:
drink plenty of water
stretch before and after the burpees
break up the total number of burpees into sets e.g 10 or 5 (worse case)
take longer breaks between sets for the last week of burpees
keep the movement strict
find a way to connect the body and mind
don't give up and have the discipline to keep doing it every day even if you're sore
Give the 30 days burpee challenge a go and if you feel good and not sore then continue to the 60 days burpee challenge. Don't forget the prison burpees on day 31 and good luck. Let me know in the comments how you went.

If this article helped you in any way and you want to show your appreciation, I am more than happy to receive donations through PayPal. This will help me maintain and improve this website so I can help more people out there. Thank you for your help.
HELP OTHERS AND SHARE THIS ARTICLE
LEAVE A COMMENT

I am an entrepreneur based in Sydney Australia. I was born in Vietnam, grew up in Italy and currently residing in Australia. I started my first business venture Advertise Me from a random idea and have never looked back since. My passion is in the digital space, affiliate marketing, fitness and I launched several digital products. You will find these on the portfolio page.
I've decided to change from a Vegetarian to a Vegan diet and started a website called Veggie Meals.
I started this blog so I could leave a digital footprint of my random thoughts, ideas and life in general.
If any of the articles helped you in any way, please donate. Thank you for your help.
Affiliate Compensated: there are some articles with links to products or services that I may receive a commission.