I've finally managed to monetise my Skopioeye YouTube channel. I first started the channel back in 2012 and at the time there was no such thing as YouTube channel requirements – ie 1000 subscribers and 4000 hours of watch time in 12 months. There are also some new ones now such as having the account using 2-factor authentication and making sure you don't have any community copyright strikes.
Now after 126 YouTube videos and almost 10 years of being on YouTube, I'm now able to monetise again. In the past 2 years, I've been more consistent with publishing a YouTube video every week. I believe that is the key to increasing subscribers and also watching hours. If you think or have read that just publishing a couple of videos on a YouTube channel can get you this then unfortunately the hard truth is you CAN'T (unless your videos go viral or if you're already an established YouTuber with a primary account then yes you CAN).
Getting the YouTube channel monetised was one of my goals for this year and I'm pretty stoked that I was able to achieve this just before the year ended. You can read my 2021 goals here: GOALS FOR 2021
When the channel hit the 4000 watch hours, I received the email that I could Apply for monetisation on the 18th December 2021. If you selected Notify Me When I'm eligible you will receive an email with the subject Apply for monetization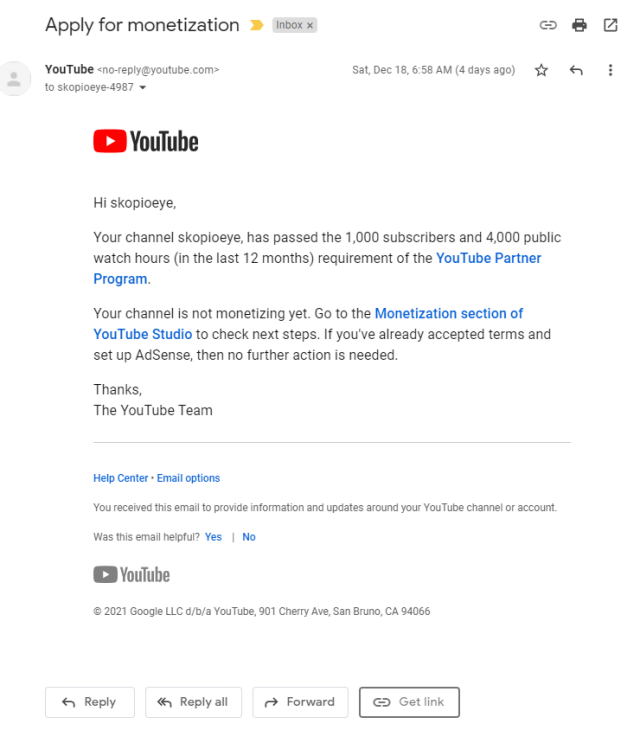 When you go to the Monetization section of YouTube Studio you can request access to the program.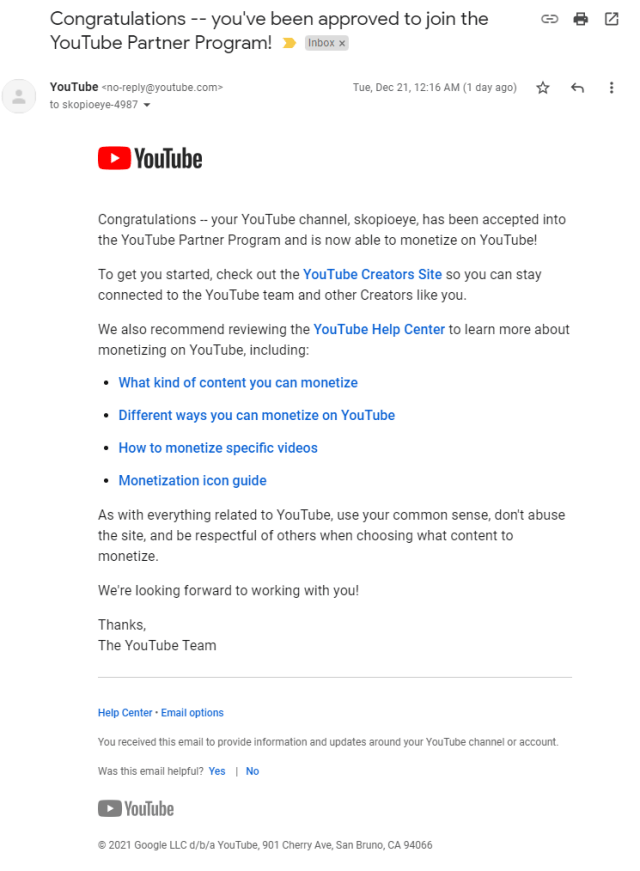 Hi skopioeye,

Your channel skopioeye, has passed the 1,000 subscribers and 4,000 public watch hours (in the last 12 months) requirement of the YouTube Partner Program.

Your channel is not monetizing yet. Go to the Monetization section of YouTube Studio to check next steps. If you've already accepted terms and set up AdSense, then no further action is needed.

Thanks,
The YouTube Team
You then have to wait for a few days to be approved to join the YouTube partner program. For my account, it took 3 days and you will receive this email with the email subject Congratulations — you've been approved to join the YouTube Partner Program!
Congratulations — your YouTube channel, skopioeye, has been accepted into the YouTube Partner Program and is now able to monetize on YouTube!

To get you started, check out the YouTube Creators Site so you can stay connected to the YouTube team and other Creators like you.

We also recommend reviewing the YouTube Help Center to learn more about monetizing on YouTube, including:

What kind of content you can monetize
Different ways you can monetize on YouTube
How to monetize specific videos
Monetization icon guide

As with everything related to YouTube, use your common sense, don't abuse the site, and be respectful of others when choosing what content to monetize.

We're looking forward to working with you!

Thanks,
The YouTube Team
Once you have been approved when you click on the Monetization back in YouTube studio you will see this page: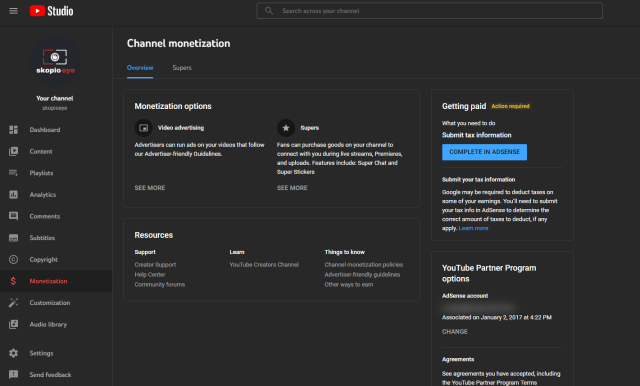 You also need to make sure you have an Adsense account otherwise you will not be able to get paid. You also may need to submit tax information which I've already done and now waiting for confirmation.
MY ADVICE FOR YOUTUBE CREATORS
My advice for those of you who are just starting out on YouTube are:
BE CONSISTENT
Consistency is key when it comes to increasing your YouTube subscribers and views. As mentioned above if you're thinking of starting a YouTube channel you need to be in it for the long run. It may take 2-3 years before you end up seeing any results and it may take you publishing a video that you never thought would become popular.
Apparently, if you can post at least 1 video a week then this may increase your chances to obtain more subscribers and also increase your watch hours.
YOUR VIDEOS DON'T HAVE TO BE PERFECT
When starting out if you spend too much time trying to perfect every video you publish, you will most likely end up giving up because video editing is a very time-consuming task. If you have the fund to hire a video editor then you may want to create the perfect videos otherwise you can always make it look natural and just point and shoot.
MORE IS BETTER
If you talk (unlikely you can) or watch popular YouTubers they will tell you that more is better. If you're thinking of creating one or two videos for your YouTube channel and think you'll make them go viral then you may want to reconsider starting a YouTube channel. As mentioned above, you need to be consistent which means that creating more videos is better than having one or two high-quality videos.
DON'T SPEND MONEY ON FANCY EQUIPMENT
Many YouTubers start with basic video equipment (camera, microphone, laptops, video editing tools, etc). When I first started, I used my mobile phone to record. Back then I was using a Samsung Galaxy S2 and progressed to using a Pixel 2 which still does the job.
LEARN FROM OTHERS BUT NOT ALWAYS FROM POPULAR YOUTUBERS
This seems strange, but most popular YouTubers will tell you how they are currently doing things on their channel which will probably not reflect how it should be done for beginners. What you probably need to do is what their very early videos. For example, go to a popular YouTube channel such as MrBeast, then click on videos, and on the right-hand side click on Sort By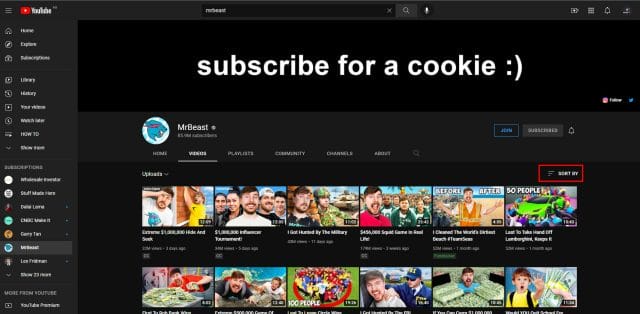 Then click on
Spend some time to review some of the older videos and notice that it was a constant hustle – creating game content, mentioning PewDiePie (calling out other popular YouTubers in the hope to get noticed).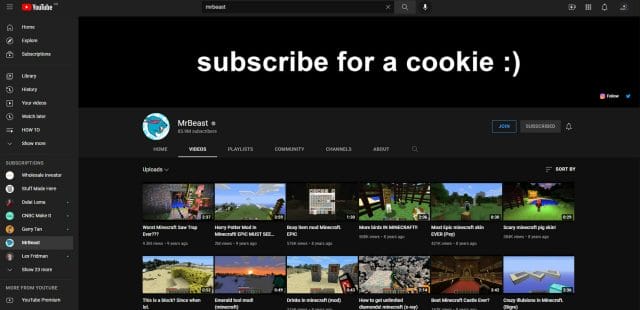 CONNECT WITH YOUR AUDIENCE
Connecting with your audience is important. This includes creating similar content for the channel. As an example, on my YouTube channel, I try to create HOW TO videos and show people how to fix things, especially things that I've also had to fix myself. I've also engaged with my audience by replying to each comment. Some may be spam but most are actual comments such as Thank You's and positive feedback and I actually like their comment and leave replies. Also, I've started adding a call to action in each reply which is to like and subscribe to the channel. I've noticed an increase in subscriber count after I've started implementing this.
CREATE VIDEO THAT HELP OTHERS
As I mentioned before, I like creating videos that actually help others. How To videos seem to get the most views because people are trying to solve problems and are looking for video answers on YouTube. If people find your videos helpful, they will either share them, like them or even subscribe to your channel. I always like the idea of Pay It Forward and I believe that creating helpful content is a great way to demonstrate this philosophy.

If this article helped you in any way and you want to show your appreciation, I am more than happy to receive donations through PayPal. This will help me maintain and improve this website so I can help more people out there. Thank you for your help.
HELP OTHERS AND SHARE THIS ARTICLE
LEAVE A COMMENT

I am an entrepreneur based in Sydney Australia. I was born in Vietnam, grew up in Italy and currently residing in Australia. I started my first business venture Advertise Me from a random idea and have never looked back since. My passion is in the digital space, affiliate marketing, fitness and I launched several digital products. You will find these on the portfolio page.
I've decided to change from a Vegetarian to a Vegan diet and started a website called Veggie Meals.
I started this blog so I could leave a digital footprint of my random thoughts, ideas and life in general.
If any of the articles helped you in any way, please donate. Thank you for your help.
Affiliate Compensated: there are some articles with links to products or services that I may receive a commission.