Another year has quickly gone by. 2020 was a year that many of us won't forget especially due to the pandemic and the bush fires. Life simply goes on and I wanted to spend some time in reflecting on some of my achievements in 2020 and write down some goals for 2021.
Out curiosity, I just looked at when I started my personal website and I actually purchased the domain on new Year's Eve 2017. I then created the website on New Year's Day, so it's been roughly 4 years. Here are a few of my accomplishments from 2020.
WEBSITE TRAFFIC
Website traffic for this website has dramatically jumped in 2020 due to a few popular posts that I published in May. In total, I wrote 65 articles in 2020, which equates to about at least 1 article per week. I aim to increase this number in 2021 because CONTENT IS STILL KING!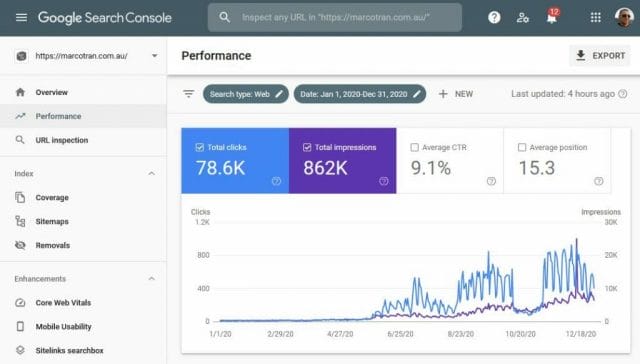 I'm using Google Search Console stats above information since I didn't have Google Analytics set up correctly but below is all that what was captured in 2020 (since August 2020).

PAYPAL DONATION BUTTON
Since I was getting more traffic and some of the articles I wrote were actually useful to my readers, I decided to add a PayPal donation button to each article surprisingly I actually received donations so thank you to all my readers who donated. I plan to write another article in the future from what I learn about adding this Donation Button.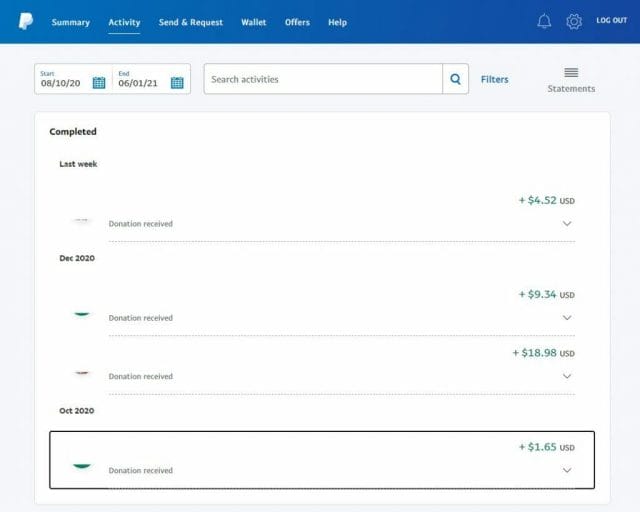 AFFILIATE INCOME
My affiliate commissions income slightly increased in 2020 and you can read more about this here: Affiliate Review 2020
YOUTUBE TRAFFIC
I also decided to publish more videos in 2020 and this helped boost with YouTube traffic and views. I managed to hit 1,000 public watch hours. I need another 3, 000 hours (total of 4,000) before I can start monetising the YouTube channel skopioeye
FITNESS
If you've been following my website blog, you can probably guess that I've been running a lot and my fitness level has improved. I haven't been going to the gym so I have definitely lost some muscle mass.
You can read more about my Fitness Journey.
BUSINESS
With regards to our digital solutions business, Advertise Me, we have been landing larger clients which is a good sign. Obviously, we have also been impacted by COVID as some businesses no longer have the budget they use to.
GOALS FOR 2021
Here's a list of goals for 2021:
increase traffic to this website and other website I manage
increase YouTube traffic and hit 2000 hours of public watch time
increase affiliate commissions
build more muscle mass and weigh 68 kg (currently 64 kg)
do at least 5 continuous muscle-ups
launch a course
launch a podcast
launch a new product
complete an online course
spend more time with family
These goals are not very detailed but I hope to put a plan together for each of those goals in the near future. Due to time constraints, I didn't add all my accomplishment to the list – just the major ones.
What are your goals for 2021? Share them in the comments below to make yourself more accountable.

If this article helped you in any way and you want to show your appreciation, I am more than happy to receive donations through PayPal. This will help me maintain and improve this website so I can help more people out there. Thank you for your help.
HELP OTHERS AND SHARE THIS ARTICLE
LEAVE A COMMENT

I am an entrepreneur based in Sydney Australia. I was born in Vietnam, grew up in Italy and currently residing in Australia. I started my first business venture Advertise Me from a random idea and have never looked back since. My passion is in the digital space, affiliate marketing, fitness and I launched several digital products. You will find these on the portfolio page.
I've decided to change from a Vegetarian to a Vegan diet and started a website called Veggie Meals.
I started this blog so I could leave a digital footprint of my random thoughts, ideas and life in general.
If any of the articles helped you in any way, please donate. Thank you for your help.
Affiliate Compensated: there are some articles with links to products or services that I may receive a commission.