I wanted to challenge myself and decided to sit for the AWS certified cloud practitioner (CLF-C01) exam and I passed. I scored 810 out of 1000 and you needed a mark of over 700 to pass. I was glad that I passed the exam because I felt I spent more time studying for this. To prepare for this exam I did the following:
completed the AWS Academy Cloud Foundations
completed the AWS Cloud Quest practitioner
listened to some courses on LinkedIn Learning
did several practice exams
When you finish the exam, you will immediately see whether you PASS or FAIL and the exam results gives you the score and a breakdown of the competencies.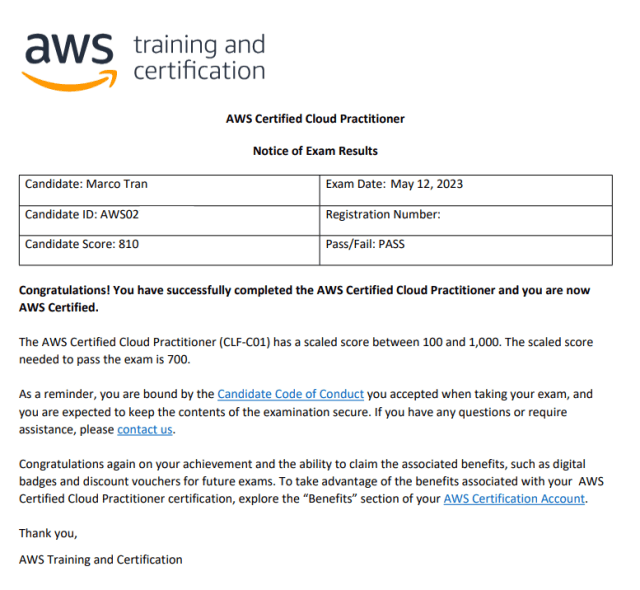 The exam costs USD$100 and you have 90 minutes to complete the exam. I believe I finished the exam in 30-40 minutes and even reviewed some of the questions I flagged. For those of you who have not done a Pearson Vue exam, you can read this article for a few tips: I PASSED THE MICROSOFT AI FUNDAMENTALS EXAM AND SO CAN YOU
You can do the exam at home but you just need to make sure you meet the requirements such as not having any monitors connected, having a clean desk and having your mobile phone away from where you're doing the exam. In order to prevent cheating, you will be asked to use the webcam to show your environment but I'm pretty sure there will be some people out there that manage to cheat.
Here are my latest certifications: CREDLY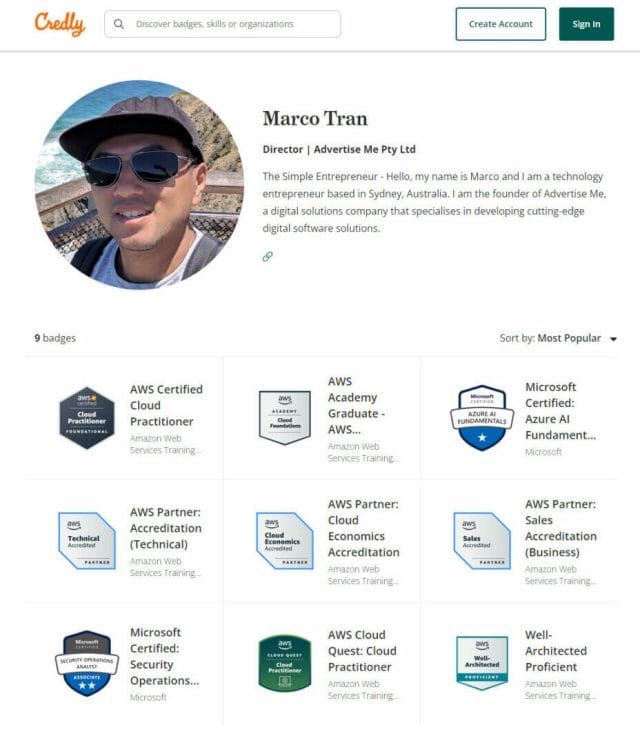 Like with any exam, you need to make sure you cover all the different areas detailed in the AWS exam guideline and topics. There were some questions in the exam that I didn't cover but luckily with the process of elimination I was able to answer them (well I don't know whether I did get them right).
When I did the practice exams, I tracked which questions I incorrectly answered and then kept doing them until I was 100% confident I knew the answer.
With the AWS exams, you do need to recertify every 3 years so you'll see a post from me in another 3 years.
If you have any questions or need help, let me know.

If this article helped you in any way and you want to show your appreciation, I am more than happy to receive donations through PayPal. This will help me maintain and improve this website so I can help more people out there. Thank you for your help.
HELP OTHERS AND SHARE THIS ARTICLE
LEAVE A COMMENT

I am an entrepreneur based in Sydney Australia. I was born in Vietnam, grew up in Italy and currently residing in Australia. I started my first business venture Advertise Me from a random idea and have never looked back since. My passion is in the digital space, affiliate marketing, fitness and I launched several digital products. You will find these on the portfolio page.
I've decided to change from a Vegetarian to a Vegan diet and started a website called Veggie Meals.
I started this blog so I could leave a digital footprint of my random thoughts, ideas and life in general.
If any of the articles helped you in any way, please donate. Thank you for your help.
Affiliate Compensated: there are some articles with links to products or services that I may receive a commission.