If you are like me and like working in the dark you may want to stop and get yourself a hanging light such as the Baseus Lighting Screen Hanging Light Youth model number DGIWK-B01. Since high school, I've always used the computer and laptop in the dark but recently I decided to get some form of light in the room and the perfect solution was a monitor hanging light. I'm sure there are a lot of hard-core techies out there that don't think using light in your computer room is required and this topic can be debatable. In any case, I got one as there was no harm in getting one that wasn't that bright. This is how it looks like when hanged on the monitor.

You can buy this unit from here: https://ebay.us/97wNiF
The Baseus Hanging Light Youth is a small, lighting fixture that just hangs on top of your monitor. The device features a variety of different ways to customize the look and feel of your lighting. With so many different lighting options, you're sure to find one that appeals to you. The Baseus one is reasonably priced and it's powered via USB (1.5V). The unit is made of high-quality material and it's a very low-cost screen hanging light that has a lot to offer. The lights appear to be LED and there are 3 control buttons at the front. The first button starting on the right-hand side is the ON/OFF button. You simply need to tap the buttons to change the settings – it doesn't have a push feel to the button as it could just touch-sensitive. The second button is to change to the three lighting modes and here are 3 photos showing the difference between the 3 colour temperatures 2800K-4000K-5500K:



The unit also has a feature that remembers the last setting, so when you turn it on again it will set use that setting which is a great feature to have.
Here's a video of the unboxing and review of the Baseus Lighting Screen Hanging Light Youth:
Here's a transcript of the YouTube video if you're interest:
Hello everybody in this video I'm going to do a product review on this Baseus Lighting it's the i-work Serries screen hanging light you might have seen this on a couple of other videos where people have been hanging this light on top of the monitor so it gives them more light. So when they're using the computer laptop or device in a dark room it's an asymmetric light source it's powered by USB. So that's how it will look like I will show you how it will look like on my monitor and my setup so you just hang it on top of the monitor and then we'll shine the light at the bottom some of the specs here i'll put the Specs in the description it's a 5 volt it's 5 watts so the color temperature I don't know whether that makes much of a difference it's about 480 grams so let me just open it up and then i would show you how hang on my monitor okay so this is nicely packaged let's get the manuals here It's got the cable here looks like it's a usbc cable so it's a usbc type of cable this is the light source it does feel pretty heavy i think the heaviest part is this base you can see the or the led lights here it's got the On and off button and changing the brightness okay so i'm just going to plug it in there's our usbc plug at the back here so that's the hole let's plug the usbc here i'll plug this to the computer okay so i plugged it into the computer let's see if this works oh there you go it's pretty pretty bright looks like there's a White light so let me change the it's got a different brightness levels so let me see this button here doesn't do much this one here changes the color type different whites so i'll just show you so those are the three color types this button at the end doesn't seem to be doing much It's this one here this one here doesn't seem to be doing much actually you have to hold on to it or you just tap it it just changes the brightness oh there you go it just changes the whiteness [Music] i think we can hold on to it it just decreases it it increases it so you just have to hold On to the to that button there's actually not even a button you can see it's like it's a touch sensitive you don't you don't hear any clicks or anything change to this color and yeah you can you have to hold on to it and it just decreases it or increases the brightness level so yeah so that's pretty easy to set up Just need to test it when it's dark and i'll show you how it looks like so it's got the clip here seems like it's retracting the clip here is to clip it onto the monitor it actually tries to push back so it has a little force that closes it so i want to test this and i'll show you guys now i'm going to Show you how it looks like in a dark room so this is when it's on and there's different color settings these are these are different color settings so once you press the second button it changes to the different modes and then if you want to change the brightness levels you just hold on to the first button it's pretty bright in a dark room especially when you also have other monitors that is connected another thing that i noticed is when you actually turn off the unit it remembers the last settings that was used so if you turn it off and turn it back on it remembers the last color settings which is a good feature i guess now if this video helped give it a like and subscribe to the channel


If this article helped you in any way and you want to show your appreciation, I am more than happy to receive donations through PayPal. This will help me maintain and improve this website so I can help more people out there. Thank you for your help.
HELP OTHERS AND SHARE THIS ARTICLE
LEAVE A COMMENT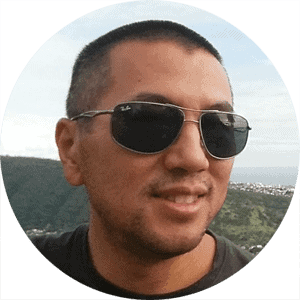 I am an entrepreneur based in Sydney Australia. I was born in Vietnam, grew up in Italy and currently residing in Australia. I started my first business venture Advertise Me from a random idea and have never looked back since. My passion is in the digital space, affiliate marketing, fitness and I launched several digital products. You will find these on the portfolio page.
I've decided to change from a Vegetarian to a Vegan diet and started a website called Veggie Meals.
I started this blog so I could leave a digital footprint of my random thoughts, ideas and life in general.
If any of the articles helped you in any way, please donate. Thank you for your help.
Affiliate Compensated: there are some articles with links to products or services that I may receive a commission.