I recently spent a few weeks updating our Advertise Me website. The website needed some tender love and care as it has been neglected over the years. The overall rankings on Google over the years has also dropped so I decided to take the initiative to make some changes with the hope of improving the rankings for several key terms we are targetting. The previous website was created by one of my co-founders whose main goal was to make the website look professional rather than focusing on optimising the website for SEO.
The main key terms are:
There are a few others long-tail keywords I haven't added to the list but anything to generate more exposure and leads the better.
One of the other main reasons why we needed to update the website was the fact we were using an old WordPress theme that was no longer supported and was not completely responsive. It was using the MotoPress framework and a newer version of the WordPress theme was released but in order to use this new version, we would have to recreate most of the content as the shortcodes previously used was completely changed and there was no way to easily migrate to the new one. I found a theme that resonated with the way I wanted the website to function and look theme which is called Spark and you can download this from VisualModo. It is a modern, minimalistic and it's very multi-purpose template it has quite a few features built-in such as the ability to create portfolios using projects custom post type, creating the pages and posts is a breeze with the WordPress Plugin WPbakery page builder, creating sliders using Slider Revolution was easy especially because the theme included example templates so all I had to do is change the images and the text. Overall, it is a pretty good theme to use so if you want to give it a try just downloaded from the VisualModo website. Long term, we believe using Visual Composer might be a better option as there are more themes using this.
Now, upon reviewing the old website I decided there were some major changes that needed to be done in particular the layout, content and the images needed to be optimised. This is how the old website looked like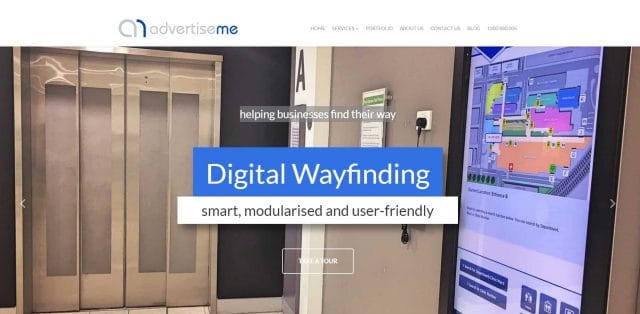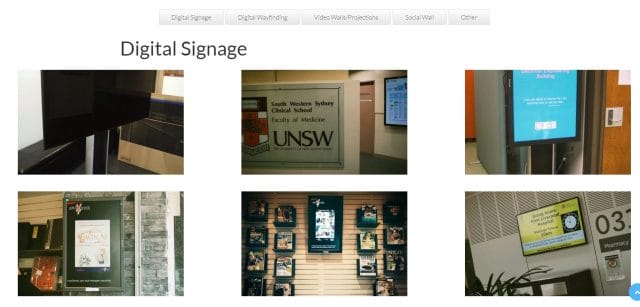 So now I'm going to provide a list of the changes that I made to the website:
Used a new WordPress theme and updated all the plugins to the latest version

Added the terms and conditions and privacy in the footer I noticed that in the old website these links will not visibly clear on the homepage who was missing from the header and the footer

Created consistent headers and layout for each page
There was a lot of the Yoast settings that were incorrect or not even applied. So I updated these to help with SEO. For example, the sitemap had custom post types our website didn't really use but was included as part of the theme. I just disabled these in the Yoast setting so Google bots don't have to index them
Changed the filenames for each image and added a description, alt text and title
Most important: added portfolio section. The previous person who created the website just had a thumbnail without and description or information as to what the project was about. I spent more time focusing on the portfolio and added almost all the projects we worked on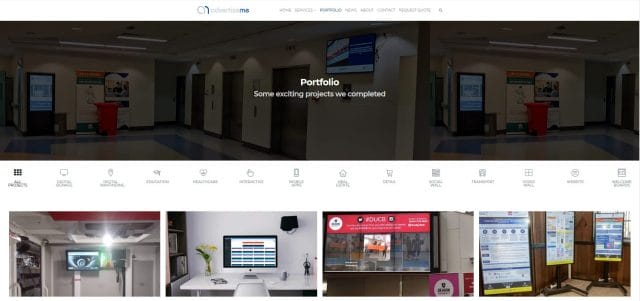 Recreated the top sliders since the new theme used a different plugin. I also changed the sliders so that on mobile it wouldn't display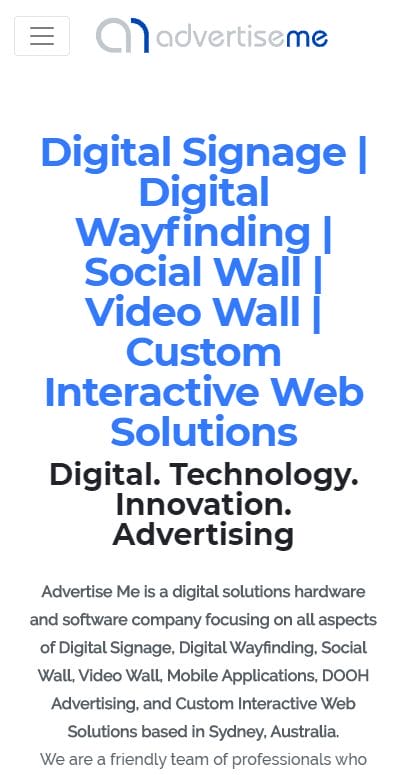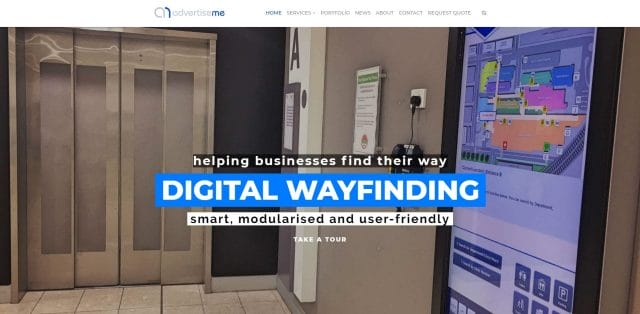 Added the latest blog extracts on the homepage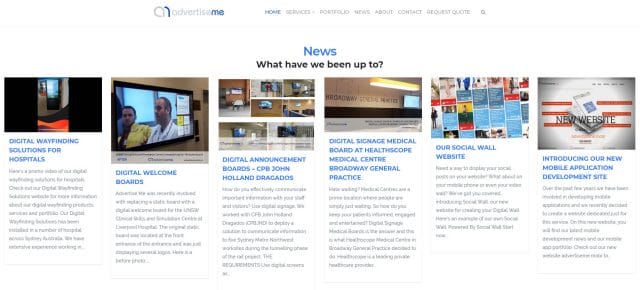 Fixed canonical links. There were some inconsistencies with referencing the website. We decided to remove the www from the website domain and some of the posts still had www.advertiseme.com.au in the links
Added Favicon. It appears the mobile search results use the Favicon
Add featured images for each page (if you don't actually want to display it on the website, then use the Hide Featured Image plugin to disable it)
Check all pages and make sure pages are not duplicated with exactly the same content
Remove any pages not being used. I discovered there were some pages that were created when the theme was used. I find that it's best to remove them completely (ie. not even as a draft)
Remove images that are not being used. This was time-consuming and you have to be careful since you need to know whether the images are being used. There is a way to check if the image is attached to a post or page but it's not always accurate because if you uploaded a media item such as a logo, it is not attached to anything so just be careful. NOTE: I found logos and images used for the Sliders were not marked as attached
Added a request to quote button and page
Fixed up lots of 404 links. The previous person who created the website decided to remove several pages (by the way this is not a good idea). One option is to redirect the removed pages to a similar page but in my personal opinion, it's not a good idea to remove at all especially if there have been other websites linking to that page.
Other tasks:
Added service section to Google Business Listing. Added new images and posts as well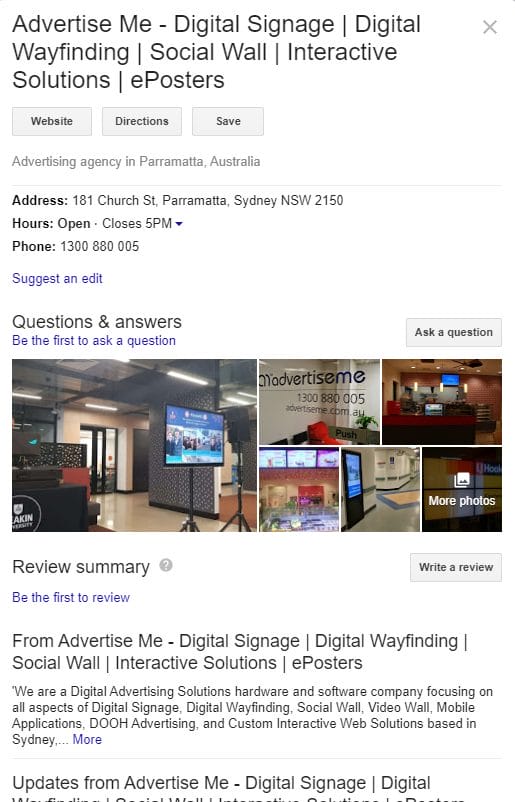 Added service section to Facebook Page
Now, you may ask yourself has all the above changes improved our search result ranking. At the moment the short answer is NO but it's a bit too early to tell. I keep finding small little issues that may be impacting to the ranking but according to SE Ranking – a tool I use for SEO analysis the audit report on the old website had a website score of 42. With the new website, it's now 71.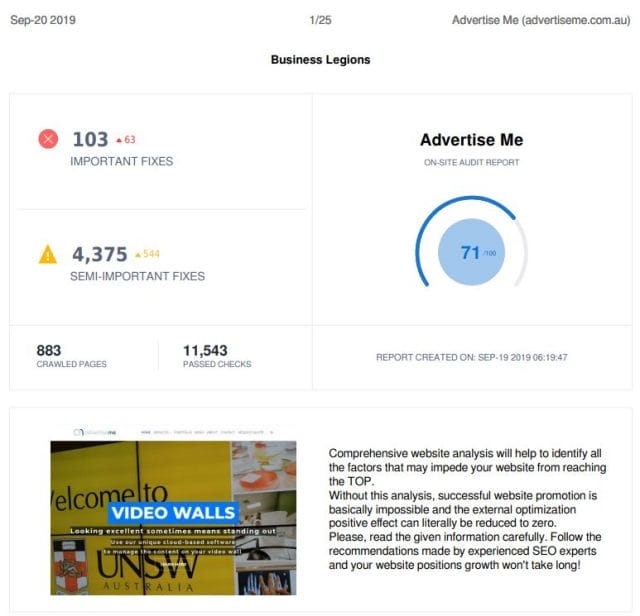 I will report back when I see any changes to our ranking after fixing some of the issues reported from the SE Ranking Audit.
UPDATE – 14/05/2020
It's been over 6 months since I've made changes to the Advertise Me website and wanted to provide some updates. During this period I have added a SHOP (Product) section to the website and use the WooCommerce plugin to display our products. I initially added our main Software products and now just starting to add digital signage hardware products.
In terms of rankings I can proudly say we have improved our rankings as shown below:

The main keywords I have been targeting is digital signage, digital signage solutions. I hope to improve these current rankings to be top 3.

If this article helped you in any way and you want to show your appreciation, I am more than happy to receive donations through PayPal. This will help me maintain and improve this website so I can help more people out there. Thank you for your help.
HELP OTHERS AND SHARE THIS ARTICLE
LEAVE A COMMENT

I am an entrepreneur based in Sydney Australia. I was born in Vietnam, grew up in Italy and currently residing in Australia. I started my first business venture Advertise Me from a random idea and have never looked back since. My passion is in the digital space, affiliate marketing, fitness and I launched several digital products. You will find these on the portfolio page.
I've decided to change from a Vegetarian to a Vegan diet and started a website called Veggie Meals.
I started this blog so I could leave a digital footprint of my random thoughts, ideas and life in general.
If any of the articles helped you in any way, please donate. Thank you for your help.
Affiliate Compensated: there are some articles with links to products or services that I may receive a commission.