Wondershare Filmora recently released version X (10) and when I tried going through the upgrade process it didn't work.
What is Wondershare Filmora?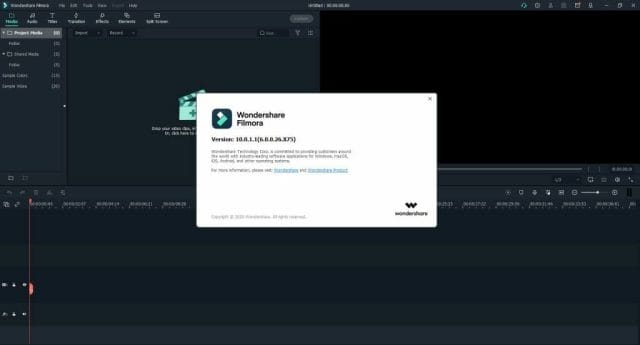 Wondershare Filmora is a video editing tool that allows you to create amazing videos.
What are the new features in Filmora X (10)?
Here's a list of new features in Filmora X:
Motion Tracking – Attach an element to a moving object in your video easily with auto motion tracking.
Keyframing – Customize animation by adding keyframes to change position, rotation, scale and opacity of a clip.
Color Match – Match the color of selected clips to another frame from another clip.
Audio Ducking – Quickly fade your music so your dialogue stands out.
Keyboard Shortcuts Editor – Edit faster using hotkey commandus.
New UI and switch dark/light mode – Switch between light and dark mode for all day editing comfort.
Plain Text – Added flexibility to editing using plain text.
Advanced Title Editing ( for Win only) – Change position, rotation and scale of a title (as a whole) on the player.
New Effects – 30 new elements and 9 callout titles.
Touch Bar (Mac) – Preview and scrub through your timeline using the touch bar.
Using the upgrade function within Filmora would download version 10 (somewhere on my computer) but it wouldn't install. After a reboot Filmora would still say it's on version 9.
When I first contacted the Wondershare Filmora support team, they advised to uninstall version 9 and then download the version on the website. Once installed, then perform the upgrade within Filmora. I tried this a few times and ran into the same issues.
I tried looking for the version 10 download file but couldn't find your anywhere and that's when I contacted the Wondershare Filmora support team and asked if they could supply me with the file.
They provided me with the executable file and I went through the process of uninstalling version 9 and then installing the latest version. This process worked and the also selected the option retained the old data.
I created a video on the upgrade process that I used and if you need help please watch it.
You can download and test the latest version here:
I received approval from Wondershare and I can share the download links:
You can directly download and install Filmora X via the below link for Windows:
https://drive.google.com/file/d/1qVJAhGnkVv6Q0J2PCUtWjQcZylRzCci2/view
Here is a link for the Mac version just in case you need it:
https://drive.google.com/file/d/15mjiAIUmSR2ptwnVS-MBebIGl-oNbCdr/view?usp=sharing )

If this article helped you in any way and you want to show your appreciation, I am more than happy to receive donations through PayPal. This will help me maintain and improve this website so I can help more people out there. Thank you for your help.
HELP OTHERS AND SHARE THIS ARTICLE
LEAVE A COMMENT

I am an entrepreneur based in Sydney Australia. I was born in Vietnam, grew up in Italy and currently residing in Australia. I started my first business venture Advertise Me from a random idea and have never looked back since. My passion is in the digital space, affiliate marketing, fitness and I launched several digital products. You will find these on the portfolio page.
I've decided to change from a Vegetarian to a Vegan diet and started a website called Veggie Meals.
I started this blog so I could leave a digital footprint of my random thoughts, ideas and life in general.
If any of the articles helped you in any way, please donate. Thank you for your help.
Affiliate Compensated: there are some articles with links to products or services that I may receive a commission.