If you haven't heard, YouTube will be hiding the Dislike counter. Yay….or Nay? I've been a YouTube user and a recent creator (started almost 10 years but I've been dedicated to publishing more content in the past 2 years). My YouTube channel is called SKOPIOEYE if you're interested. Note that the dislike counter stats will still be available for analytical purposes and it will only be removed from the public view.
I've first heard of YouTube hiding the dislike counter from Marques Brownlee's (MKBHD) video called Dear YouTube! where he explains his thoughts on why they shouldn't remove the dislike counter. Here's the video:
Now, in my opinion (I've previously provided feedback about YouTube user experiences but I never see the changes e.g ADD SORT BUTTON IN YOUTUBE PLAYLIST or YouTube Enhancement Playlist) they should leave the counter there but have an option to provide a reason why they disliked the video. The person who disliked the video will need to select from a list of reasons before the vote is counted towards the dislike counter. This will provide helpful feedback for the content creator rather than display a number.
Here's an example mockup: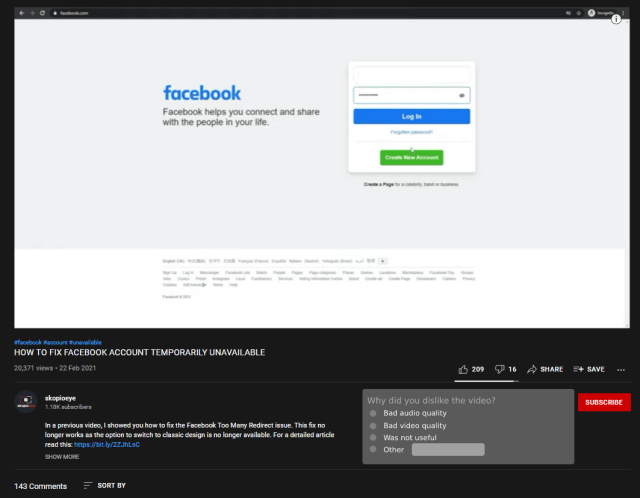 Also, Marques suggested as an alternative only allow people to dislike after they watched a portion of the video. I agree with this feature and it's something YouTube should consider. From watching the video, it sounds like creators and real uses were not consulted or were asked to fill out a survey to gain valuable feedback.
In any case, those are my thought and if YouTube wants to take up the offer of adding the Dislike Reason feature then please do it – I won't charge any consultation fees!

If this article helped you in any way and you want to show your appreciation, I am more than happy to receive donations through PayPal. This will help me maintain and improve this website so I can help more people out there. Thank you for your help.
HELP OTHERS AND SHARE THIS ARTICLE
LEAVE A COMMENT

I am an entrepreneur based in Sydney Australia. I was born in Vietnam, grew up in Italy and currently residing in Australia. I started my first business venture Advertise Me from a random idea and have never looked back since. My passion is in the digital space, affiliate marketing, fitness and I launched several digital products. You will find these on the portfolio page.
I've decided to change from a Vegetarian to a Vegan diet and started a website called Veggie Meals.
I started this blog so I could leave a digital footprint of my random thoughts, ideas and life in general.
If any of the articles helped you in any way, please donate. Thank you for your help.
Affiliate Compensated: there are some articles with links to products or services that I may receive a commission.