I just received a SMS from the number 612853 that contained the following message: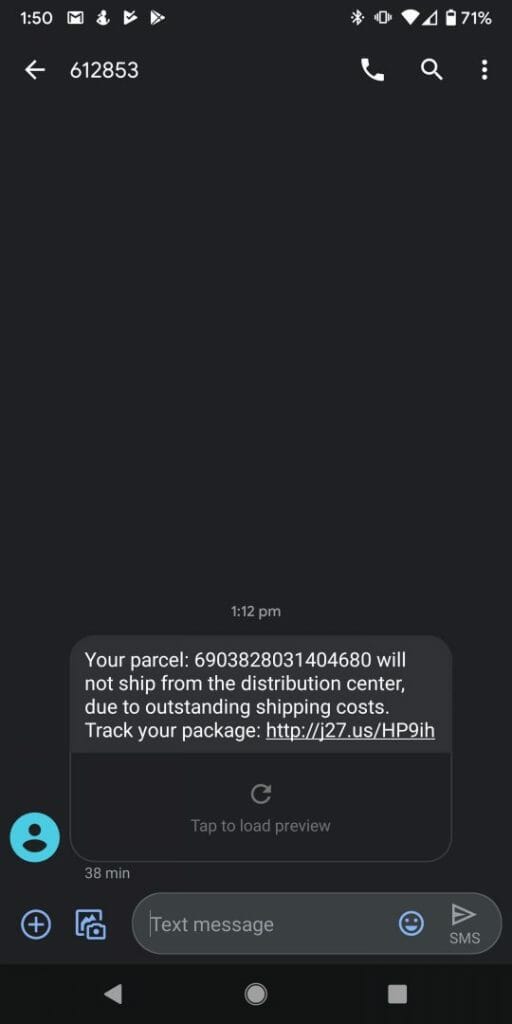 Your parcel: 6903828031404680 will not ship from the distribution center, due to outstanding shipping costs. Track your package: http://xxxx


When I received this message, the first thing that popped in my head was: "Which item am I waiting for?" as I am actually waiting for a few items to be delivered from overseas and locally. Our natural instinct would be to press the link to check what the message is about but I'm a very cautious person and wanted to dig a bit further before visiting the link.
Upon further inspection, there were a few signals that made this text message look like a scam and spammy. Firstly, the sender number was 612853 which I've never received a message from. The second is the URL of the link, most freight and courier companies would have at least an association of the URL domain name to the company name. Finally, I've never heard of j27 (from the URL domain name) and that's when I decided to check on Google to see if there were any SMS scams relating to this message.
I did a search on Google for the term "SMS scam outstanding shipping costs" – TIP: basically do a search for the content in the SMS text message. In this case, the text message had "outstanding shipping costs"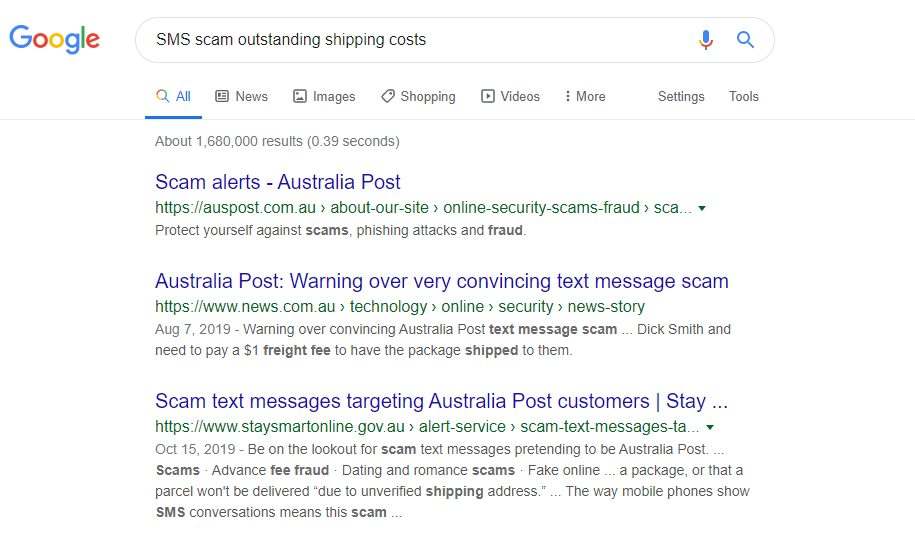 The first result was from Australia post and indeed, I found more information about the actual scam in there.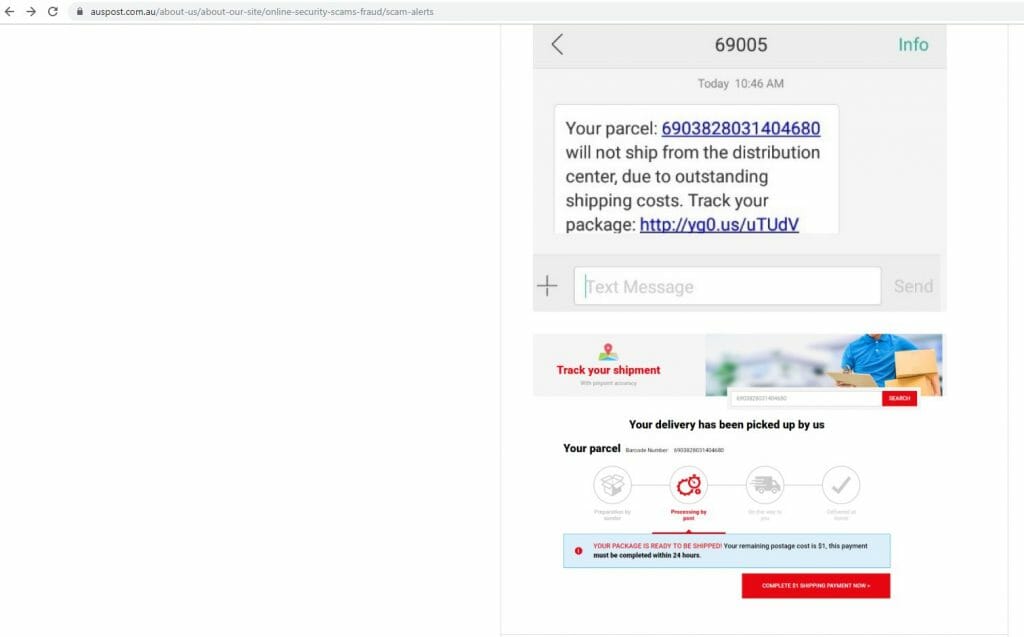 Based on that information I obviously didn't click on the link in the SMS text message. Here's the official Australia Post website that lists some of the scams that are targetting Australia users and customers. Another useful website with information with news and alerts regarding scams is Scamwatch. The site is run by the ACCC (Australian Competition and Consumer Commission) and allows consumers to report scams and provides information on how to be more aware of potential scams.
Finally, this may seem obvious but if someone is asking for money or private information about you, be vigilant and do some research before clicking on any links or submitting any information. So beware and be cautious with opening links from SMS text message!
Useful resources mentioned in this post:


If this article helped you in any way and you want to show your appreciation, I am more than happy to receive donations through PayPal. This will help me maintain and improve this website so I can help more people out there. Thank you for your help.
HELP OTHERS AND SHARE THIS ARTICLE
LEAVE A COMMENT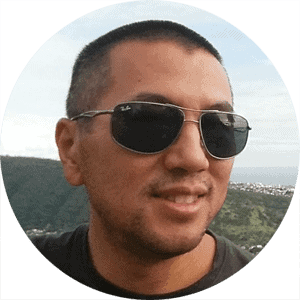 I am an entrepreneur based in Sydney Australia. I was born in Vietnam, grew up in Italy and currently residing in Australia. I started my first business venture Advertise Me from a random idea and have never looked back since. My passion is in the digital space, affiliate marketing, fitness and I launched several digital products. You will find these on the portfolio page.
I've decided to change from a Vegetarian to a Vegan diet and started a website called Veggie Meals.
I started this blog so I could leave a digital footprint of my random thoughts, ideas and life in general.
If any of the articles helped you in any way, please donate. Thank you for your help.
Affiliate Compensated: there are some articles with links to products or services that I may receive a commission.