I'll be starting a series of useful business tips on this website so make sure you subscribe to the newsletter. My aim is to help and provide useful information to business entrepreneurs. If you're based in Australia, then this article will apply to you, but if you're not then keep reading as there might be something similar in your country. In order to assist small businesses during the COVID-19 pandemic, the NSW Australian government is providing rebates for eligible NSW and local government fees and charges. So if you're a sole trader or even a small business owner or even a not for profit organisation within NSW then you may be entitled to receive a rebate of up to $1500. My business used this rebate for a business vehicle registration (costed $475). Depending on the type of business you run, you may be entitled for other rebates such as council rates, licenses (food, liquor, tradesperson), event fees and outdoor seating fees (for restaurants), so I recommend that you apply for the rebate.
The only caveat is that you must have paid for the charge from the 1st of March 2021 and it cannot be used for fines or penalties, fees and charges that have the key purpose of discouraging behaviours or inducing behaviour changes, Commonwealth government charges, rent on government premises, or taxes. If you're unsure you can always check the Service NSW who run the rebate program as there are certain eligibility criteria's. The first step you need to do is actually apply for the rebate and you can do this here: APPLY FOR REBATE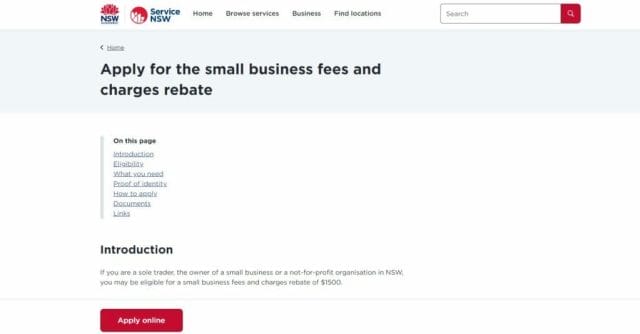 The other thing to note is that the rebate is only available until 30 June 2022 so make sure you apply before then. During the application, you will need to enter your business bank details and the rebate will be deposited into that bank account. Once you're approved for the rebate, you can search for the different rebates available so make sure you check the list. My business car registration renews every April and I'll hopefully be able to apply the rebate for next years renewal. I hope this helps you and your business. Like always good luck with your business and entrepreneurial ventures.

If this article helped you in any way and you want to show your appreciation, I am more than happy to receive donations through PayPal. This will help me maintain and improve this website so I can help more people out there. Thank you for your help.
HELP OTHERS AND SHARE THIS ARTICLE
LEAVE A COMMENT

I am an entrepreneur based in Sydney Australia. I was born in Vietnam, grew up in Italy and currently residing in Australia. I started my first business venture Advertise Me from a random idea and have never looked back since. My passion is in the digital space, affiliate marketing, fitness and I launched several digital products. You will find these on the portfolio page.
I've decided to change from a Vegetarian to a Vegan diet and started a website called Veggie Meals.
I started this blog so I could leave a digital footprint of my random thoughts, ideas and life in general.
If any of the articles helped you in any way, please donate. Thank you for your help.
Affiliate Compensated: there are some articles with links to products or services that I may receive a commission.