If you're paying fees for your business savings account you need to stop immediately. There are now banks and institutions that offer free business savings accounts which earn you high interest. Since I've been operating our Advertise Me business, we've opened a number of business savings accounts. Still, just recently I discovered the best one which earned one of the highest interest rates and it's all free so I thought I'd share this with you in case you also wanted to earn a high interest on your business account.
I've previously written an article on the BEST SAVINGS BANK ACCOUNTS WITH HIGH INTEREST RATES and this was only for personal accounts. This article is focused on business accounts but please note that the interest rates will change over time so the rates I'm sharing with you today on this article will be different by the time you're reading this. I will also only share banks which we held accounts with. It's always a good idea to regularly check the interest rates across the different rates and switch to the highest.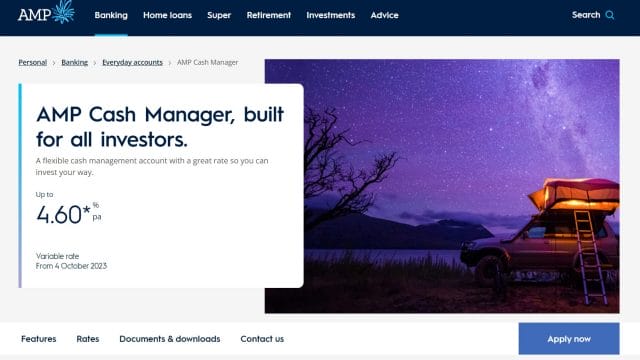 AMP 4.6%
This is the most recent bank account we opened and it has the highest interest. It is also free and the interest rates are tiered based on the amount you have in the account. The only issue we encountered was that the only application through the website didn't work as it was asking for the details of the same director twice and we couldn't enter the same mobile number and email. These two pieces of information had to be unique otherwise you could not proceed to the next step.
The details of the account are as follows:
Name of account: AMP Cash Manager
Rates:
Effective date 4 October 2023
| | |
| --- | --- |
| Your account balance | Your interest rate |
| $0 – $10,000 | 0.60% pa |
| $10,000.01 – $250,000 | 4.60% pa |
| $250,000.01 – $5,000,000 | 4.10% pa |
| Greater than $5,000,000 | 0.00% pa |
Product Summary:
Real-time payments – Send and receive payments quickly and easily.
No ongoing or account fees – Don't pay any account service or domestic ATM fees.
Earn daily interest -Ongoing competitive variable tiered rate with no minimum deposit.
Digital Wallet payments – Use Apple Pay, Samsung Pay and Google Pay1.
Fully flexible – Use VISA debit card, eftpos and BPAY with all-in-one savings and transaction account.
24/7 access – Manage your account online, through MyAMP app or by phone.
Whenever I open new accounts, I initially transfer a small amount just to make sure the money is received. I initially sent $10 and once this was received I transferred higher amounts. I also saw that the rate increases as soon as you reach the tier. It took about 2 business days to receive the money.
They also have a high term deposit interest and we will most likely look at this once our existing term deposit expires.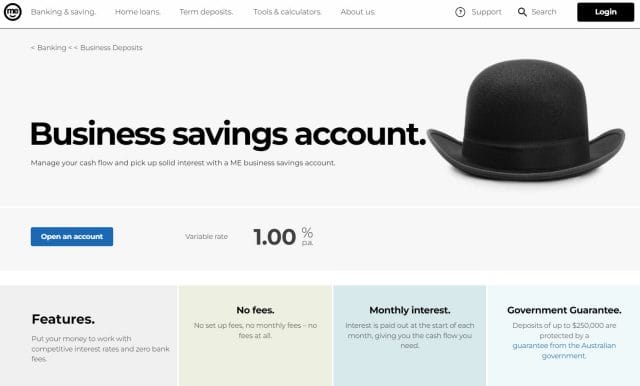 ME BANK 1%
We have been with Me Bank for a number of years and their interest rate seemed the best at the time. It's currently at 1% which seemed high when I was looking around but compared to AMP it's such a big difference. We did open a term deposit account with the interest rate for the term deposit was the highest in the market. However, as mentioned above, we will most likely switch to AMP once the term expires.
Product Name: Business savings account
Rate: Variable 1%
Product Summary
Put your money to work with competitive interest rates and zero bank fees.
No set up fees, no monthly fees – no fees at all
Interest is paid out at the start of each month, giving you the cash flow you need
Deposits of up to $250,000 are protected by a guarantee from the Australian government
We also have business bank accounts with ANZ and Commonwealth Bank. A few years ago we also had an ING business savings account but eventually, the product no longer existed. Now both the ANZ and Commonwealth bank accounts do not earn any interest and are used for daily transactions since our clients already have these bank details on their systems. Potentially we could move all these to AMP but that would mean getting their accounts department to update our bank details. I did try to open a Macquarie Bank account since their interest rate seemed high but I ended up giving up since I couldn't get past a certain point in the application process.

If this article helped you in any way and you want to show your appreciation, I am more than happy to receive donations through PayPal. This will help me maintain and improve this website so I can help more people out there. Thank you for your help.
HELP OTHERS AND SHARE THIS ARTICLE
LEAVE A COMMENT

I am an entrepreneur based in Sydney Australia. I was born in Vietnam, grew up in Italy and currently residing in Australia. I started my first business venture Advertise Me from a random idea and have never looked back since. My passion is in the digital space, affiliate marketing, fitness and I launched several digital products. You will find these on the portfolio page.
I've decided to change from a Vegetarian to a Vegan diet and started a website called Veggie Meals.
I started this blog so I could leave a digital footprint of my random thoughts, ideas and life in general.
If any of the articles helped you in any way, please donate. Thank you for your help.
Affiliate Compensated: there are some articles with links to products or services that I may receive a commission.