If you own several website domains, which tool do you use to manage all the host entries? There are quite a few tools out there to help you manage your DNS hosting and at Online Hosting Solutions you can manage them on the control panel. The only problem is if you have your domains across multiple hosting providers then I recommend you use a DNS hosting provider such as ClouDNS. Let's go through some of the basics of what DNS is and why it's important.
DNS Overview
The Domain Name System (DNS) is a hierarchical distributed naming system for computers, services, or any resource connected to the Internet or a private network. It associates various information with domain names assigned to each of the participating entities. Most prominently, it translates more readily memorized domain names to the numerical IP addresses needed for the purpose of locating and identifying computer services and devices with the underlying network protocols. The DNS is one of the most important core building blocks on the Internet and is an integral part of the functionality of almost all Internet applications and services, including the World Wide Web, electronic mail, and IP telephony.
DNS is a critical part of the Internet that allows you to type www.google.com into your browser and be directed to the correct web server. The DNS system is made up of a number of different servers that work together to direct your requests to the correct servers. This system makes using the Internet a much more user-friendly experience and allows us to type URLs into our browser to get to the correct web page.
A Domain Name System, or DNS, is the phonebook of the Internet. It is what allows you to type in the domain name of your favourite website instead of its IP address, such as typing in Google.com instead of 74.125.235.100. It also translates the names of computers and networks to the numbers assigned to them. Basically, your computer has a unique IP address that it uses to communicate with other computers, but it needs to be able to translate that into a domain name that your computer can easily read, such as www.google.com. So, your computer has a DNS server that it uses to translate your domain name to an IP address.
DNS Management Tools
Every enterprise network and the Internet relies on DNS to facilitate the name resolution process. DNS management is an important aspect of network management, and the larger the network, the more important managing DNS becomes. Many DNS management tools simplify the DNS management process by combining the management, troubleshooting and reporting functions. These tools provide visibility into DNS records, and the ability to look back on historical DNS records. This provides a way to monitor and manage DNS records, including the ability to quickly identify and correct any DNS errors.
The DNS world has always been somewhat complex. Manually managing DNS records for multiple domains can be a long, drawn-out process, and requires quite a bit of technical knowledge. There are many DNS management tools on the market that help you manage your DNS records in a more streamlined fashion. Most domain hosting providers will provide free DNS hosting using their dashboard such as Cpanel. I've been doing this for a few years until I decided to centralise all my DNS hosting on one provider and that was ClouDNS.
ClouDNS is a great tool for managing DNS hosting. They give you the tools to help you do what you do best, and free you from the hassles of maintaining your own DNS servers or using the domain hosting ones. Your DNS is a key part of the infrastructure that your websites are built on, and they are to get you back to building great sites, not maintaining servers. They have a free DNS hosting plan, but I highly recommend you just upgrade to the Premium DNS which only costs $2.95 per month which has a 1,000% uptime SLA.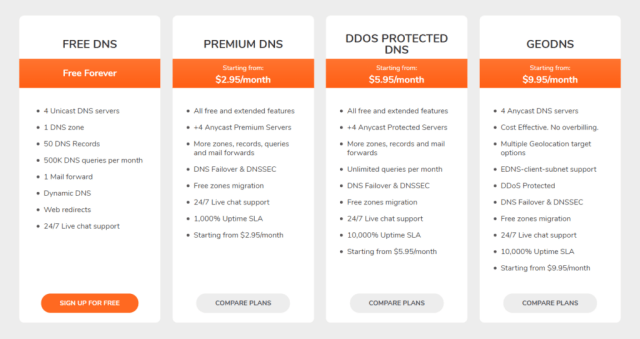 Transfer Domain Name
With CloudDNS you don't need to transfer the domain name to them. You can read more about renewing domains in this article and making sure they never expire: PAID $54.99 TO RENEW ONE OF MY DOMAINS which involves transferring your domain name to different providers. Remember this is domain names, not the DNS entries.
Name Server Changes
One change that you need to make on your domain hosting provider is to point the Name Servers to the ClouDNS.
Name Servers are responsible for resolving the domain name to a specific IP. This is why it is better if you have control over your Name Servers, which is why you can change Name Servers. Generally, you add multiple (4) name servers to your domain account. ClouDNS uses the following Premium DNS name servers (for paid accounts):
pns31.cloudns.net
IPv4: 185.136.96.66
IPv6: 2a06:fb00:1::1:66
pns32.cloudns.net
IPv4: 185.136.97.66
IPv6: 2a06:fb00:1::2:66
pns33.cloudns.net
IPv4: 185.136.98.66
IPv6: 2a06:fb00:1::3:66
pns34.cloudns.net
IPv4: 185.136.99.66
IPv6: 2a06:fb00:1::4:66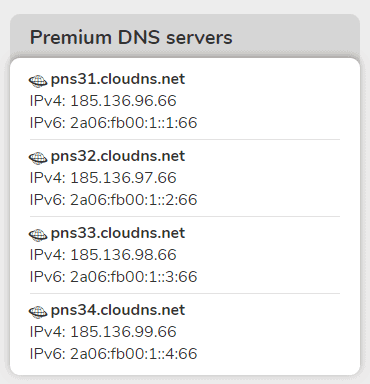 On your domain hosting account, simply change the Name Servers from the defaults to the above. Here's an example of the Name Servers set for this domain on Online Hosting Solutions provider: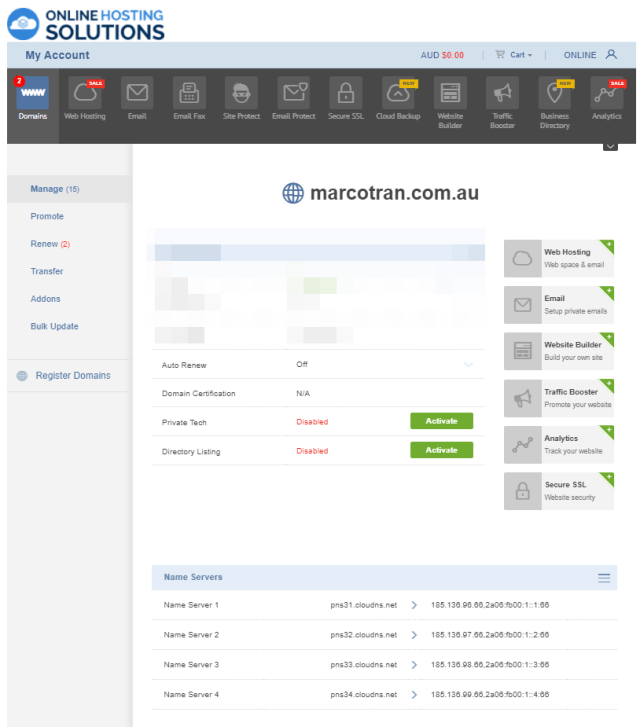 If you have recently updated your Name Servers and are getting DNS errors when you try to access your website, you may be having an issue with your DNS. To check whether your DNS name servers have been updated, use an online DNS checker.
Manage DNS Entries
Cloudns is a simple DNS hosting service. The beauty of it is that it's easy to use and understand. All you have to do is add a new zone (domain name)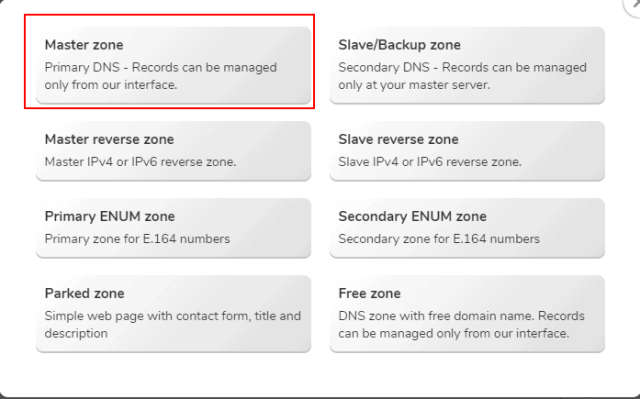 Enter your domain name e.g yourdomain.com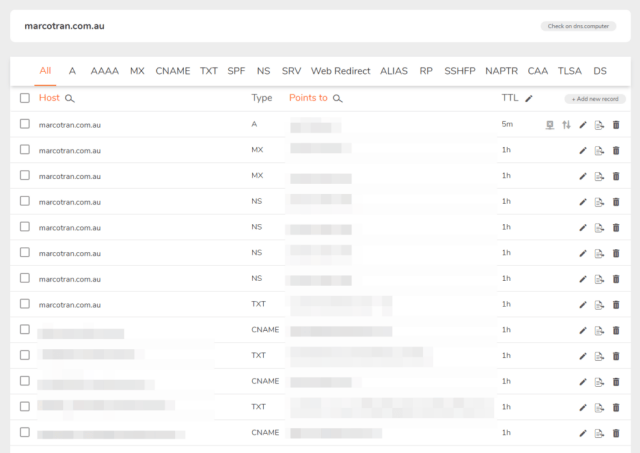 There you have it, if you need an all in one DNS management tool then try ClouDNS.

If this article helped you in any way and you want to show your appreciation, I am more than happy to receive donations through PayPal. This will help me maintain and improve this website so I can help more people out there. Thank you for your help.
HELP OTHERS AND SHARE THIS ARTICLE
LEAVE A COMMENT

I am an entrepreneur based in Sydney Australia. I was born in Vietnam, grew up in Italy and currently residing in Australia. I started my first business venture Advertise Me from a random idea and have never looked back since. My passion is in the digital space, affiliate marketing, fitness and I launched several digital products. You will find these on the portfolio page.
I've decided to change from a Vegetarian to a Vegan diet and started a website called Veggie Meals.
I started this blog so I could leave a digital footprint of my random thoughts, ideas and life in general.
If any of the articles helped you in any way, please donate. Thank you for your help.
Affiliate Compensated: there are some articles with links to products or services that I may receive a commission.