It has been over 500 days since I started the 5 kilometre per day challenge and it's been going well. I only have slight pain on the side of my left leg. It's a bit sore but besides that, I'm still doing it – running 5km every day and on a Saturday I run 10 km. I'm not sure how long I will keep doing this as things are getting a bit busy with work, life and everything else but mentally and physically I believe I can still fit this in the mornings. I get up around 7:00 – 7:30 am go for my run, which is roughly 30 minutes and then when I get back home the busy day starts. I find that running in the morning helps with building the motivation to get the day started in a positive way. It feels as though you've accomplished something at the start of the day.
I know that most people lives get busy and it's hard to find the motivation and time but I believe most can always plan around those busy times and I hope that we can continue with improving our overall fitness and wellbeing. But if it doesn't and that's ok, I personally feel that I successfully completed the initial challenge (30 days, 100 days and 365 days) and now it's just seeing how far I can take it.
I'm also looking at doing maybe other fitness challenges and the one I'm thinking of doing next is the MURPH challenge. For those of you that don't know, the MURPH challenge consists of the following exercises:
1 mile (1.6 km) run
100 pull-ups
200 push-ups
300 squats
another 1 mile run (1.6 km)
With the push-ups, pull-ups and squats, you can break it up into sets and you don't have to perform it all in one hit. Generally, you can do all those exercises in under an hour and I guess my goal is to complete all those exercises within that 1 hour.
I recently received a SKIN COMPRESSION calf sports tights that I'm using for my runs.
I successfully completed a Strava challenge and as part of the Strava challenge, you can redeem a free SKIN COMPRESSION calf sports tight (just need to pay $10 for shipping). I've included a video below of the unboxing and testing. To be honest the compression calf seems to be ok. I've never really used compression shorts or tights for my legs so I can't really comment whether it does help or not. I didn't really notice that much of a difference to be honest and I'm not even really sure whether it's helping with the issue with my left leg.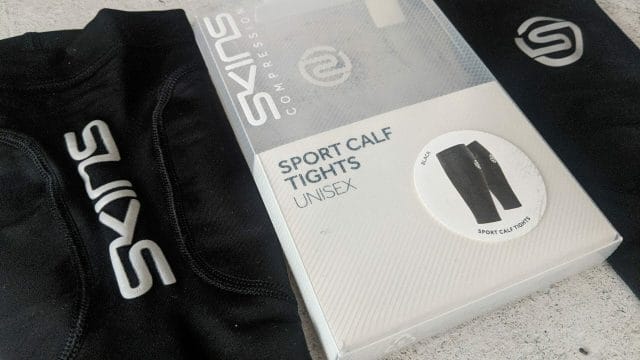 I've noticed that my left leg seems to be sore in the mornings after getting up and walking to get changed. When I start my morning runs (yes – I do some basic stretching and can feel it too), the first 300m my left leg feels a bit sore but after that, it all seems to be ok. During the run, I don't feel it as much but I'm also running at a slower pace just so that I don't aggravate the issue. I still managed to complete the run and the pace now is around 5:30 – 5:50 so I'm hoping to improve that once this injury is healed. I'm not even sure if it's called an injury but it's just a bit sore.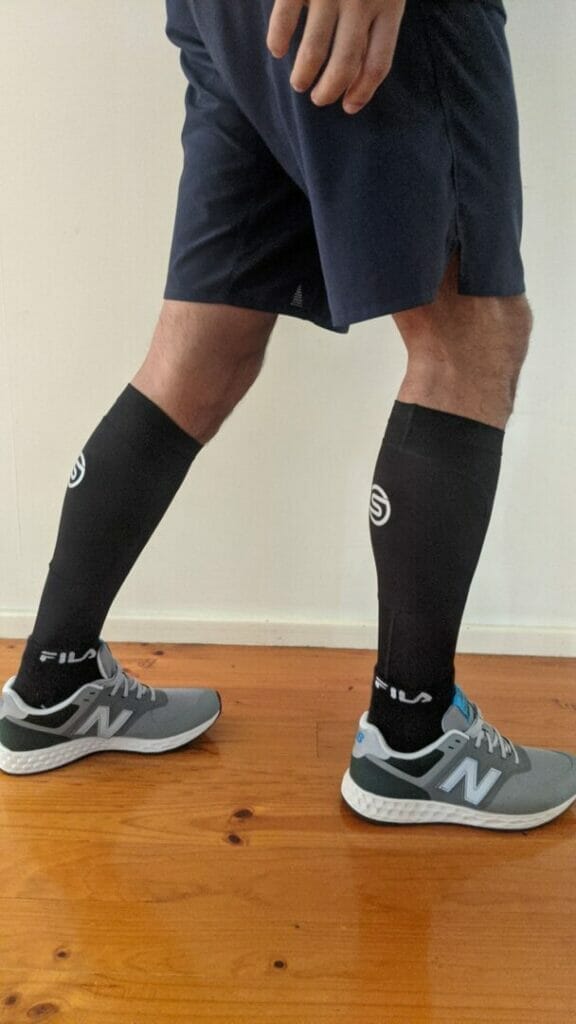 I ordered a size M and I do highly recommend to make sure you measure your calf before you actually order these. As per the video, you need to measure the thickest part of the calf and then check which size you need to order. In my particular case, my calf was approximately 37 cm. In summary, these are the sizes:
XXS: 28 – 31 cms (11″ -12.5″)
XS: 31 – 34 cms (12.5″ – 13.5″)
S: 34-37 cms (13.5″ – 15″)
M: 37 – 40 cms (15″ – 16″)
L: 40 – 44 cms (16″ – 17.5″)
XL: 44 -47 cms (17.5″ – 19″)
I'm also using the SKIN COMPRESSION to hold an ice pack to soothe and help with recovery. It holds it in place very nicely.
I have started using a new pair of New Balance shoes (Fresh Foam 574). They feel light but the left shoe for some reason feels bumpy on the top of my feet. You can order them from Fitness Mania or Fashion 4 Shoes.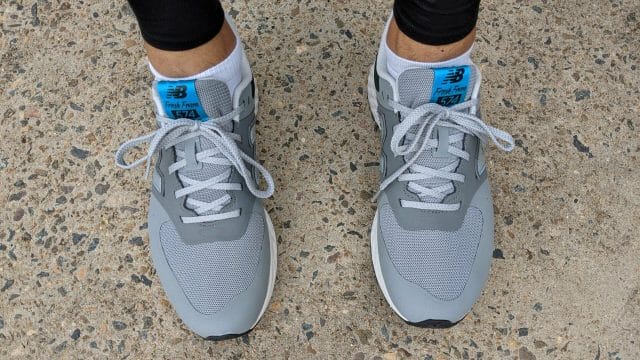 If you're struggling to find the motivation start exercising or to take action to start your business, come back here and read some of these articles. I hope they can provide you with some motivation to help you boost your productivity.
If you've hit a stumbling block or a brick wall, find a way to overcome this by mentally challenging the norm. Find something that you're passionate about and try to always look on the bright. Have that persistence to keep going and make sure that you always remain focused not just physically but also mentally and spiritually.
I hope that you achieve all your goals and if you want to share some of your goals and experience to make yourself more accountable put them in the comments below as I would love to hear from you.

If this article helped you in any way and you want to show your appreciation, I am more than happy to receive donations through PayPal. This will help me maintain and improve this website so I can help more people out there. Thank you for your help.
HELP OTHERS AND SHARE THIS ARTICLE
LEAVE A COMMENT

I am an entrepreneur based in Sydney Australia. I was born in Vietnam, grew up in Italy and currently residing in Australia. I started my first business venture Advertise Me from a random idea and have never looked back since. My passion is in the digital space, affiliate marketing, fitness and I launched several digital products. You will find these on the portfolio page.
I've decided to change from a Vegetarian to a Vegan diet and started a website called Veggie Meals.
I started this blog so I could leave a digital footprint of my random thoughts, ideas and life in general.
If any of the articles helped you in any way, please donate. Thank you for your help.
Affiliate Compensated: there are some articles with links to products or services that I may receive a commission.