I was recently involved in setting up a digital video wall for an Advertise Me (a digital signage solutions company) client. This type of setup is different from your traditional 2×2 setup where the ratio of the pixel width and the height of the canvas area is 16:9 aspect ratio (1920×1080 pixels if using a Full HD screen). With a 4×1 video wall, the pixel ratio ends up being 128:3 aspect ratio (7680×1080 pixels).
Most digital signage video wall screens have an internal video wall that can stretch the input signal to fit all the screens. Here are a few examples of a 2×2 video wall, you can read this article on how to set up a video wall: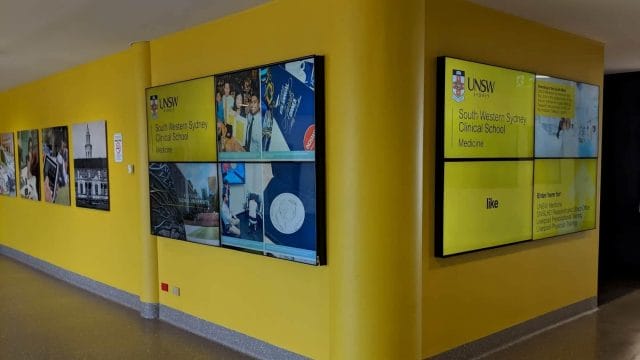 We initially tried using the built-in video wall feature on the digital signage video wall screens but the content displayed looked horrible because it stretched the signal from a 1920×1080 to fix a 7680×1080 canvas. After some playing around we decided the best way to display the content was not to use the video wall feature and to connect a video output signal to each screen. Fortunately, the digital signage player we used already had 3 video outputs (2 Display Ports and 1 HDMI), meaning we could only connect the digital signage player to 3 screens only. We decided to use a USB to HDMI dongle and connect the last screen to it.
VIDEO WALL SETUP EXAMPLE
This is an example of the setup:
The final setup looked like this and it displayed images and our Social Wall: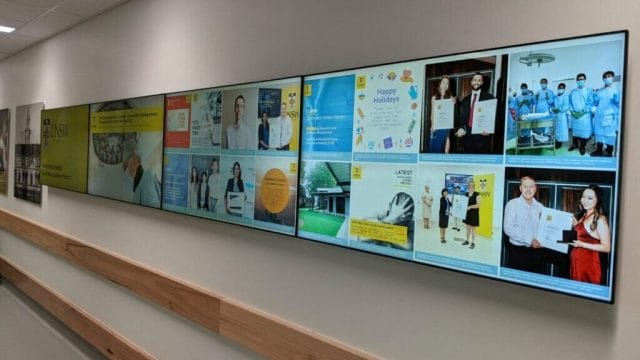 VIDEO WALL HARDWARE
In summary, to set up a 4×1 video wall you will need the following digital signage hardware:
a digital signage player with 4 video outputs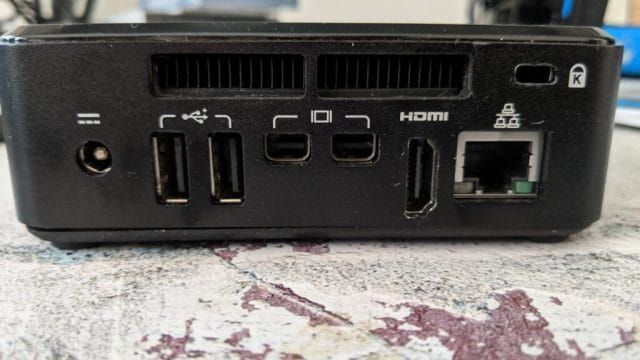 four video wall monitors with thin bezels
You can use USB to HDMI dongles or USB-C to HDMI dongles if your player doesn't have 4 video outputs
various video cables (mini display to display, HDMI to HDMI)
VIDEO WALL INSTALL
A video wall installation is a project that will take some time and can be complicated, but the end results will be well worth it. A typical video wall installation process is as follows:
determine the location where the video wall will be installed
layout tools and materials needed for the installation
mark out the location where the wall brackets will be installed install the wall brackets
install a in wall box where the digital signage player and all the outlets will be installed in. The in wall box will be recessed into the wall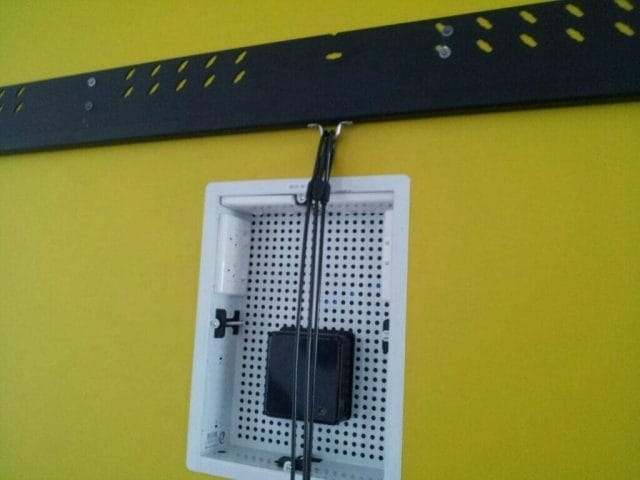 get an electrician to install the data and power outlets in the in-wall box at the location where the wall brackets were marked out. Ideally, you will need 5 power outlets (4 for the video wall screens and 1 for the digital signage player) and 2 data outlets (1 for the video wall screens and 1 for the digital signage player. The video wall screen can be daisy-chained using RS232 or you can also install a network switch to connect each one to the network).
install the video wall bracket arms to the back of the video wall screens
mount the video wall screens onto the wall bracket
connect all the required cables (power, data and video). For the video cables, make sure you use high-quality video cables. When we connected a mini display cable (digital signage player) to HDMI (video wall screen) it didn't work on our digital signage player setup. We needed to use a mini display cable to display cable.
setup the digital signage software
test the video wall
There you have it, if done correctly you will have an amazing looking video wall. From this setup and installation, I learnt a few things I wasn't aware of and as usual life is a journey of learning so make sure you embrace this.

If this article helped you in any way and you want to show your appreciation, I am more than happy to receive donations through PayPal. This will help me maintain and improve this website so I can help more people out there. Thank you for your help.
HELP OTHERS AND SHARE THIS ARTICLE
LEAVE A COMMENT

I am an entrepreneur based in Sydney Australia. I was born in Vietnam, grew up in Italy and currently residing in Australia. I started my first business venture Advertise Me from a random idea and have never looked back since. My passion is in the digital space, affiliate marketing, fitness and I launched several digital products. You will find these on the portfolio page.
I've decided to change from a Vegetarian to a Vegan diet and started a website called Veggie Meals.
I started this blog so I could leave a digital footprint of my random thoughts, ideas and life in general.
If any of the articles helped you in any way, please donate. Thank you for your help.
Affiliate Compensated: there are some articles with links to products or services that I may receive a commission.