I've done it. You've probably done it. We've all done it! I'm talking about making spelling mistakes in an email, websites or any text-based chats. I recently noticed (on the 26th Feb 2018) a spelling mistake on the web version of the Instagram app (https://instagram.com) and was quite surprised to have discovered this. The word "someone" was incorrectly spelt as "somone". I would have assumed someone from their team would have discovered this before publishing the App because the typo is blatantly obvious (for me). In any case, I wanted to do the right thing and report this spelling mistake to Instagram but I didn't realise how hard it is to contact someone from Instagram.
THE SPELLING MISTAKE – SOMONE
Firstly, let me show you the spelling mistake: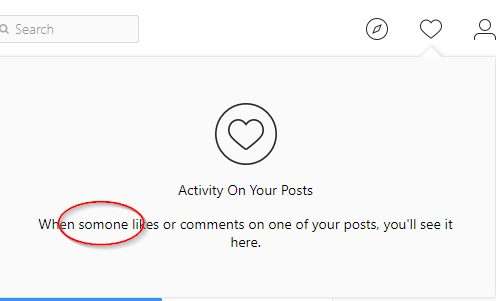 This seems to happen only when you have no activity on your posts ie, brand new accounts and when logged in via the Web browser. When logged in via the Mobile app there is no spelling mistake so the error seems to be related to the web app.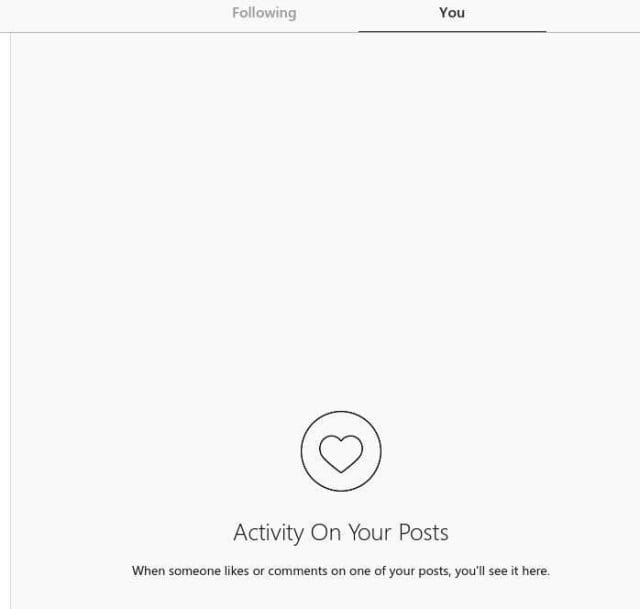 To replicate the issue on the web app simply follow these steps:
Use a web browser and create a new Instagram account
Login to the new account
Click on the Heart Icon
You will see the message
REPORTING TO INSTAGRAM
26/02/2018
I found that reporting the issue to Instagram is like finding a needle in a haystack. On the Instagram website there isn't a process to report this type of issue. There is a help centre if you click on the Support link in the footer:

The support link redirects you to this page https://help.instagram.com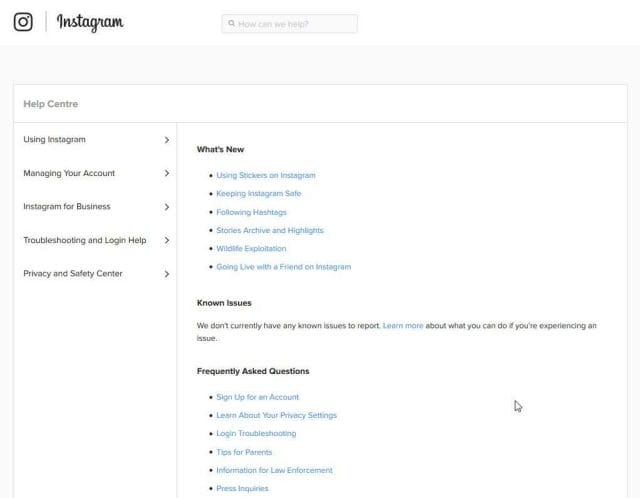 I tried finding out if there was a way to report the spelling mistake on this Help Centre but there wasn't anything useful. I even tried searching for "reporting spelling mistake to someone".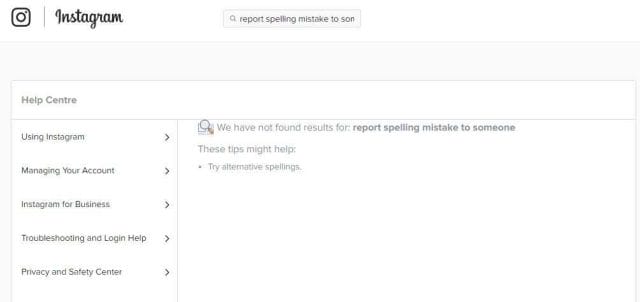 I thought that maybe I needed to spell someone differently so I tried "reporting spelling mistake to somone":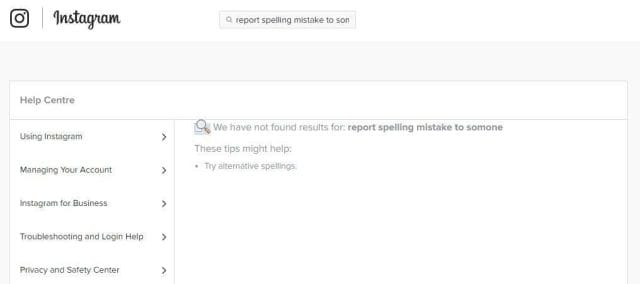 It didn't make a difference as there were no results.
The next step I tried was creating a post on Instagram and tagging the @instagram account but didn't get any responses:
Hi @instagram,

Just wanted to report a spelling issue to "somone" on your team. I noticed this when creating a new account.
Hope someone will fix it soon. Don't worry, I make typos all the time.

From @marco.tran

P.S: wonder if you will actually read or reply to this but let me know if it was intentional or not.
P.S.S: If there's a bounty hunt for this then do I win something ?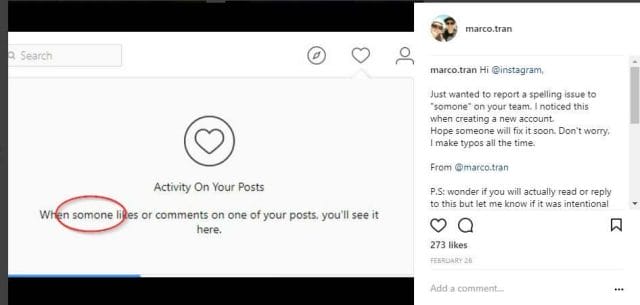 I didn't get any responses from this Instagram post. So I decided to use Facebook Chat and send a message to Instagram. The message still hasn't been seen by Instagram: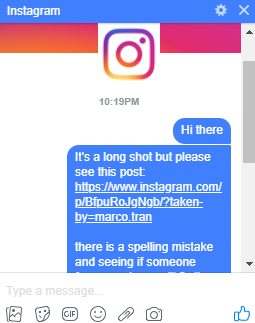 I thought that maybe there was someone in my LinkedIn network that could share and help report the issue and someone in my network did notice this post and reshared it to someone who worked in Instagram but maybe they reported it… or maybe they didn't – who knows. I also tried reporting it to someone who was on my 2nd level LinkedIn connection but they didn't respond either.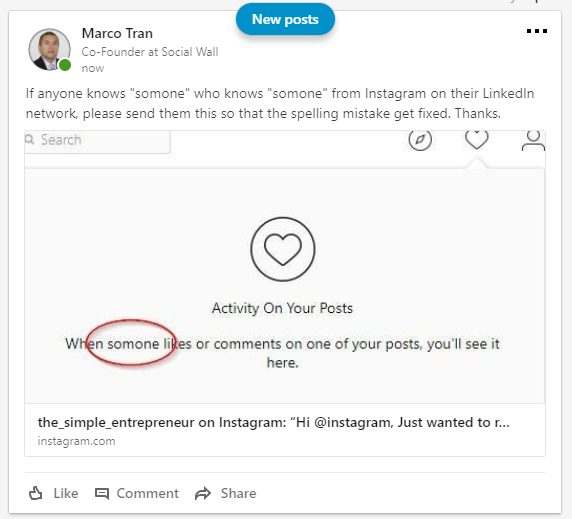 I then decided to be a bit cheeky and tried following the Instagram account "somone". I tried messaging them and asked them if they could like or comment on one of my posts so as per the Instagram instructions and I'm still waiting for their response. I'm thinking that maybe the "somone" account is not even active as there were no posts on this account and there is no one following them. If anyone owns this account, please login to Instagram and contact me. That was my last attempt to do something about this spelling error and just left it for now and decided to track the progress to see when it actually gets fixed. I'll be tracking this progress via this blog post.
USING THE MOBILE APP TO REPORT
10/03/2018
It has been twelve days since I discovered the spelling mistake and it still hasn't been fixed. I thought I'd see if there were any other ways of contacting Instagram and accidentally stumbled across a menu option in the actual Windows Instagram App. There was a "Report a Problem" option so I clicked on that: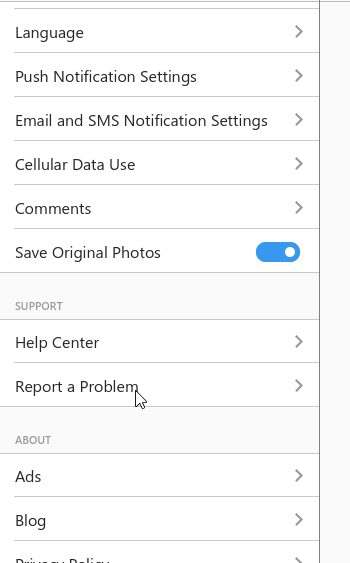 I decided to press on the General Feedback option as that seemed the most appropriate: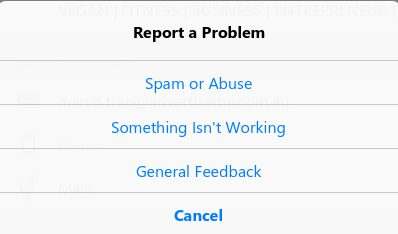 I sent them this message:
Hi there,

There seems to be a spelling mistake when you login to Instagram via the Web browser for new accounts. The word someone is spelt as "somone" when you click on the Heart Icon. Please have a look at this Instagram post: https://www.instagram/p/BfpuRoJgNgb/

Just tought (yes I spelt it wrong… see what I mean) I'd report it here and see if it will get fixed. Please let me know when it does as I'm writing an article on my website about this spelling error. The article is title HOW TO REPORT A SPELLING MISTAKE TO INSTAGRAM – IS IT GOING TO GET FIXED?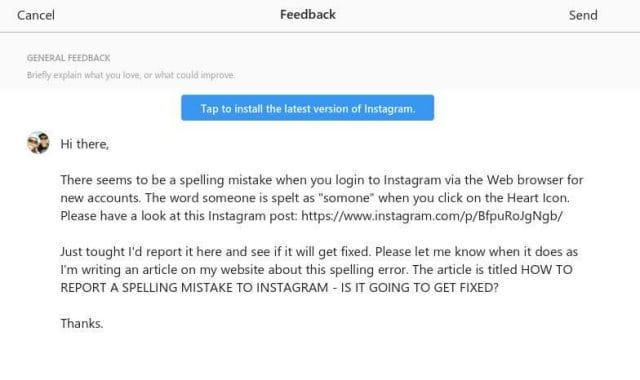 I pressed the send button without checking the spelling…haha. Now I'm waiting for a reply, let's see what happens.
USING REDDIT
29/03/2018
I decided to check in to see whether the issue has been fixed and I wasn't surprised – it's still not fixed. My next step would be to post it somewhere like Reddit to see if one of the developers in Instagram will notice it.

Why Reddit? Because I'm pretty sure whoever made the spelling mistake is probably one of the people who also make the same mistake with one of the posts. Or it seems like it's pretty common to incorrectly spell the word "Someone" as there are quite a number of pages with this result.
USING FACEBOOK ADS
4/4/2018
The problem was still not fixed so I decided to think outside the square and created a Facebook Ad to get their attention. Initially the ad didn't get approved because the image I used in the ads was a screenshot of the actual error message and Facebook reported back that I could not use screenshots of Facebook or Instagram. Below was the first Facebook Ad:
After changing the image to the one below it was approved – which either meant someone from Facebook manually approved it or it was automatically approved. I ended up changing the Facebook ad to inactive so there was no point displaying this ad to Facebook users.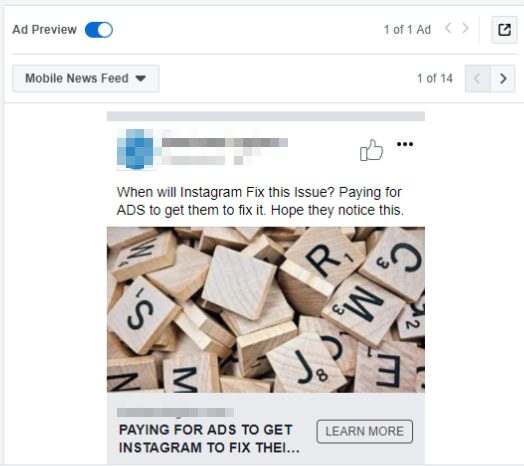 If this article helped you in any way and you want to show your appreciation, I am more than happy to receive donations through PayPal. This will help me maintain and improve this website so I can help more people out there. Thank you for your help.
HELP OTHERS AND SHARE THIS ARTICLE
LEAVE A COMMENT

I am an entrepreneur based in Sydney Australia. I was born in Vietnam, grew up in Italy and currently residing in Australia. I started my first business venture Advertise Me from a random idea and have never looked back since. My passion is in the digital space, affiliate marketing, fitness and I launched several digital products. You will find these on the portfolio page.
I've decided to change from a Vegetarian to a Vegan diet and started a website called Veggie Meals.
I started this blog so I could leave a digital footprint of my random thoughts, ideas and life in general.
If any of the articles helped you in any way, please donate. Thank you for your help.
Affiliate Compensated: there are some articles with links to products or services that I may receive a commission.