I decided to test my typing speed after watching a video from Ali Abdaal – a YouTuber who is also a junior doctor (well sort of, he's currently on a break). His videos are about various topics such as book reviews, tips for studying for exams, lifestyle topics, tech and productivity tips (how to be more productive). In this particular video, he talked about how he types 156 words per minutes – which is damn fast! You can watch the video below:
What was my typing test speed? Well, it definitely wasn't 156 words per minute. On my first try (yesterday) I achieved 71 WPM and on my second attempt, I improved by 3 WPM (total of 74 WPM). This morning, I tried the typing test again and was surprised I got 80 WPM. The typing test website Ali uses is 10fastfingers.com and I used this same one to perform my typing speed test.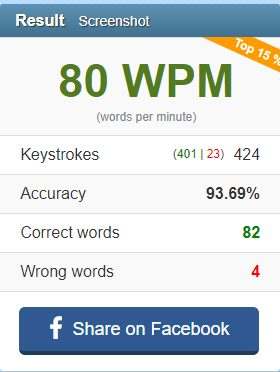 My goal is to try to reach at least 120 WPM by the end of the year. I type a lot for blog articles and work documents, so I'm thinking I might as well try to improve my typing speeds to help in finishing the task quicker.
How am I going to achieve this? I'll try to do the test every morning for the next month. So when I turn on my computer the first browser window that will open up is the typing test website. If you want to automatically open up the browser at startup you can use a tool called Launcher Dock. Alternatively, you can use the Chrome Browser On startup Feature like below to open up the website when Chrome is launched: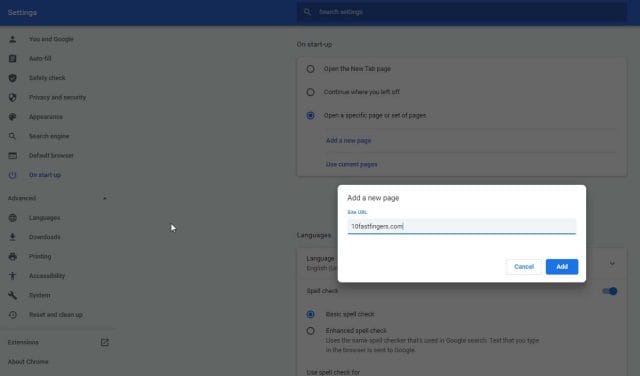 I'm hoping that over time my typing speed will improve. One tip that I can give you based on the first few typing tests I did, was to avoid hitting the backspace button to correct the words – just keep typing! From what I heard from content writers and bloggers is to keep typing and fix the errors in the review stage of your writing.
Also, in the video, he talks about some of the keyboard shortcuts you can use to "save time", e.g like holding CTRL-BACKSPACE to quickly remove the entire word instead of pressing backspace several times. I fall into those people who constantly press backspace to remove the entire word so my plan is to hopefully change this habit.
My highest speed so far is 106 WPM and 2 error achieved on the 2th July 2021. Previous highest speed was 103 WPM and 1 error on the 19th Feb 2021.
If you are based in Australia, you can also try to obtain a certification from the Australian Standard Typing Tests. All Australian Standard Typing Tests are fully accredited and meet the Australian Keyboarding Speed Test Standard (AS2708-2001) required for certificates. This certificate is suitable as evidence of typing speed and accuracy for formal job applications. Can also be included in resumes or cover letters. You can test your keyboarding speed and accuracy by undertaking a fully automated online typing test designed to monitor every keystroke over a 5 minute period. Once you complete the test a certified Australian Standard Typing Certificate will be generated, displaying your Full Name, Words Per Minute (WPM) and Typing Accuracy %.
I'll report back in a months time to see whether my speed has increased. Maybe you can also set a WPM speed goal. Just type it in the comment box below so you can be held accountable for this goal and then provide me with an update in a months time. Good luck!

If this article helped you in any way and you want to show your appreciation, I am more than happy to receive donations through PayPal. This will help me maintain and improve this website so I can help more people out there. Thank you for your help.
HELP OTHERS AND SHARE THIS ARTICLE
LEAVE A COMMENT

I am an entrepreneur based in Sydney Australia. I was born in Vietnam, grew up in Italy and currently residing in Australia. I started my first business venture Advertise Me from a random idea and have never looked back since. My passion is in the digital space, affiliate marketing, fitness and I launched several digital products. You will find these on the portfolio page.
I've decided to change from a Vegetarian to a Vegan diet and started a website called Veggie Meals.
I started this blog so I could leave a digital footprint of my random thoughts, ideas and life in general.
If any of the articles helped you in any way, please donate. Thank you for your help.
Affiliate Compensated: there are some articles with links to products or services that I may receive a commission.