I'm not a designer but I'm going to show you how to create amazing designs as a non designer.
I don't claim that my designs are great or on par as a professional designer.
I cheat (sort of) and I'm going to share with you the tools and templates I use to create amazing, awesome and professional designs – even for beginners.
I've previously also shared some of the tools I use in this post: CREATING LOGO DESIGNS but I'll mention them here again and share how I created a professional-looking brochure for one of our products called ePosters.
Visme is our go-to tool when creating designs and mockups for our clients. The templates in Visme are simply amazing and they look professional. All you need to do is simply select a template, make some changes such as the text, icons and images and then you're done. When you send the final design to your client, they will be amazed.
As an example, this is a slide from a product proposal brochure I created in Visme.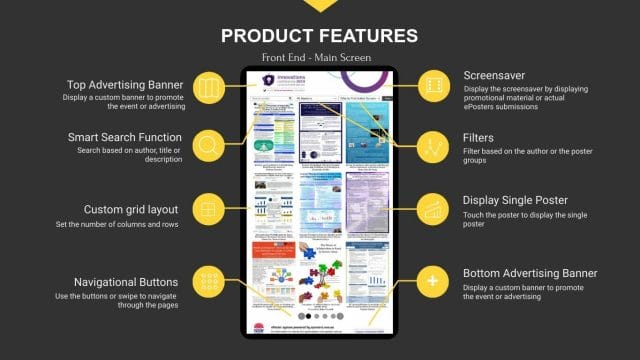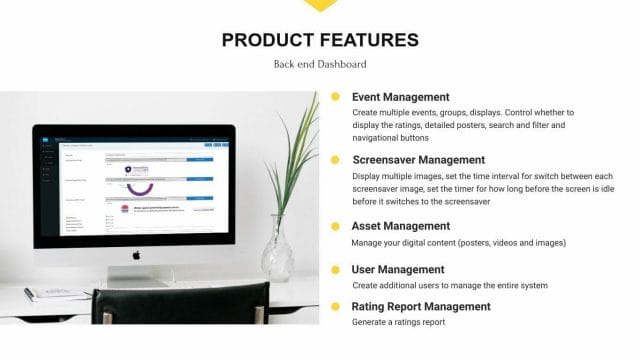 To create the mockup of the screen on the monitor, I used a tool called Smart Mockups – a tool that allows you to create professional mockups. I use the PC desktop version instead of the browser version.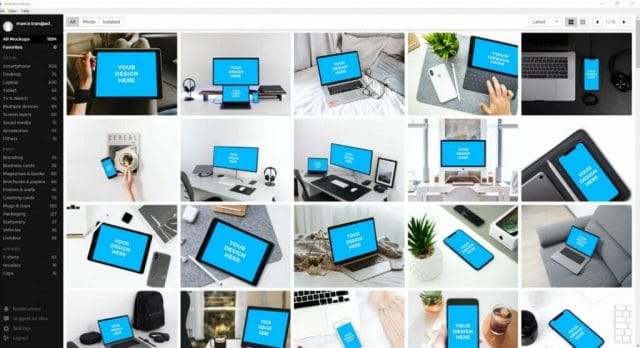 In Visme, there are hundreds of professional templates you can use. Here's a screenshot of modern template that I used for my ePosters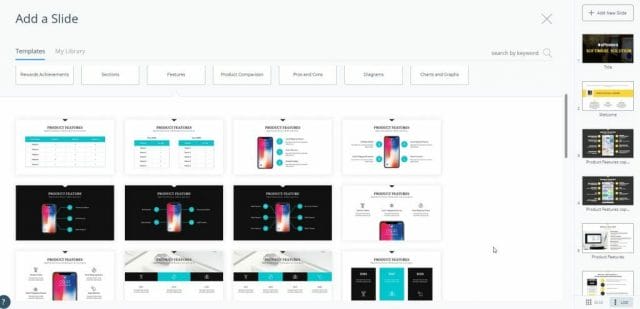 Once you select the template for the slide (there are several designs you can choose from for each type of slide), you can edit the colours and text of each element.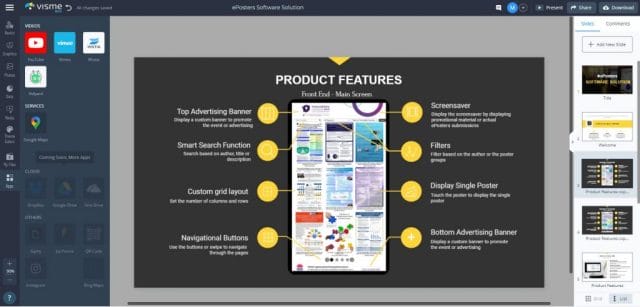 Even creating a contact us page was easy and the end result looks professional.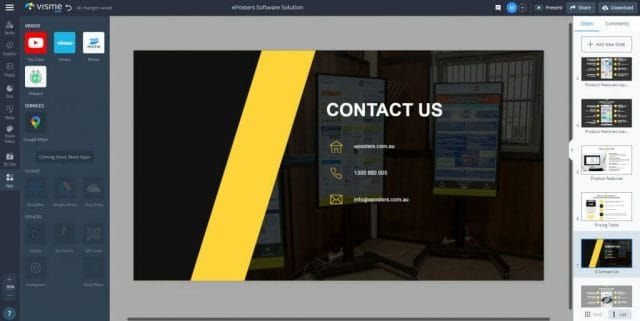 Visme actually has quite a lot of features such as ability to use animated graphics.

You also have the option to export the presentation to a PowerPoint file, keynote, share it via a website or link, download it as a video/gif, PDF or a HTML so you can add to your own website.
PRICES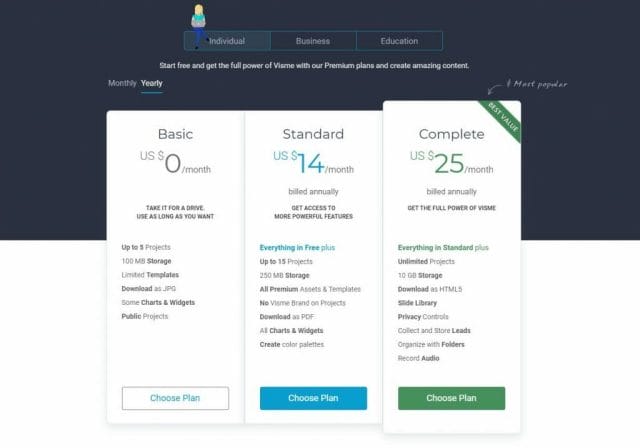 The cheapest plan is $0 per month for the basic plan and it includes:
Up to 5 Projects
100 MB Storage
Limited Templates
Download as JPG
Some Charts & Widgets
Public Projects
The next tiered paid plan is $14 per month and it includes the following:
Everything in Free plus
Up to 15 Projects
250 MB Storage
All Premium Assets & Templates
No Visme Brand on Projects
Download as PDF
All Charts & Widgets
Create color palettes
You can sign up for free here: SIGN UP
If you work in a team and need to collaborate you can use the Single business plan for $25.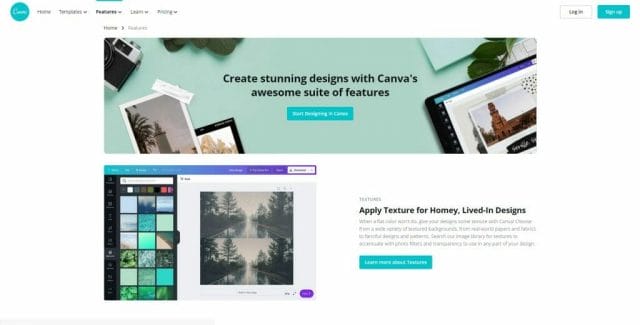 Canva is another tool I use to create great-looking designs. I needed to shout out this company since they are Australian based and the company's growth has been the talk of the Australian tech industry.
I have used Canva to create the Social Wall blog post headers since you can quickly and easily edit the text and change the background image to produce the required designs. One drawback that I found when using Canva compared to other design tools is the ability to set an image as the actual background and then making the background image darker. To achieve this in Canva, you would need to create a new shape, overlay the shape over the image and change the opacity. Maybe there is a better way to do this so let me know in the comments.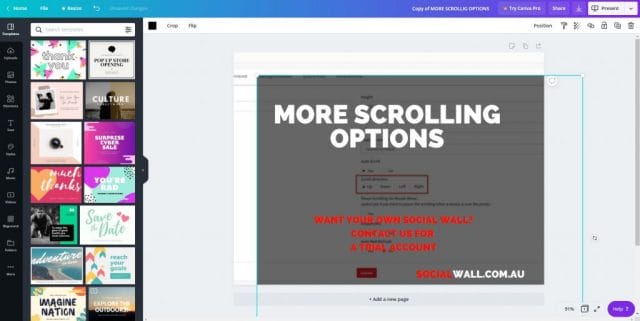 There are many templates you can choose from in Canva and they all look professional.
My son Jayden has also used Canva as well for both school and for his blog jaydentran.com If only I had such a tool back in the day when I was still at school – school life would have been so much easier.
Canva is very easy to use and what I like about this tool is that there is also a native mobile and tablet app so you can edit and create the designs right from your phone. Most of the other tools don't have this feature available.
PRICES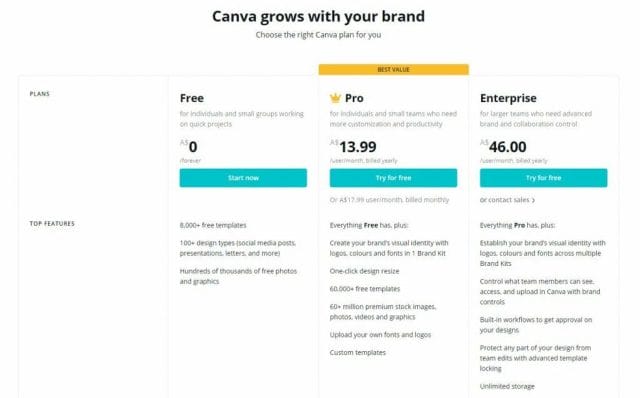 Canva also has a free tier plan and I've been on this plan for years. This plan doesn't include comprehensive collaboration features but you can still share your designs with other Canva members so that they can edit. The free plan includes:
8,000+ free templates
100+ design types (social media posts, presentations, letters, and more)
Hundreds of thousands of free photos and graphics
The lowest paid plan is the Pro and you can try it for free for 30 days which will give you enough time to assess whether the plan is right for your business or team. The Pro plan includes these extra features:
Everything Free has, plus:
Create your brand's visual identity with logos, colours and fonts in 1 Brand Kit
One-click design resize
60,000+ free templates
60+ million premium stock images, photos, videos and graphics
Upload your own fonts and logos
Custom templates
You can sign up for free here: SIGN UP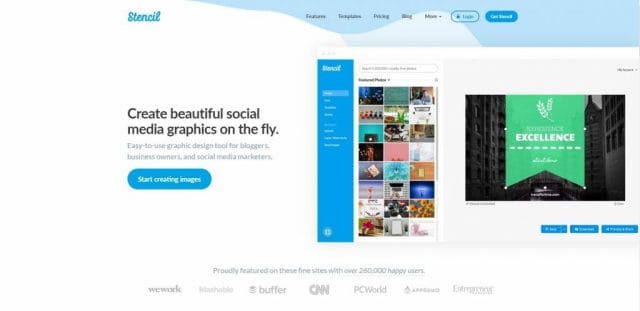 Getstencil is another great little tool I use to create blog post headers for this website and for the Business Legions blog. The reason why I use Getstencil is that creating the headers is so much faster and quicker. All I need to do is replace the text and change the background image. I normally use their stock photos (if I don't have an actual photo associated with the post – I always prefer to use my own photos) for the background image and it quickly allows me to darken the background image with a few clicks. In terms of the quality of the templates, they don't look as good as Visme or Canva.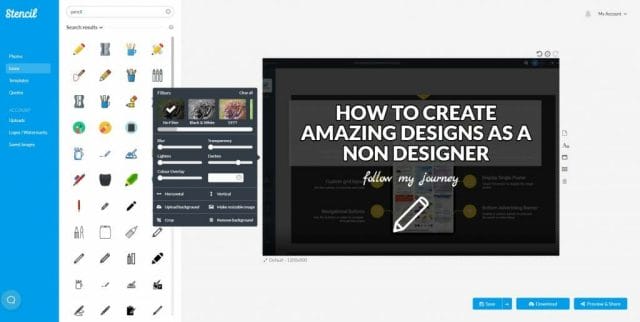 PRICES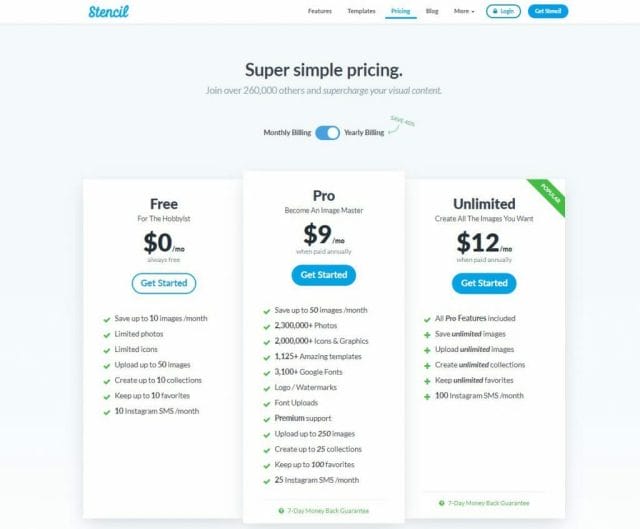 Getstencil also has a free tier plan. With the free plan you will get the following features:
Save up to 10 images /month
Limited photos
Limited icons
Upload up to 50 images
Create up to 10 collections
Keep up to 10 favorites
10 Instagram SMS /month
The lowest paid plan is the Pro plan which costs $9 per month (when paid annually). The Pro plan comes with:
Save up to 50 images /month
2,300,000+ Photos
2,000,000+ Icons & Graphics
1,125+ Amazing templates
3,100+ Google Fonts
Logo / Watermarks
Font Uploads
Premium support
Upload up to 250 images
Create up to 25 collections
Keep up to 100 favorites
25 Instagram SMS /month
You can sign up for free here: SIGN UP
I'm currently on the Unlimited lifetime plan which was available many years ago. I can't recall how much I paid for it but it was a pretty good deal. You may be able to find similar lifetime deals from here: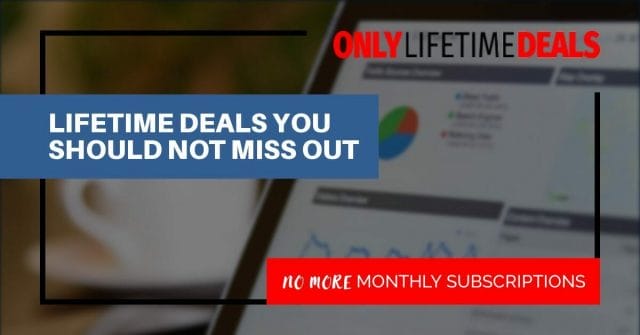 FINAL SUMMARY
All of the tools mentioned above do have the feature of publishing the design to the different social media platforms, but I prefer to use other social media scheduling tools that are designed for posting to social media.
They all have a free tier plan where you can use and test the tool and if you need additional features I would suggest you upgrade the plan. As you can see from the pricing and features plans for each tool, if you want to customise and add additional branding, then you would need to pay for this feature and upgrade the plan.
Each tool has it's own pros and cons and the only way to know whether the tool is suitable for your requirements, just sign up to the free plan or use the free trial.
Although I still have access to the suite of Adobe products, I don't use them that often as it's much quicker to use a cloud-based tool with a professional-looking template. If you're used to using the Adobe products, then you may want to stick with these as they also have a monthly price but depending on your skill level, it may make more sense to just use one of the above cloud-based design tools.
You can see from the pricing and features plan for each tool that if you want to customise your branding then you would need to pay for this feature.

If this article helped you in any way and you want to show your appreciation, I am more than happy to receive donations through PayPal. This will help me maintain and improve this website so I can help more people out there. Thank you for your help.
HELP OTHERS AND SHARE THIS ARTICLE
LEAVE A COMMENT

I am an entrepreneur based in Sydney Australia. I was born in Vietnam, grew up in Italy and currently residing in Australia. I started my first business venture Advertise Me from a random idea and have never looked back since. My passion is in the digital space, affiliate marketing, fitness and I launched several digital products. You will find these on the portfolio page.
I've decided to change from a Vegetarian to a Vegan diet and started a website called Veggie Meals.
I started this blog so I could leave a digital footprint of my random thoughts, ideas and life in general.
If any of the articles helped you in any way, please donate. Thank you for your help.
Affiliate Compensated: there are some articles with links to products or services that I may receive a commission.