When I logged in this morning to create a new Google Slide, I was presented with a message about a new feature called Live Pointers. The message displayed was:
Collaborate more easily with live pointers

Let others see your pointer by selecting Show my pointer in the toolbar or View menu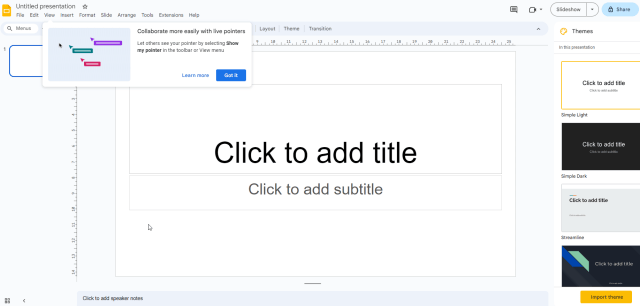 I believe other tools like Canva already have a similar feature and all it basically does is show the presenter and other collaborators mouse pointers all at the same time.
Let me explain how it works. With this new feature, your team members can easily point out specific text or visual elements within a Slide to highlight important information and content. This is especially useful if you're working on a presentation with multiple contributors or if you're teaching a class online. You can simply hover your mouse over the element you want to highlight, and your colleagues will see your pointer in real-time. This makes it easy to collaborate and get your message across effectively.
HOW TO TURN ON THE LIVE POINTER FEATURE
There are several ways to turn on this feature.
TOOLBAR
The easiest way is to click on the Live Pointer icon in the toolbar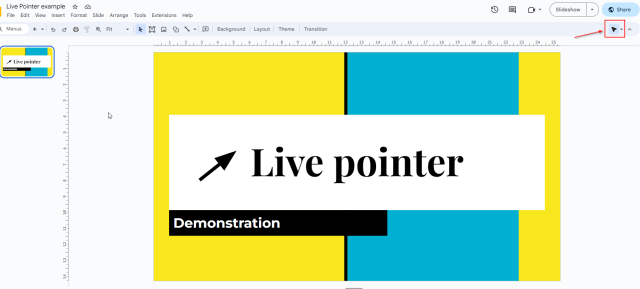 You will then have two options:
Show collaborators pointers
Show my pointer

SHORTCUT KEYS
You can also turn on these two options by using the shortcut keys like shown in the above image. The shortcut keys are
Show collaborator pointers – Ctrl+Alt+L Ctrl+Alt+C
Show my pointer – Ctrl+Alt+L Ctrl+Alt+M
MENU
The last option available is to turn on these two options via the Menu. To do this click on View – Live Pointers like shown below.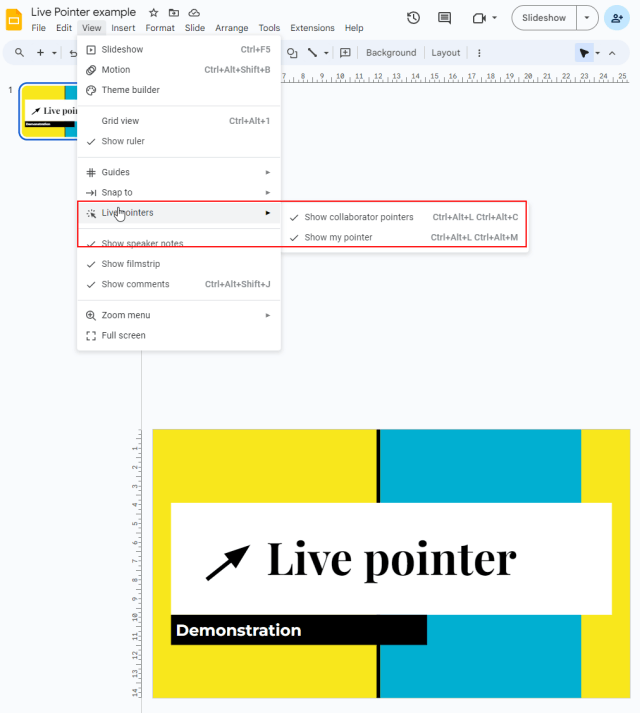 Here's a video showing how to use this new feature and I hope this helps. If it does, please like and subscribe to my channel and leave a comment.

If this article helped you in any way and you want to show your appreciation, I am more than happy to receive donations through PayPal. This will help me maintain and improve this website so I can help more people out there. Thank you for your help.
HELP OTHERS AND SHARE THIS ARTICLE
LEAVE A COMMENT

I am an entrepreneur based in Sydney Australia. I was born in Vietnam, grew up in Italy and currently residing in Australia. I started my first business venture Advertise Me from a random idea and have never looked back since. My passion is in the digital space, affiliate marketing, fitness and I launched several digital products. You will find these on the portfolio page.
I've decided to change from a Vegetarian to a Vegan diet and started a website called Veggie Meals.
I started this blog so I could leave a digital footprint of my random thoughts, ideas and life in general.
If any of the articles helped you in any way, please donate. Thank you for your help.
Affiliate Compensated: there are some articles with links to products or services that I may receive a commission.