Over the past month, traffic to this website just spiked and it was all from a post that I published called HOW TO FIX FACEBOOK TOO MANY REDIRECTS
This article has been shared across different social media platforms and also on forums. I honestly didn't know it would get so much attention and visits. What's more important though, is that people found the article useful and I have received so many thank you messages and comments. I even received donations for publishing and sharing that article – it has been a very overwhelming experience.
Here's a snapshot from Google Search Console of the number of Total clicks and Total impressions for the last 3 months. You will notice the spike started at the end of May 2020 which is roughly the same time when I published the article. I can't say the article has gone viral, it's just great timing as more people are having this issue and I was able to provide them with some guidance on how to resolve the issue. I guess you can call this GRATITUDE.

To cater for the surge in traffic and visitors, I decided to just move the website to it's own hosting VPS. The domain previously was shared amongst other websites I own and the server wasn't able to handle all the requests from all the websites. I used the donation money to purchase another VPS instance from a local hosting provider. I actually setup my own domain and hosting business called Online Hosting Solutions – you should check it out if you have the time as the domain costs are pretty low. I decided to keep it low to make it more affordable for people. Some of you will say that it's not the cheapest but that's fine because I still need to make sure it's generating some profit to pay for all the fees. These are the specs of the VPS server and the cost is $8.80 per month.

If you pay using PayPal then the cost comes to $9.33 (PayPal gateway cost was $0.53). I do plan on using BPay in the future to save costs but it does sometimes take 1-2 days for the payment to be cleared, so to speed up the process I decided to just use PayPal for the initial payment.

I'm very familiar with transferring websites to different VPS servers, as I've done this for work and also for my own personal websites a number of times.
STEPS TO MOVE WEBSITE HOSTING
I will probably document in more detail the step by step procedures in a future post but here's a summary:
On the old VPS, zip the folder with all the website hosting files

Export (dump) the mysql database

Purchase the new VPS. This is the specs I used for the new VPS. 1 core CPU, 2GB + 2GB burst RAM, 10GB of storage and 250GB of traffic bandwidth

Install VestaCP – this is a Hosting Control Panel that you can use to host multiple websites on the same VPS. I used the Advanced install settings and I don't install the MAIL, DNS or SOFTACULOUS features as I have this hosted somewhere else. I recommend you also don't have MAIL installed as your website can potentially be marked as spam if your MAIL server gets hacked and sends out emails. If you haven't setup a MAIL server before, I recommend you don't have this installed.



Once VestaCP has been successfully installed, I normally update the password and disable the system backup. I actually backup the VPS to a remote server.


I also delete the default website and database VestaCP creates.


Create the new website in VestaCP admin panel


I use Let's Encrypt for SSL which comes with VestaCP. When moving websites you need to remember that your old VPS is still hosting the live website so when you try to enable the SSL support when creating the new website you may received a Error 15 code. To overcome this issue, I manually copied the SSL Certificate, SSL Key and SSL certificate Authority/Intermediate keys from the old hosting to the new.

I also created an FTP account on the new website hosting account which will be used to transfer the zip and sql files.

Transfer the zip and sql files from the old VPS to the new VPS.

Unzip the file using the unzip command

Change the file permission of the folder public_html so that admin has full access

Import the sql file into the database

I also upgraded MariaDB database from version 5 to version 10. You can use version 5 if you want but I decided to upgrade to version 10. To do this you need to edit the /etc/yum.repos.d/MariaDB.repo file and add the following code
Then issue these commands to update MariaDB
sudo yum update
sudo yum install MariaDB MariaDB-server



To test your new VPS website before going live is to create static DNS entries on your local machine. I use a Windows tool called Hosts File Editor to manage local host entries or you do have the option of just editing the hosts file in windows (C:\Windows\System32\drivers\etc)


Once you have confirmed that the website is working you can update your DNS entries and point the website to the new IP address. You need to do this on your Domain Hosting provider.

Depending on the TTL you set for that DNS entry (in my case it was 600 seconds) the new IP address for the website will be propagated. To test whether it has been propagated you can use a tool described in this article What's my DNS?
Once again, a big thanks to those who have shared, liked, donated, commented, emailed and provided feedback – without your help I wouldn't have been able to improve this website.
If this article helped you in any way and you want to show your appreciation, I am more than happy to receive donations through PayPal. This will help me maintain and improve this website so I can help more people out there. Thank you for your help.
HELP OTHERS AND SHARE THIS ARTICLE
LEAVE A COMMENT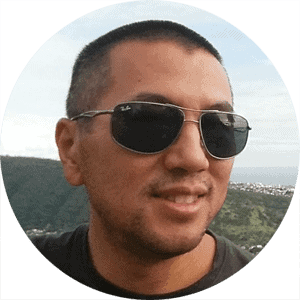 I am an entrepreneur based in Sydney Australia. I was born in Vietnam, grew up in Italy and currently residing in Australia. I started my first business venture Advertise Me from a random idea and have never looked back since. My passion is in the digital space, affiliate marketing, fitness and I launched several digital products. You will find these on the portfolio page.
I've decided to change from a Vegetarian to a Vegan diet and started a website called Veggie Meals.
I started this blog so I could leave a digital footprint of my random thoughts, ideas and life in general.
If any of the articles helped you in any way, please donate. Thank you for your help.
Affiliate Compensated: there are some articles with links to products or services that I may receive a commission.