My wife encountered an issue with loading her company's Facebook page on her computer and asked me to put my IT hero cape on to fix her problem. This was quite an unusual problem and this was the error page she was getting: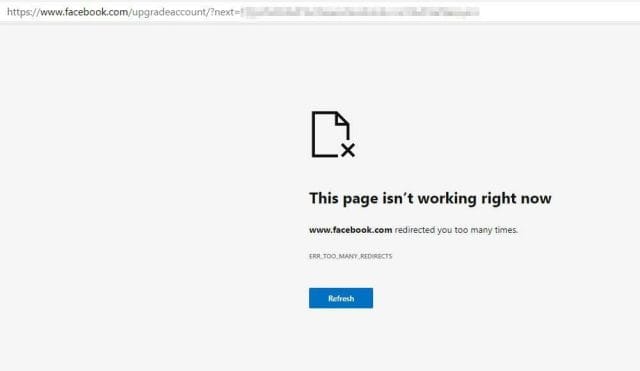 NOTE: For the latest article relating to this issue read FACEBOOK ACCOUNT UNAVAILABLE or if your account has been locked or disabled read this WHAT YOU CAN DO TO UNLOCK A FACEBOOK DISABLED ACCOUNT
The redirect appears to be related to the Facebook page being upgraded to the new design (I think based on the upgradeaccount in the URL). After searching for an answer online I couldn't find anything.
I even tried some of the following solutions other people suggested and none of them worked:
clearing cookies and the cache from the browser
using a different browser – I tried Microsoft Edge, Chrome and Firefox. All of them had the same problem after successfully logging in
using a different computer – tried multiple computers and they all had the same issue
I tried using my personal account and it successfully logged in and was able to manage my Facebook pages and account. So this was solely related to a specific account.
So below are the instructions on how to fix the Facebook too many redirect issue . Unfortunately, I wasn't able to capture all the screenshots because I wasn't even sure if it worked:
Login to the Facebook account that is having the issue
You will see the error message:
This page isn't working right now www.facebook.com redirected you too many times. ERR_TOO_MANY_REDIRECTS
In the browsers URL type in https://www.facebook.com/home or https://www.facebook.com/upgradeaccount/redirect/
basically type in something that doesn't exist. It will display a page saying it doesn't exist but then in the background, you will see a NEWS FEED BUTTON. Press escape to close the error message and click on the NEWS FEED BUTTON. You may also find a link at the bottom of the page with NEWS FEED.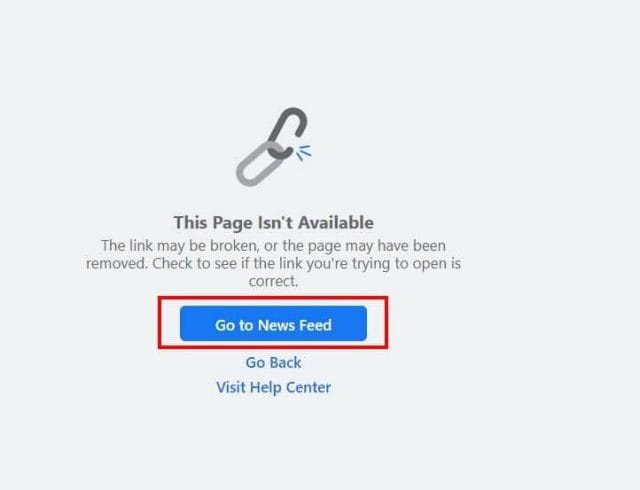 This should take you to the news page and you will be able to see the toolbar at the top. You may notice that this layout is a bit different because Facebook upgraded the account to the new layout. You can play around with some of the settings to see the dashboard.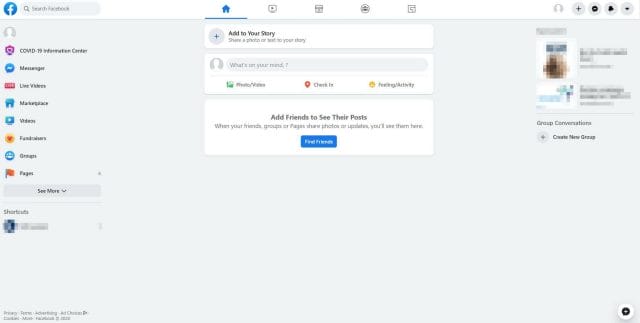 In the toolbar click on the dropdown arrow next to the bell icon and click on Switch to Classic Facebook (NOTE: This option may no longer be available as Facebook has removed this from users. A user has reported that on the left-hand navigation you may be able to find this option but it is only available for 48 hours.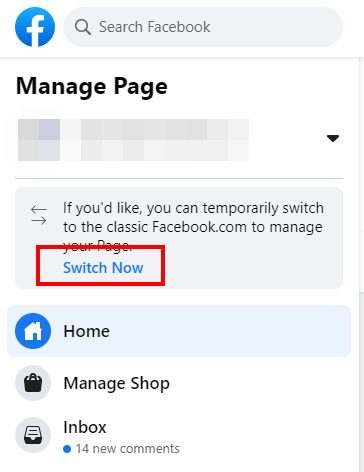 A feedback button will pop up and you can either skip it or provide feedback.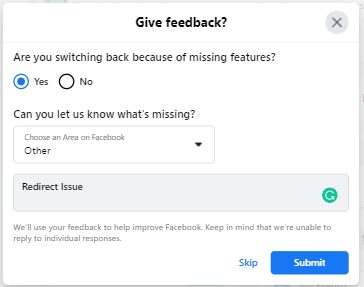 Below is the menu that no longer has the Switch to Classic Option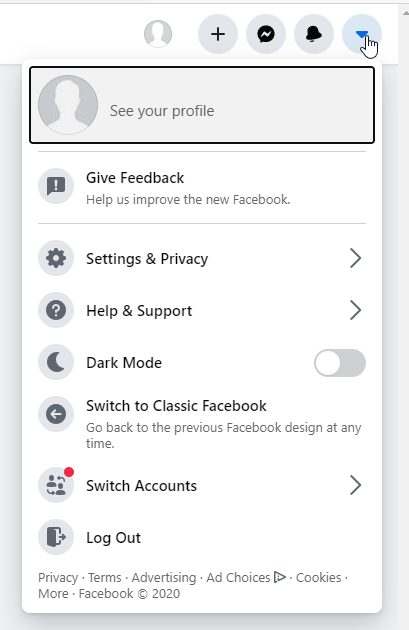 Once I switched to the Classic Facebook View, I logged out and then logged back in. The problem was solved.
So it appears that upgrading the Facebook Page to the new design caused the redirection. Something probably didn't successfully migrate to the new design and caused the loop (redirections).
I hope this has helped some of you because I noticed that in the Facebook community pages, there were people facing this problem and no one from Facebook support actually helped. This is one of the biggest issues with getting support from large corporate organisations which I have also faced in the past.
If this has helped you please share it with the Facebook community and even follow my journey and subscribe to my newsletter. If you need help let me know.
UPDATE NOTE 1: Once you log back in and the redirect issue is fixed, try switching back to the new design and see if the problem reoccurs. Facebook is forcing everyone to move to the new design by September, so it's best that you try to switch to the new design and if the problem still occurs you at least still have the option switch back to the classic design. If you still get the redirect problem, I would recommend you contact the Facebook Business Help Center using the steps mentioned in this post: HOW TO UNBLOCK WEBSITE ON FACEBOOK
UPDATE NOTE 2: For those of you who are still struggling with this, try using the Facebook mobile app and then give your personal Facebook Account admin access to the page. On the mobile app, you don't get the redirect issue.
To do this follow these steps:
Open the Facebook mobile app (login using the account that manages the Facebook Page)
Tap on the wheel on the top right hand corner
Tap on the Page Roles
Tap on Add Person to Page
It will ask you to enter your password (this is the password to login to your Facebook Page account)
Type the name of a Facebook User and make sure you select the correct Facebook account. You can also use the email address if you can't find your name.
UPDATE NOTE 3: You can also use the Facebook Creator Studio to login and manage the content on both your Facebook and Instagram accounts. The URL for that is https://business.facebook.com/creatorstudio/
You should not get the redirect errors when logging into the Creator Studio.

If this article helped you in any way and you want to show your appreciation, I am more than happy to receive donations through PayPal. This will help me maintain and improve this website so I can help more people out there. Thank you for your help.
HELP OTHERS AND SHARE THIS ARTICLE
LEAVE A COMMENT

I am an entrepreneur based in Sydney Australia. I was born in Vietnam, grew up in Italy and currently residing in Australia. I started my first business venture Advertise Me from a random idea and have never looked back since. My passion is in the digital space, affiliate marketing, fitness and I launched several digital products. You will find these on the portfolio page.
I've decided to change from a Vegetarian to a Vegan diet and started a website called Veggie Meals.
I started this blog so I could leave a digital footprint of my random thoughts, ideas and life in general.
If any of the articles helped you in any way, please donate. Thank you for your help.
Affiliate Compensated: there are some articles with links to products or services that I may receive a commission.