It's been just over a year since the Skopioeye channel was approved for monetisation and thought I'd give you all a 1-year update. Every month the channel has been making US$40 except for the December period which only made $30. We've consistently posted at least 1 video a week and in some weeks we published 2. In terms of traffic stats here's an overview of the Channel analytics: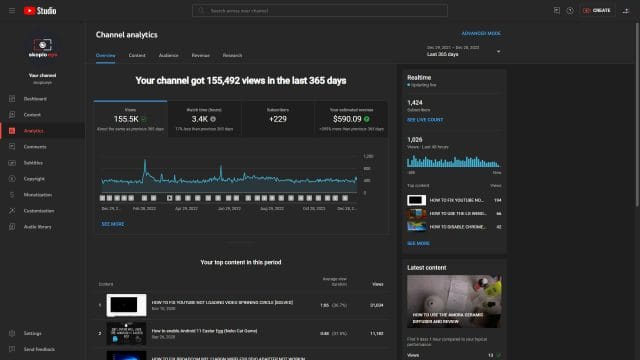 The channel views 155.5K
Watch time (hours) 3.4K
Subscribers 229
Estimated Revenue $590.09
69 new videos published
Here's a breakdown of the Channel Content analytics: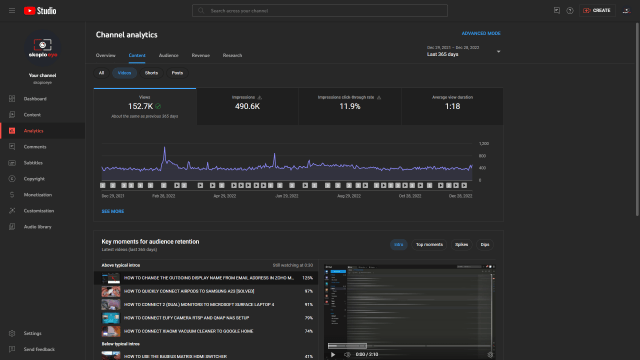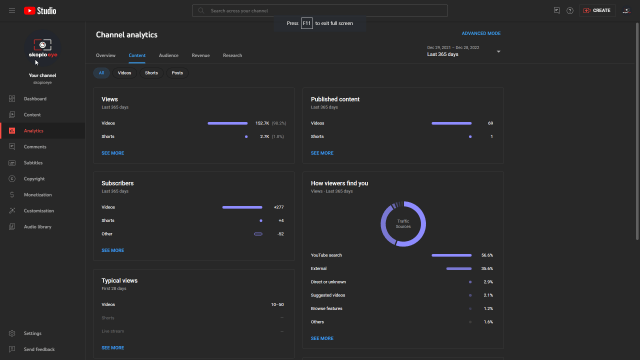 The videos had almost 500k worth of impressions and 11.9% was the impression click-through rate
Almost 56.6% of the viewers found the videos from YouTube search
We plan to consistently make more HOW TO videos as the channel doesn't really have a niche topic to focus on besides how-to technology videos.
I do plan to reinvest the money made from the channel back into buying better hardware and maybe improve the quality of the video. So far my hardware and software setup is as follows:
Metabox laptop for editing
Bright Light
Yi 4k+ camera
Samson microphone
Wondershare Filmora for video editing
Extendable arm
Boom arm
There are other video editing tools that can be used such as inVideo but I prefer to use Wondershare Filmora because of its simplicity and also free content available. If you're familiar with Adobe Premier, Wondershare is very simple but doesn't have all the other features you won't ever use.
For next year, we hope to create more awesome videos and aim to hit 2k subscribers. If you haven't done so already, please head to the Skopioeye YouTube channel and subscribe now.

If this article helped you in any way and you want to show your appreciation, I am more than happy to receive donations through PayPal. This will help me maintain and improve this website so I can help more people out there. Thank you for your help.
HELP OTHERS AND SHARE THIS ARTICLE
LEAVE A COMMENT

I am an entrepreneur based in Sydney Australia. I was born in Vietnam, grew up in Italy and currently residing in Australia. I started my first business venture Advertise Me from a random idea and have never looked back since. My passion is in the digital space, affiliate marketing, fitness and I launched several digital products. You will find these on the portfolio page.
I've decided to change from a Vegetarian to a Vegan diet and started a website called Veggie Meals.
I started this blog so I could leave a digital footprint of my random thoughts, ideas and life in general.
If any of the articles helped you in any way, please donate. Thank you for your help.
Affiliate Compensated: there are some articles with links to products or services that I may receive a commission.