Another year has gone by and let's welcome 2023. 2022 was another year filled with great memories. The world was still impacted by covid and some of the first part of the year was in isolation.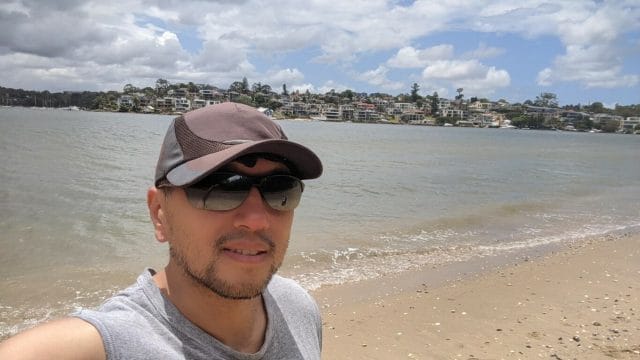 These are the articles I published in the previous years:
ANNUAL REVIEW 2020 AND GOALS FOR 2021
ANNUAL REVIEW 2021 AND GOALS FOR 2022
Looking at the goals from the previous year, I didn't hit that many. Let's recap the goals I wrote down for 2022:
launch a course
launch a podcast
launch a new product
build more muscle mass and weigh 68 kg (currently 64 kg)
do at least 5 continuous muscle-ups
increase traffic to this website and another website I manage
increase YouTube traffic and hit 3000 subscribers
increase affiliate commissions
spend more time with family
WEBSITE TRAFFIC
Unfortunately, the traffic to this website has dropped since one of the articles I wrote (FACEBOOK TOO MANY REDIRECTS) has aged and is no longer relevant. There haven't been any other articles that have gone viral and hence the reason why my traffic volume has dropped.

Here are some stats from Google Analytics: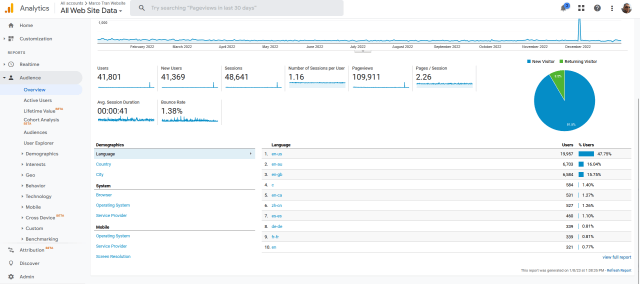 Like the stats from Google console, there was also a drop in the number of users and sessions. The most noticeable change is the bounce rate which dropped from 87.58% to 1.38%.
I wrote 65 articles in 2022 which was the same as in 2020 and a drop from 2021. The plan was to write 2x more articles but this didn't happen and I do plan to write more long-form articles in 2023.
For my main business website Advertise Me, the traffic has increased and several SEO keywords such as Digital Signage Solutions, Digital Signage, and Digital Solutions reached the first page of Google AU.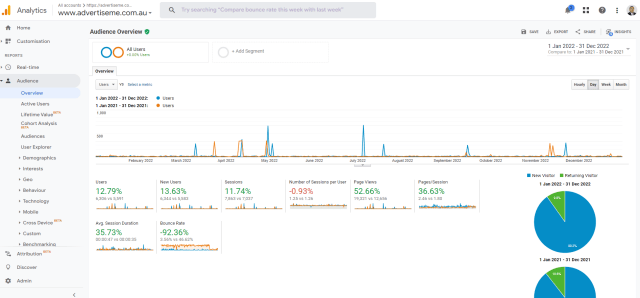 Overall, the main business website did well, but this personal website hasn't done as well as the previous years.
YOUTUBE TRAFFIC
You can read the yearly monitisation in this post: 1 YEAR OF YOUTUBE MONETISATION
The goal was to double the number of subscribers to 3000, but it's been a very slow growth. I've only managed to gain 235 subscribers. Based on this growth, I will now aim to hit 2000. Now keep in mind I have a full-time job and I normally create the video content on the weekends, however, this is still not an excuse. The sole purpose for posting on YouTube is to document in video format what I've learned and then share this with the community. Earning any money from this YouTube channel is a bonus and it's not something I plan to do full-time unless the earnings cover the salary.
INCREASE AFFILIATE COMMISSIONS
Tracking my affiliate commission is cumbersome since I'm on different affiliate platforms. If there was only a single dashboard that consolidated all the commissions that would have been handy. In terms of affiliate marketing, I was still consistent and have made some passive income on the side but there was a drop. I believe that after COVID, there have been drops in the eCommerce space as more people are now also visiting retail stores to purchase physical goods.
Although I haven't been focusing too much on affiliate marketing, I have noticed my affiliate ranking on one of the affiliate network platforms drops significantly. One of the reasons was the affiliate partners moved from one platform to another and this significant impact the performance of the program as the link from the old platform need to be changed to the new one. This can be tedious and difficult to change.

MUSCLE MASS AND WEIGHT
In terms of health and fitness, I've kept up with the running every day and still constantly do daily bodyweight workouts. Although in terms of pace for my running I think I've slowed down as I've been just cruising during the run. In the back of my head, I keep thinking I should avoid injuring myself which has inadvertently put a barrier.
One of my goals from last year was to weigh 68 kg and I managed to do that. I feel as though I have gained fat more than muscle but I decided to get a body composition scale to take all the relevant measurements. Apparently, these scales are not very accurate but I just plan to use them to track changes. My theory is that I should see a drop in body fat. I'm currently on 19% body fat using a cheapo smart scale. I now weigh around the 68 (mornings) -70 (evening) kg mark.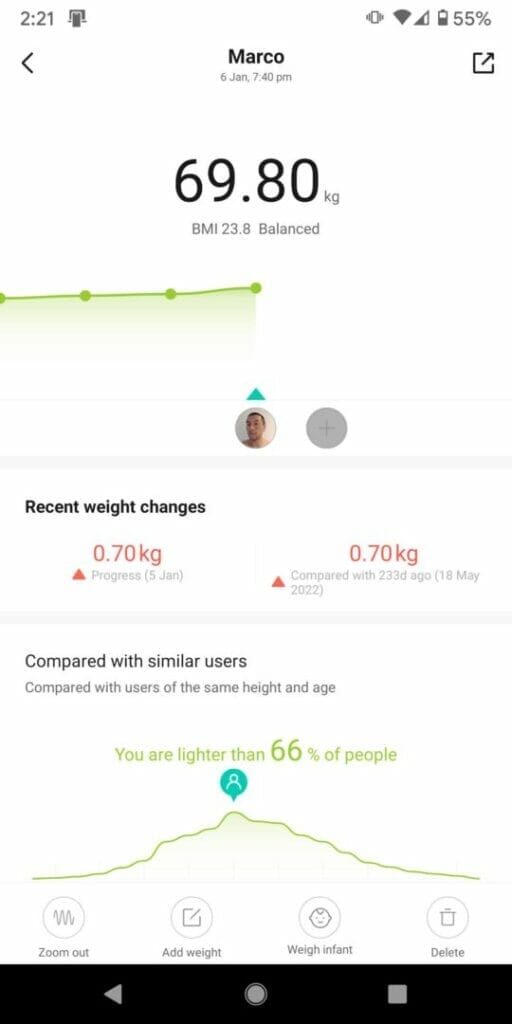 My goal would be to try to stay at this weight of 68 kg and decrease my body fat to 14%. Like every year, here is my beach body on the 1st of January 2023. It's our family tradition to go to the beach on this day.
I haven't really been doing any pull-ups in 2022a and, therefore, there was no way I was going to be able to do 5 muscle-ups.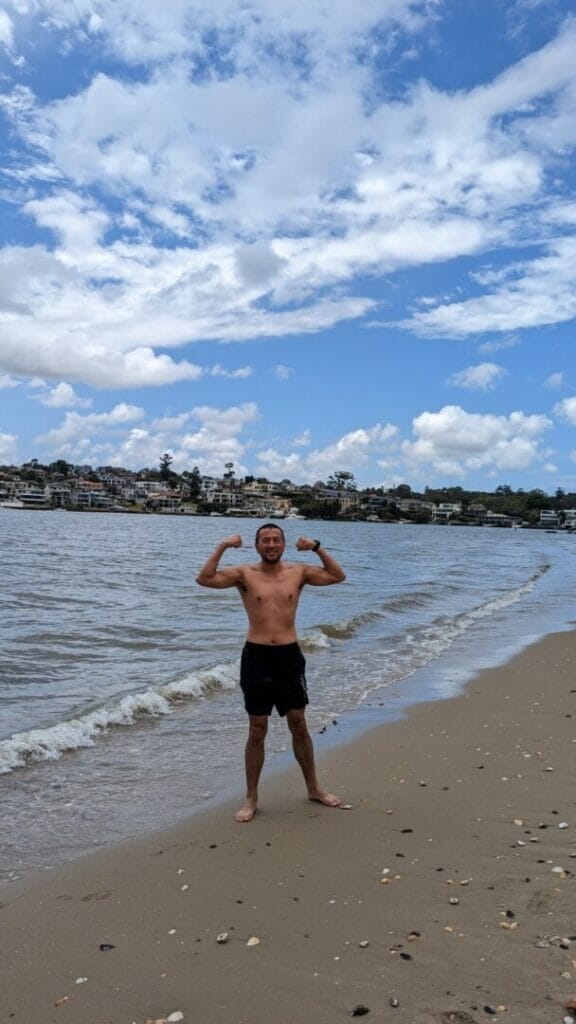 FAILED TO LAUNCH COURSE, PODCAST, PRODUCT
I failed again in this area as I didn't launch a course, podcast, or product in 2022. I did launch a few new websites such as our digital signage software website advertiseme.tv. I probably would need to get some guidance in this area or put it on my to-do list so I can see it every day. I'll add this to the 2023 goals.
I decided to focus on a growth mindset and went back to studying. I enrolled in several Tafe courses and a university undergraduate certificate. I also obtained several certifications in affiliate marketing, AWS, and Microsoft courses.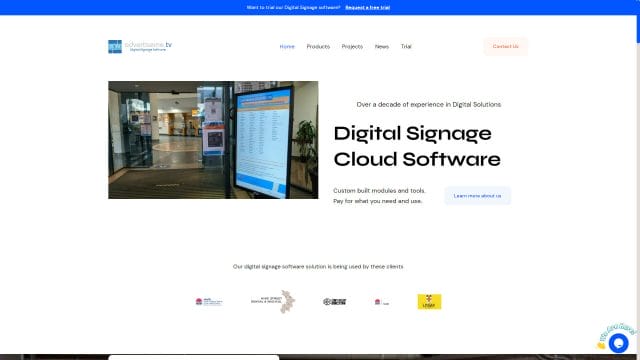 SPEND MORE TIME WITH FAMILY
In 2022 we had 3 family holidays, the OJAM holiday at Dora Creek, Wong Family at Port Stephens, and Tran Family at Lake Conjola. I have also budgeted a portion of my salary for holidays and hopefully, we can travel to more places. Overall, we were lucky to spend more time together as a family.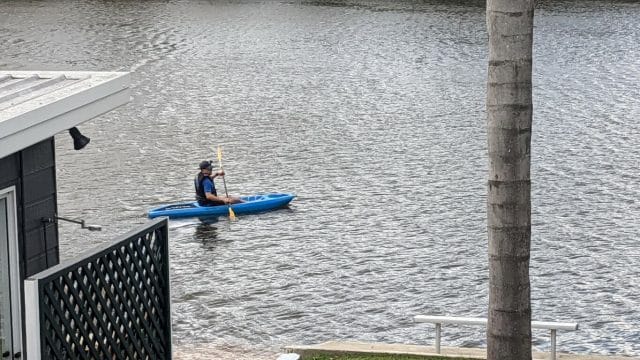 GOALS FOR 2023
I'm going to review the 2023 and make sure they are more achievable and add them my to do list. My goals for 2023 would be very similar to 2022 and 2021, but I've prioritised them so that the ones I didn't actually achieve last year are at the top of the list
launch a course on building affiliate stores
launch a podcast on dope tech (awesome technology in Australia)
launch a new product for WordPress
build more muscle mass and drop my body fat from 19% to 14%
do at least 5 continuous muscle-ups
increase traffic to this website by 50% and another website I manage
increase YouTube traffic and hit 2000 subscribers
increase affiliate commissions
spend more time with family and got at least 2 holidays with OJAM.

If this article helped you in any way and you want to show your appreciation, I am more than happy to receive donations through PayPal. This will help me maintain and improve this website so I can help more people out there. Thank you for your help.
HELP OTHERS AND SHARE THIS ARTICLE
LEAVE A COMMENT

I am an entrepreneur based in Sydney Australia. I was born in Vietnam, grew up in Italy and currently residing in Australia. I started my first business venture Advertise Me from a random idea and have never looked back since. My passion is in the digital space, affiliate marketing, fitness and I launched several digital products. You will find these on the portfolio page.
I've decided to change from a Vegetarian to a Vegan diet and started a website called Veggie Meals.
I started this blog so I could leave a digital footprint of my random thoughts, ideas and life in general.
If any of the articles helped you in any way, please donate. Thank you for your help.
Affiliate Compensated: there are some articles with links to products or services that I may receive a commission.