Happy New Year all! It's now 2022 and time to publish my annual review and goals for this year. This is the article I published last year: ANNUAL REVIEW 2020 AND GOALS FOR 2021
Let's recap the goals I wrote down for 2021:
increase traffic to this website and other website I manage
increase YouTube traffic and hit 2000 hours of public watch time
increase affiliate commissions
build more muscle mass and weigh 68 kg (currently 64 kg)
do at least 5 continuous muscle-ups
launch a course
launch a podcast
launch a new product
complete an online course
spend more time with family
WEBSITE TRAFFIC
Yes, I managed to increase the traffic to this website but I noticed that it started dropping midway through the year. This is most likely due to the fact that one of my posts is no longer as popular as the content in the article is obsolete. However, the total impressions have increased by more than double however the total click increased slightly hence the reason why the CTR (click through rate) is lower.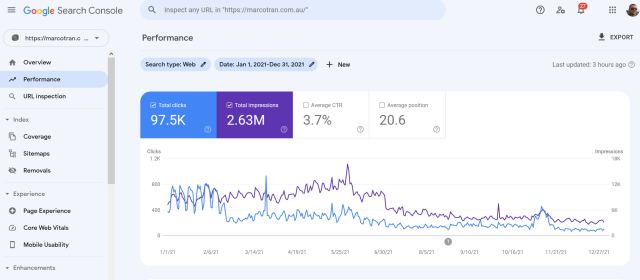 Here's the stats from Google analytics: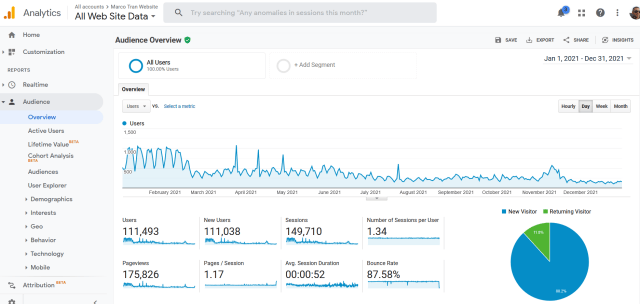 The sessions has increased compared to last year but one of the reasons is the fact that I didn't capture a years worth of data in 2020 since it wasn't setup correctly.
In terms of the number of posts I published 72 posts in 2021 compared to 65 posts in 2020. We were in lockdown for several months in 2021 and I had more time to write and publish articles.
I also added a new section on this website called TOOLS, where I share with my readers some of the SaaS and software tools I use personally and also for my business. You can check that out if you're interested and I think this also helped increase traffic to my website.
For my main business website Advertise Me, the traffic has doubled. I have done some work on the website including SEO website optimisation and this may have helped increase traffic. Here's a screenshot from Google Analytics comparing 2020 vs 2021.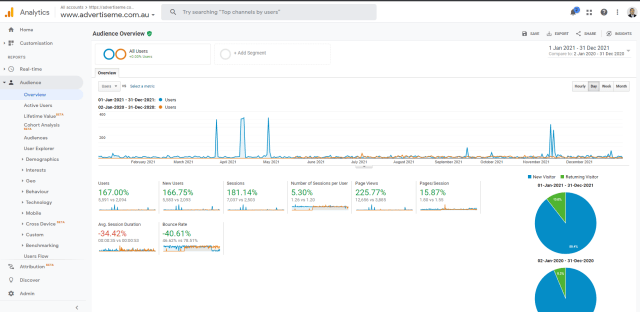 I'm planning to make further changes to the website and hope this will further increase visitor traffic to the website.
So overall, I've achieved this goal and hope to keep adding value to the websites to drive more visitor traffic.
YOUTUBE TRAFFIC
If you've read some of my previous posts, you would have by now realised I definitely hit this goal. The aim was to hit 2000 hours of watch time but I managed to hit 4000 and can now montatise the YouTube channel. I'm looking forward to creating more valuable content for my readers and potentially earn a passive income from YouTube.
The number of views doubled in 2021. For 2020 it was 78,264 and for 2021 the channel received 160,960 views. Also the number of subscribers increased in 2021 and I used the comment strategy (heading CONNECT WITH YOUR AUDIENCE) that I mentioned in this article: MY YOUTUBE CHANNEL IS GETTING MONETISED
My aim is to continue creating valuable content as I don't want to the watch time hours to decrease and I also hope to increase my subscriber base to 3000.
INCREASE AFFILIATE COMMISSIONS
I haven't had a chance to calculate the affiliate commissions for 2021 and when I do that I'll publish it in another article. I have a feeling that the commissions slightly increase or is the same as 2020. Here's a graph from one of the affiliate networks:

In this particular affiliate network, the commissions increased by 54% which is not too bad. Keep in mind that this is a passive income and I don't spend too much time on this.
MUSCLE MASS AND WEIGHT
I didn't hit this goal and my current weight is 66.6 kg but I've been eating quite a bit because of Christmas celebrations. I didn't weigh myself on the 31st of December but I'll remember to do this for 2022. Here's my beach body on the 1st of January 2022. It's our family tradition to go to the beach on this day.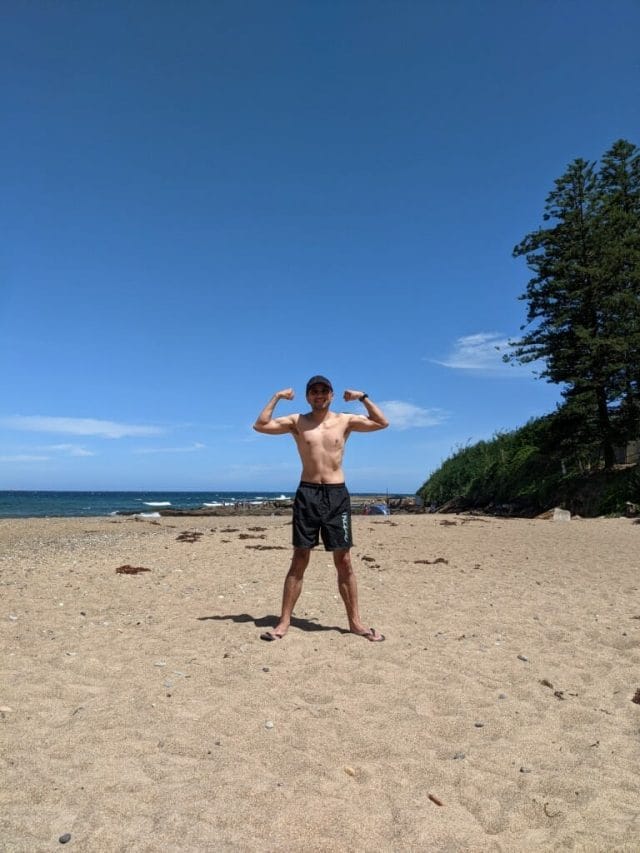 I don't have a way to measure the muscle mass but I hope to eventually upgrade my existing Xiaomi smart scale to a composition scale that can measure the muscle mass. If the team as Xiaomi is reading this then please get in touch with me.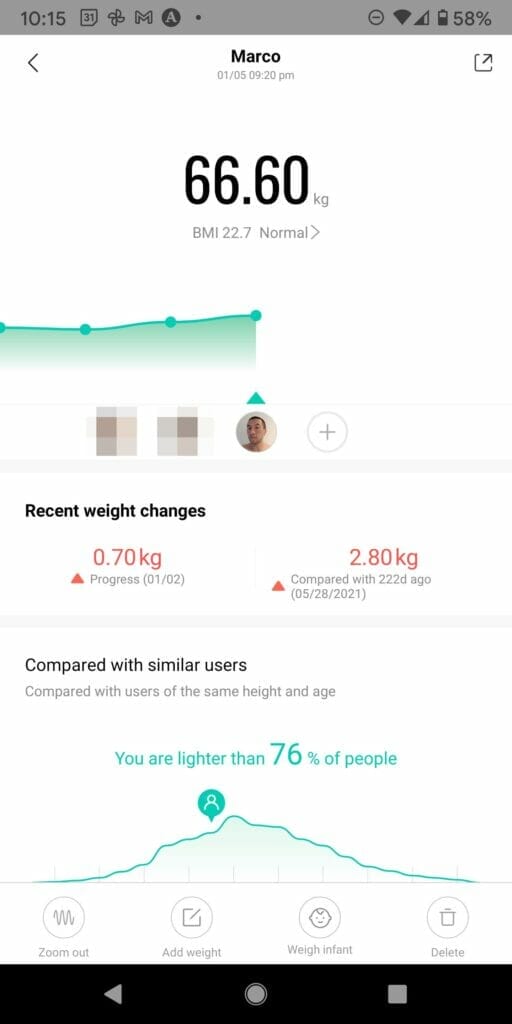 FITNESS – MUSCLE UPS
My goal was to do 5 continuous muscle ups and I'll be honest with you I haven't even tried to do 1 in 2021. I haven't been doing my regular pull ups as I didn't want to overwork the body. In terms of fitness, I'm still running on a daily basis and doing body weight workouts. I've hit 2 years of running at least 5 KM per day and in 2021, I've also been running 10 KM every Saturday.
Here's a summary from Strava: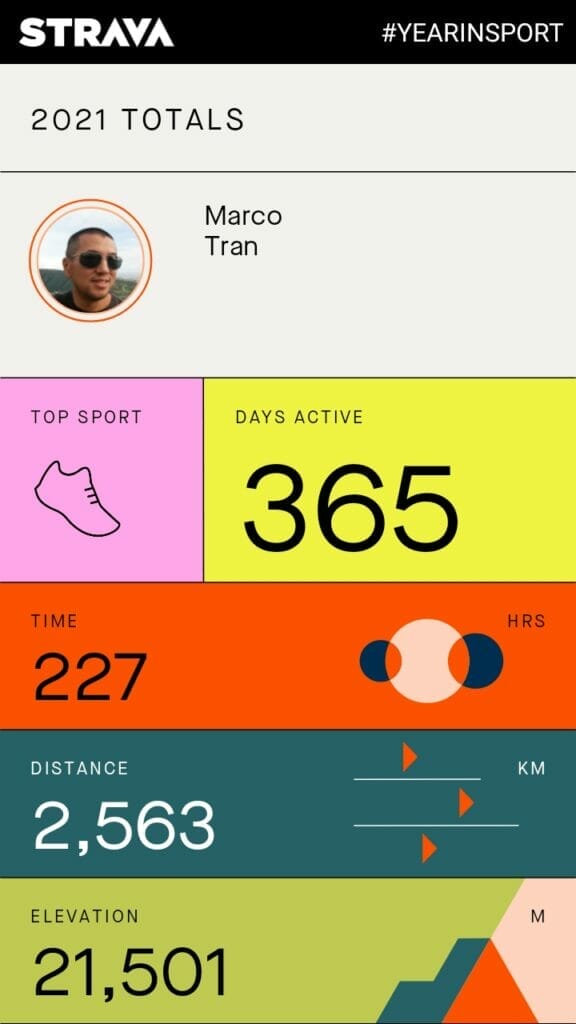 FAILED TO LAUNCH COURSE, PODCAST, PRODUCT
I didn't launch a course, podcast or product in 2021 and yes I'm kicking myself for this. I did launch a few new websites but that's not the same as launching a course or podcast. I guess that's something to add to the 2022 goals.
COMPLETE AN ONLINE COURSE
I definitely completed this. I actually managed to finish the Google Digital Marketing Course, 2 short university courses and 3 Tafe NSW courses. I also completed several courses on Linkedin Learning. You can see what I completed in 2021 on my LinkedIn profile
I'm still waiting for the results for one of the Tafe courses.
SPEND MORE TIME WITH FAMILY
Due to covid, we spent more time together at home as a family. There was home schooling involved and we did go for walks and bike rides. As a family we were also stronger as we did receive some sad news. Overall, we were lucky to spend more time together as a family.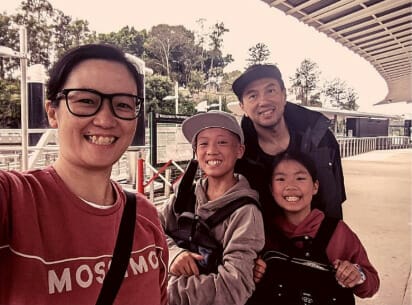 GOALS FOR 2022
My goals for 2022 would be very similar to 2021 but I've priorotised them so that the ones I didn't actually achieve last year is at the top of the list
launch a course
launch a podcast
launch a new product
build more muscle mass and weigh 68 kg (currently 64 kg)
do at least 5 continuous muscle-ups
increase traffic to this website and other website I manage
increase YouTube traffic and hit 3000 subscribers
increase affiliate commissions
spend more time with family

If this article helped you in any way and you want to show your appreciation, I am more than happy to receive donations through PayPal. This will help me maintain and improve this website so I can help more people out there. Thank you for your help.
HELP OTHERS AND SHARE THIS ARTICLE
LEAVE A COMMENT

I am an entrepreneur based in Sydney Australia. I was born in Vietnam, grew up in Italy and currently residing in Australia. I started my first business venture Advertise Me from a random idea and have never looked back since. My passion is in the digital space, affiliate marketing, fitness and I launched several digital products. You will find these on the portfolio page.
I've decided to change from a Vegetarian to a Vegan diet and started a website called Veggie Meals.
I started this blog so I could leave a digital footprint of my random thoughts, ideas and life in general.
If any of the articles helped you in any way, please donate. Thank you for your help.
Affiliate Compensated: there are some articles with links to products or services that I may receive a commission.