Are you stuck at home and can't get to the gym? Did you know you can do daily workout exercises at home or outdoors?

Did you know that exercising is not only good for your body but your mind as well? Working out can help your brain stay clear and focused, lower your stress levels, and prevent you from gaining weight. There are so many ways to exercise, so many different workouts and equipment to choose from no matter what your fitness goals are, there is probably an exercise that can help you reach them.

One of my goals for this website is to inspire people to do whatever exercise they want daily – in my case running and also doing HIIT type of exercises. Yes, every day no matter where you are, I hope I give some inspiration and dedication to doing it. Because believe it or not you can do it every day.
The HIIT exercises that I follow on a daily basis can be found here: KEEPING FIT WHEN IN ANOTHER LOCKDOWN COVID 19 which can be found on the Fitness Mania website. The Fitness Mania website promotes all types of fitness and sporting products including fitness programs so check them out. Here's one of the workouts for Monday.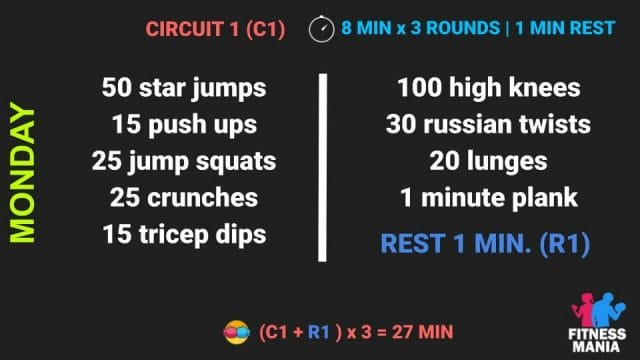 You can find the rest of them here: Daily Workout Exercises
It's a given that one of the hardest things to do when trying to lose weight is to find the motivation to get up and work out. The reality, however, is that we need to exercise daily to remain healthy and lose weight. There's a misconception that if you don't exercise enough then you can't lose weight. That's simply not true. You can lose weight without exercising, but you'll have to be much more deliberate about it. You need to create a routine that works for your schedule. But sometimes finding the motivation to do something like that is hard. I've mentioned this many times in my running journey but always keep in mind that there is always someone out there in the world who is actually out there doing the things you want to do so use that as motivation.
I've recently purchased these gymnastic rings and connected them to the pull-up bar and use these to do some dips and body rows. With a pull-up bar, you can do many exercises at home in your own time and space.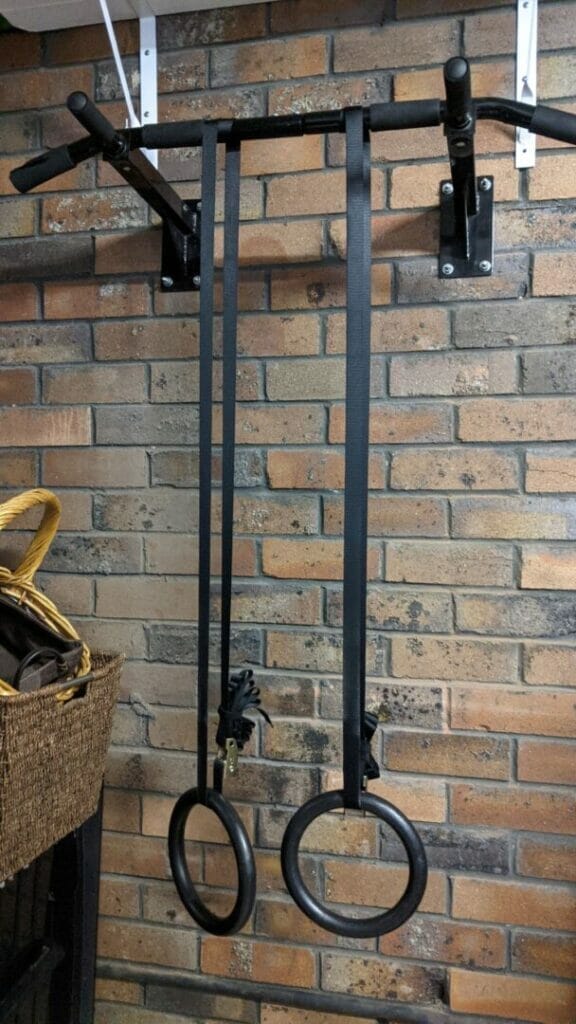 The ones I purchased were from here: Gymnastic Rings Pair Gym Hoop Crossfit Exercise Fitness Home Ab Workout Dip New – it was pretty cheap for less than $25
You can also get these wooden rings that come with a carabiner, straps which has the length adjustments and grips on the rings. They look very professional and must be comfortable for you to hang on.
You don't necessarily need to do these exercises at home. The daily workout exercises you can do at a park as you don't need any type of equipment. All you need is a stopwatch and then print out or use a tablet to display the workouts. There shouldn't be anything stopping you from doing this! If you are looking to make some physical changes in your life that can help you live a healthier lifestyle then start now.

If this article helped you in any way and you want to show your appreciation, I am more than happy to receive donations through PayPal. This will help me maintain and improve this website so I can help more people out there. Thank you for your help.
HELP OTHERS AND SHARE THIS ARTICLE
LEAVE A COMMENT

I am an entrepreneur based in Sydney Australia. I was born in Vietnam, grew up in Italy and currently residing in Australia. I started my first business venture Advertise Me from a random idea and have never looked back since. My passion is in the digital space, affiliate marketing, fitness and I launched several digital products. You will find these on the portfolio page.
I've decided to change from a Vegetarian to a Vegan diet and started a website called Veggie Meals.
I started this blog so I could leave a digital footprint of my random thoughts, ideas and life in general.
If any of the articles helped you in any way, please donate. Thank you for your help.
Affiliate Compensated: there are some articles with links to products or services that I may receive a commission.