Almost a year ago, I purchased a pull/chin-up bar and wanted to install somewhere in my garage. Yes, it was almost a year and I didn't get a chance to install it but to be honest I have been avoiding this task since I knew how much effort was involved in installing the chin-up bar on the brick wall.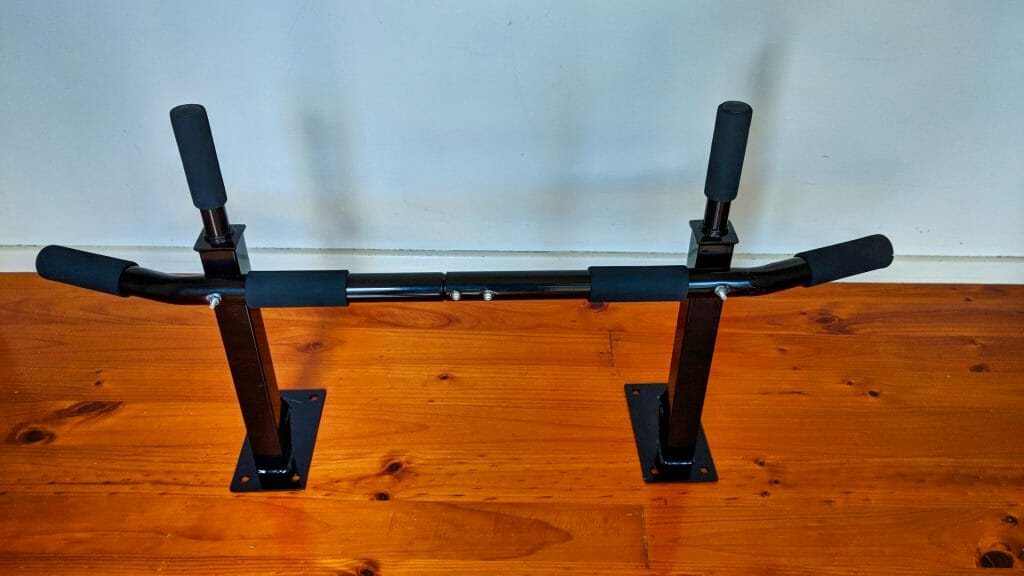 I purchased this bar from eBay: Click here
I decided to take action and since I was cleaning up the garage I was on a mission to install the chin-up bar. I already had the equipment, Impact Drill and a 10mm masonry drill bit. The bar already came with 8 Dynabolts so all I needed to do was to measure, drill the holes, insert the Dynabolts, hang the bar and then bolt it in – so I thought.
Before doing any drilling, I had a discussion with my brother about whether it was safe to drill directly into the brick wall and he was suggesting installing thick plywood or timber against the brick wall and then mount the bar onto the plywood or timber. I decided not to do this as I believed that installing the bar directly onto the brick wall would be much stronger. I also have a double brick wall and shouldn't be an issue doing so.
I decided to drill the Dynabolt holes in the centre of the brick rather than having it close to the cement or drilling into the cement. I think this would be much stronger, but I could be wrong!
After measuring the location of the holes and ensuring the bar was centred horizontally, I drilled my first hole. It took a little while to drill the hole and when I tried inserting the Dynabolt it wouldn't completely fit. I had to drill the hole a bit bigger by rotating the drill bit around the edges of the hole. I eventually managed to fit the Dynabolt into the hole but I also had to use a mallet to hammer it in. The second hole which was on the opposite side was a bit more challenging. I ended up stuffing this up by not drilling the hole big enough and when I hammered the Dynabolt, it was stuck 3/4 of the way in. There was no way to pull it out. I had no choice but to use a grinder and cut some outer shell that was sticking out.
Upon further investigation and discussing the issue with a friend, I discovered that the Dynabolt diameter was actually 12mm so the drill bit that I was using was too small. I ended up going to Bunning to buy a bigger drill bit as the largest size that came with the masonry pack was 10mm.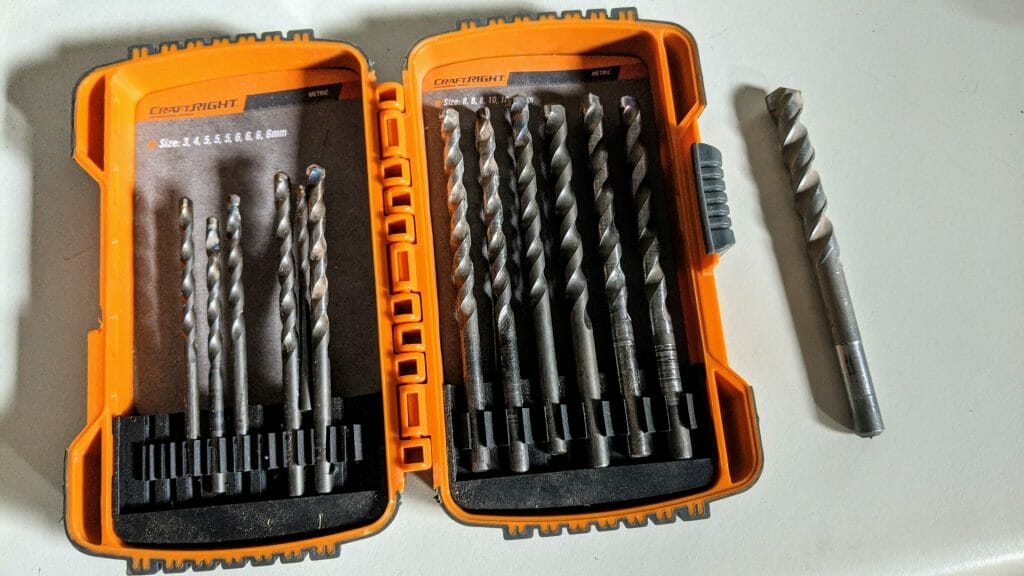 When I came back drilling the rest of the holes was so much easier with the new drill bit. So what I learnt was to make sure I use the right equipment before starting any job! This was the end result after drilling the 8 holes and installing the Dynabolts.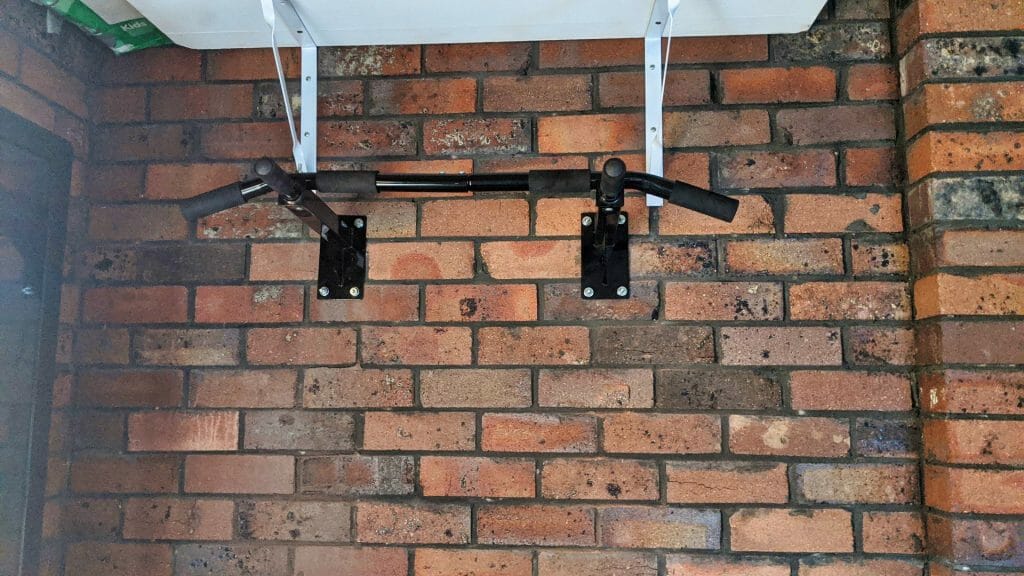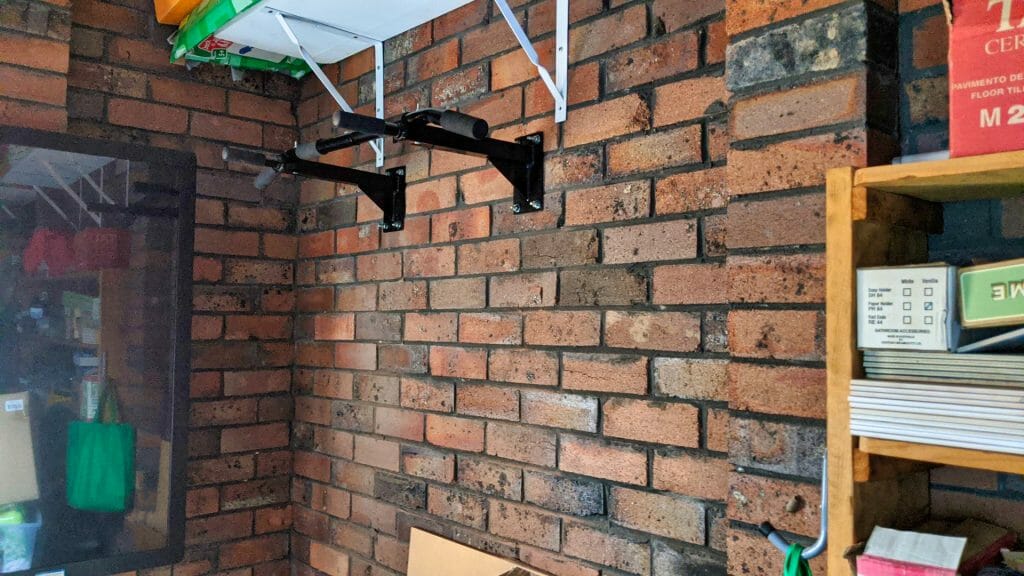 The height of the bar is almost 2 metres from the floor. I can manage to do about 5 wide angle pull ups. I previously was able to do 10 pull ups before I quit going to the gym so I have definitely have lost some strength but I'm looking at gaining that back by using this bar a few times a week. I'll share my progress in a future post.


If this article helped you in any way and you want to show your appreciation, I am more than happy to receive donations through PayPal. This will help me maintain and improve this website so I can help more people out there. Thank you for your help.
HELP OTHERS AND SHARE THIS ARTICLE
LEAVE A COMMENT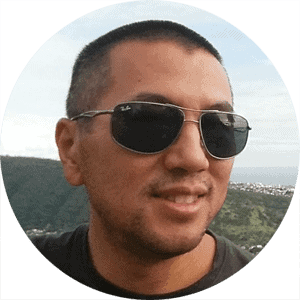 I am an entrepreneur based in Sydney Australia. I was born in Vietnam, grew up in Italy and currently residing in Australia. I started my first business venture Advertise Me from a random idea and have never looked back since. My passion is in the digital space, affiliate marketing, fitness and I launched several digital products. You will find these on the portfolio page.
I've decided to change from a Vegetarian to a Vegan diet and started a website called Veggie Meals.
I started this blog so I could leave a digital footprint of my random thoughts, ideas and life in general.
If any of the articles helped you in any way, please donate. Thank you for your help.
Affiliate Compensated: there are some articles with links to products or services that I may receive a commission.