You're never to old to race with a RC Car. I was involved in a challenge where the goal was to buy a RC Car for under AU$50 and then race.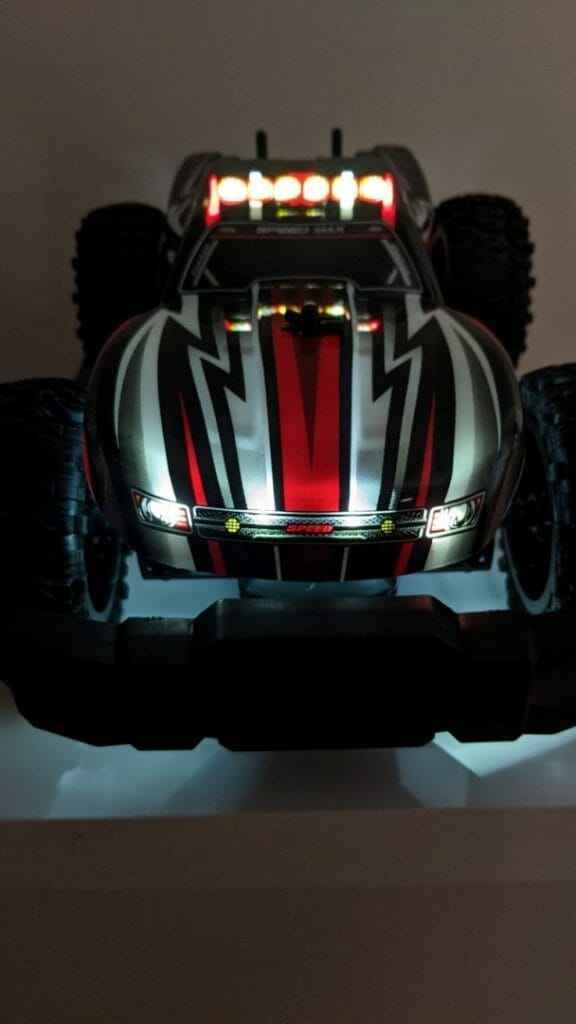 EACHINE EAT08 RESEARCH
After some comprehensive research and some hesitation, I purchased the Eachine EAT08.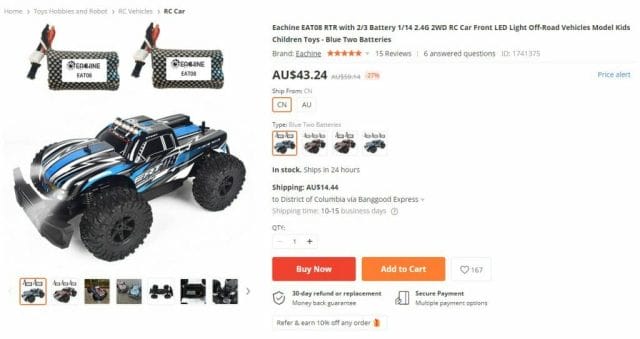 The reasons why I decided to purchased this unit were:
was under the $50 budget. I ended up purchasing it for around AU$40 because it on sale (Christmas period).
based on the description the speeds were 25km/h – 30km/h
it looks like a beast
the tyres were grippy
comes with two batteries (a full charged battery lasts for around 20 minutes but its also great to have a spare. You can plug the battery to a power bank)
has LED lights so you can play with it at night
On race day, I was competing against 3 other RC cars. One of the RC cars was actually over the budget (a few $) but we still decided to let them compete, however their RC car was much faster than mine due to size and because it there was a motor for both the front and rear wheels. My one was only rear wheels drive.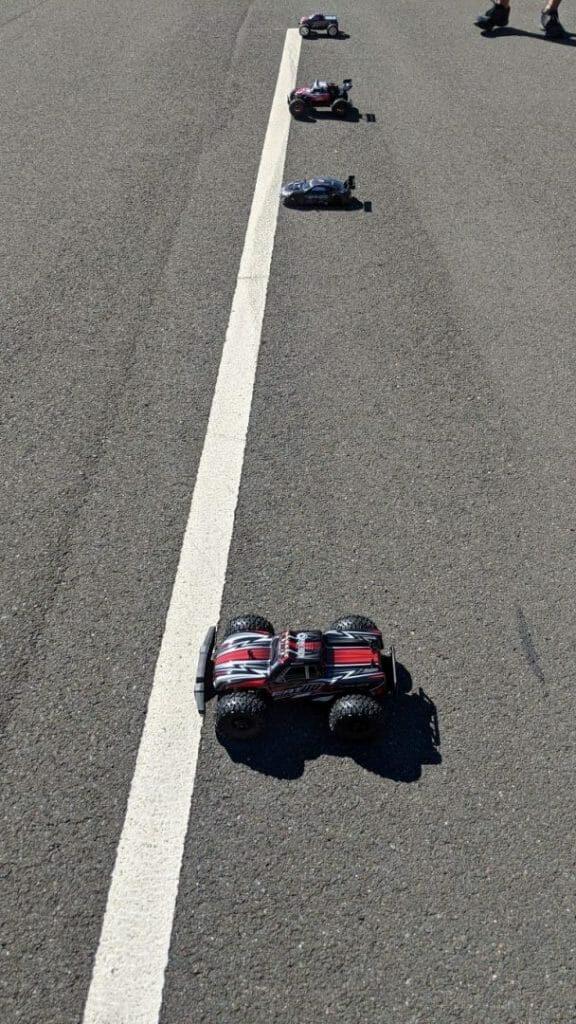 Here's a photo of the other RC cars: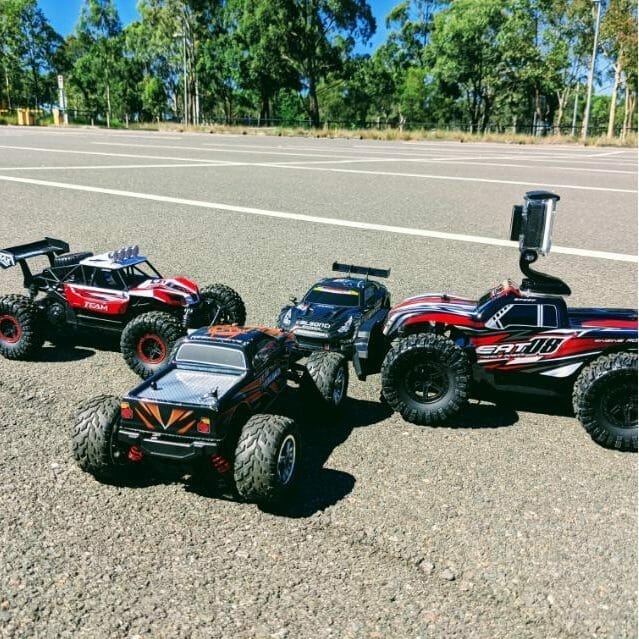 I ended up winning most of the races, even beating the faster RC car since it was hard to control. The faster RC car was this one Feiyue fy15: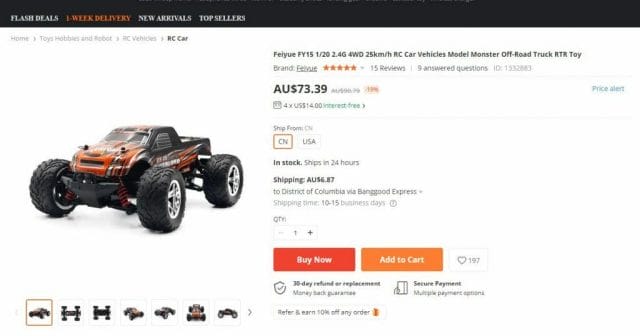 It's pretty fast and it's smaller in size (1/20 compared to 1/14). It's a bit harder to control so I wouldn't recommend this for kids. The Eachine EAT08 would be perfect for kids as it's easier to control and it's fast. The other RC cars were slower than mine and I wouldn't recommend it.
After using the RC cars for a few weeks there's a few pros and cons that I want to share with you all. Here's my list:
EACHINE EAT08 – CONS
lost most of the pins that hold the top shell. The unit comes with a spare pin but that's not enough. I think after a few hits and jumps you can easily lose the pins. You can use a paperclip to hold down the shell if you end up losing all the pins
no switch to turn off the lights. It would have been good to have a switch to turn off the lights that way you can save more power and be able to run the RC for longer
the stick controller uses 3x AAA size batteries. It would have been better if it used AA
EACHINE EAT08 – PROS
long range. Whilst most of the other people had to follow their RC, I was able to control the Eaton EAT08 for over 40-50 meters
2 batteries – this was a deciding factor for me. I wanted the ability to continue playing with the RC car after the battery was depleted
easy to control – the transmitter has a throttle that you can pull (go forward) or push (go backwards). It also has the wheel on the side to control the steering
able to drive on the grass. Unlike some of the other RC cars, they don't work on grass
it's fast. There was no way to measure the speed but I would say that the speed is around 20-25km/h
I was able to perform jumps using custom ramps made out of cardboard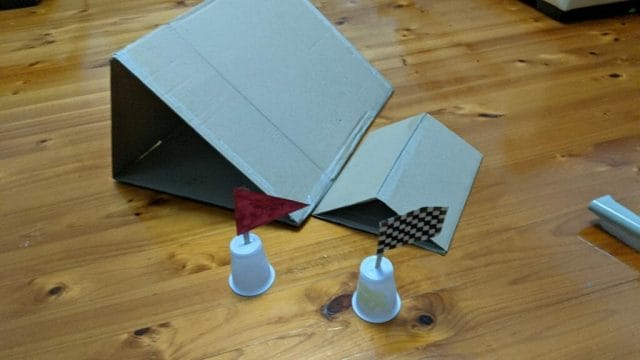 FINAL VERDICT – BEST RC CAR UNDER $50
Overall, I was not only impressed with the speed of this RC car, but I was ecstatic that I won the races. It's a great first-timer RC car and the best RC car that is under $50. It's not only great for kids but also for adults to play with since it's easy to control and it's fast enough to beat some of the RC cars. Here's a video of the unboxing, some test runs, jumps and bloopers.

If this article helped you in any way and you want to show your appreciation, I am more than happy to receive donations through PayPal. This will help me maintain and improve this website so I can help more people out there. Thank you for your help.
HELP OTHERS AND SHARE THIS ARTICLE
LEAVE A COMMENT

I am an entrepreneur based in Sydney Australia. I was born in Vietnam, grew up in Italy and currently residing in Australia. I started my first business venture Advertise Me from a random idea and have never looked back since. My passion is in the digital space, affiliate marketing, fitness and I launched several digital products. You will find these on the portfolio page.
I've decided to change from a Vegetarian to a Vegan diet and started a website called Veggie Meals.
I started this blog so I could leave a digital footprint of my random thoughts, ideas and life in general.
If any of the articles helped you in any way, please donate. Thank you for your help.
Affiliate Compensated: there are some articles with links to products or services that I may receive a commission.