Qantas is currently giving away rewards for Qantas Frequent Flyer members who are vaccinated and upload their COVID digital certificate on the Qantas App.
If you want to find out how to download the COVID digital certificate then read this article I previously published: HOW TO DOWNLOAD YOUR COVID-19 DIGITAL CERTIFICATE
The Qantas rewards options are:
1,000 Qantas Points
$20 off a Qantas or Jetstar flight
15 Status Credits
The process to earn the rewards is very simple to do but in my case, I was getting this error message every time I tried uploading the COVID Digital Certificate PDF file via the Qantas Mobile apps: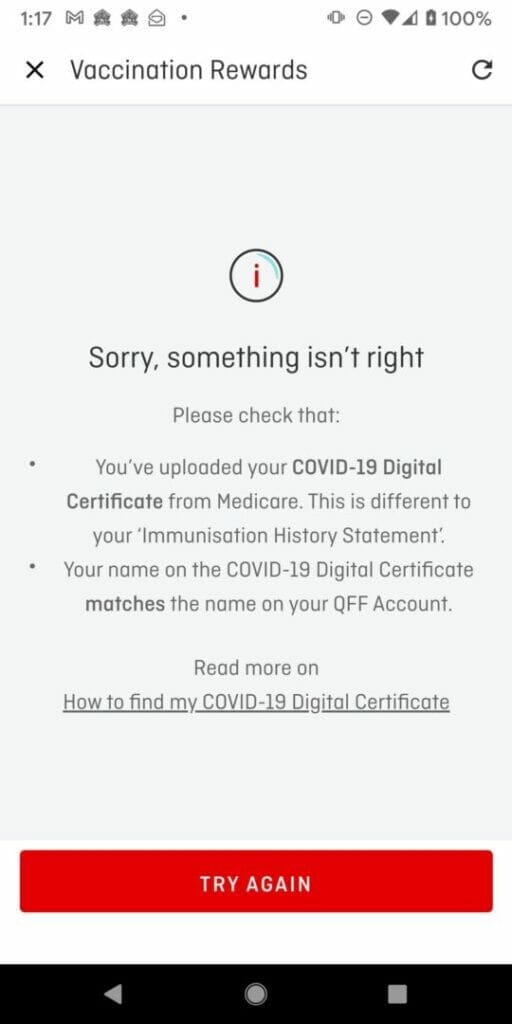 The error message after pressing the submit button was:
Sorry, something isn't right

Please check that:

You've uploaded your COVID-19 Digital Certificate from Medicare. This is different to your 'Immunisation History Statement'.

Your name on the COVID-19 Digital Certificate matches the name on your QFF Account.

Read more on How to find my COVID-19 Digital Certificate.
I checked multiple times to make sure the digital certificate matched the name on my QFF account name but was still getting the error. After several tries, I figured out the problem. When I downloaded the digital certificate, I saved the file to my Google Drive. For some reason, the Qantas mobile app can't read and upload the file from Google Drive. The fix was to save the file directly on my phone (you can also download the file from Google Drive to the phone) and then upload the Covid Digital Certificate using the Qantas app. I now have 1000 points added to my Qantas Frequent Flyer account. Thanks, Qantas.

If this article helped you in any way and you want to show your appreciation, I am more than happy to receive donations through PayPal. This will help me maintain and improve this website so I can help more people out there. Thank you for your help.
HELP OTHERS AND SHARE THIS ARTICLE
LEAVE A COMMENT

I am an entrepreneur based in Sydney Australia. I was born in Vietnam, grew up in Italy and currently residing in Australia. I started my first business venture Advertise Me from a random idea and have never looked back since. My passion is in the digital space, affiliate marketing, fitness and I launched several digital products. You will find these on the portfolio page.
I've decided to change from a Vegetarian to a Vegan diet and started a website called Veggie Meals.
I started this blog so I could leave a digital footprint of my random thoughts, ideas and life in general.
If any of the articles helped you in any way, please donate. Thank you for your help.
Affiliate Compensated: there are some articles with links to products or services that I may receive a commission.