I passed the Microsoft Azure Administrator Certification AZ-104 and I'm not sure if this will be my final certification I will be doing this year. Like most of the previous certifications, I did this one online via PearsonVue. Strangely this time, I didn't have to speak or have someone check my details and environment, maybe because I've done this a few months ago with my AWS Cloud Practitioner exam CLF-C01.
The other certificates I have obtained are:
This time round, I didn't feel like I was completely prepared compared to the AWS exam. I spent around 2 days studying and listening to the LinkedIn courses. Having some previous knowledge from the AWS Cloud Practitioner doesn't help as much since the questions are focused on the Microsoft Azure platform. Microsoft also recently updated the exam on the 28th of July 2023 and there were a few minor and major changes that you should be aware of. In particular, the skills measured changed from this:
Manage Azure identities and governance 15-20%
Implement and manage storage 10-15%
Deploy and manage Azure compute resources 25-30%
Configure and manage virtual networking 30-35%
Monitor and back up Azure resources 10-15%
To this:
Manage Azure identities and governance (20–25%)
Implement and manage storage (15–20%)
Deploy and manage Azure compute resources (20–25%)
Implement and manage virtual networking (15–20%)
Monitor and maintain Azure resources (10–15%)
As you can see above, there is no more the configure virtual network topic as this is more for architects. Therefore the distribution is now more even across the first 4 topics.
In my exam, the first part of the exam was a case study and included 5 questions relating to the case study. The rest of the exam was a combination of multiple choice, Yes/No, multiple sections and even hotspot questions (you have to select the correct options on an image).
In total, I had 49 questions to answer and spent roughly 40 minutes. I didn't even review the questions I marked for REVIEW as I felt I answered enough questions to pass. I scored 781 and this was the breakdown of the performance: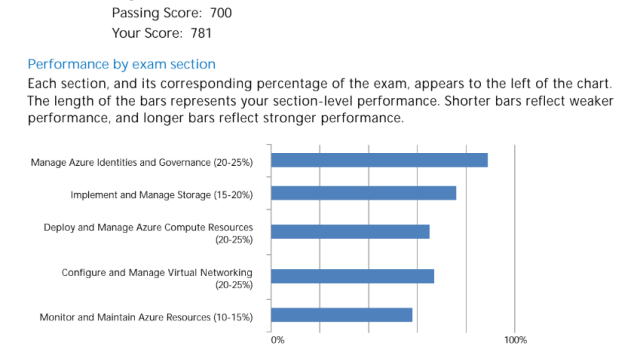 Here's a copy of the certificate which you can download from your certification section of the Learn account. You can view my one here: Microsoft Certified Azure Administrator Associate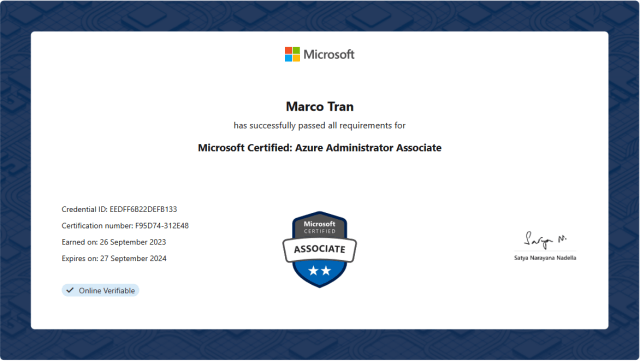 Some resources you can use to pass the exam are:
YouTube videos – search for AZ-104
Practice tests and exam dumps
I'm thinking that maybe for my next exam, I will try to obtain the Google Cloud Digital Leader, that way I have a certification across the 3 cloud computing companies that way I will be Cloud Smart.
Hope this helps and if it does please share it with others. Good luck!

If this article helped you in any way and you want to show your appreciation, I am more than happy to receive donations through PayPal. This will help me maintain and improve this website so I can help more people out there. Thank you for your help.
HELP OTHERS AND SHARE THIS ARTICLE
LEAVE A COMMENT

I am an entrepreneur based in Sydney Australia. I was born in Vietnam, grew up in Italy and currently residing in Australia. I started my first business venture Advertise Me from a random idea and have never looked back since. My passion is in the digital space, affiliate marketing, fitness and I launched several digital products. You will find these on the portfolio page.
I've decided to change from a Vegetarian to a Vegan diet and started a website called Veggie Meals.
I started this blog so I could leave a digital footprint of my random thoughts, ideas and life in general.
If any of the articles helped you in any way, please donate. Thank you for your help.
Affiliate Compensated: there are some articles with links to products or services that I may receive a commission.