If you're like me and have been using Glad Wrap or plastic food wraps to cover bowls, plates, pots and food then you may want to make the switch and use silicone stretch lids. I recently purchased a 14 pack set and thought I'd review them. We decided to buy this set to help reduce plastic waste and save the environment. Long term, you will also be saving money from buying plastic wraps and they are becoming more popular. The best thing about the silicone lids is that they fit over the top of the container and give a perfect seal.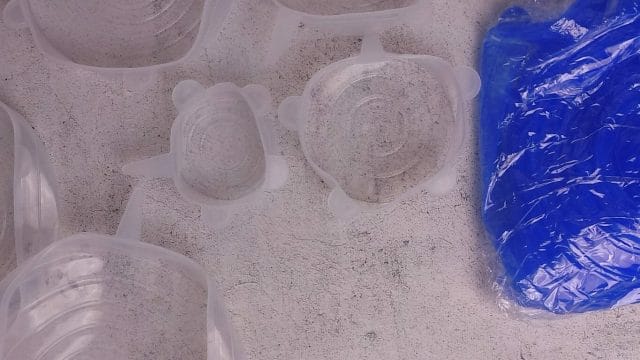 You can buy the Silicone Lids pack here:
The silicone stretch lids pack I purchased is made out of food-grade silicone and it easily stretches to fit a specific size of the bowl. The package that I purchased came with 14 lids, 7 different sizes in white and 7 different sizes in blue. The sizes are 2.6″, 3.8″,4.5″, 5.7″,6.5″, 8.1″ and 9.8'' diameter.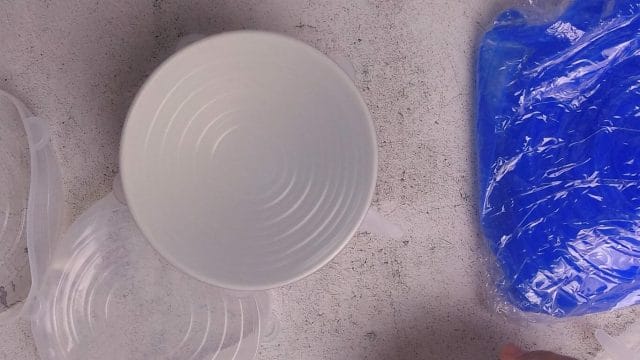 It is also meant to be leakproof and in the video, I demonstrated this when I had soup in the bowl.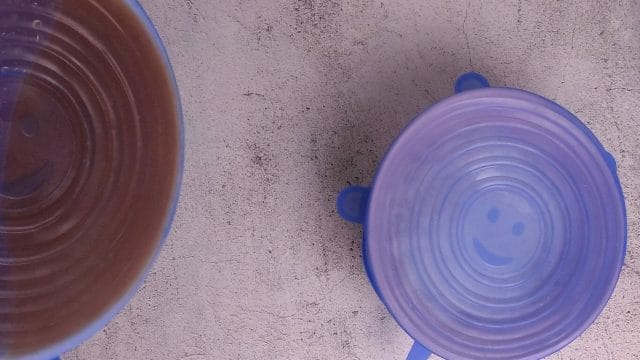 I haven't tried using them on square bowls but apparently, it should work. They are meant to be dishwasher, microwave and refrigerator safe but I've only used them in the refrigerator.
On the edges of the stretch lids, there are small tabs and one long tab. You use the small tabs to help stretch and push the lid to cover the bowl. With the long tab, you use that to peel open the cover.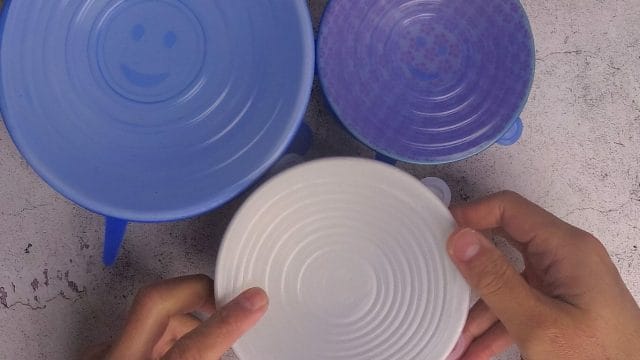 When I took them out of the plastic bags, they felt a bit sticky and it's probably because of the silicone. They do need to be cleaned and cleaning is very easy to do. Simply wash them using dishwashing soap. Here's the video of the unboxing and review:
Here's a video transcript:
Hello, everybody in this video I'm going to review these silicone stretch lids, which can be used instead of flat, wrap to cover bowls with food that you keep in your refrigerator, [, Music ], I'm just going to open them up. This has 14 in this pack.
It comes in two colours, white and blue Colors. So we'll open these up. So there are a few sizes here.
So there's seven in each of the colour packs. It's got a small size, probably for small, saucepans or cups or and there's also a little. Oh, this large one, that's probably used to cover pots, so I've got a few bowls here, so this is uh a small bowl, so this one might work this.
One here will probably work. It has these little flaps which you can use to pull and cover. So this one basically covers the whole bowl.
I guess it's can be used for other sizes. You just got to keep pulling it down if the ball is a bit bigger. So let me try this for here, which is a lot bigger than this one I'll see whether this cover lid cover will do the job, and I think it might be too big for it.
So what I'll do is I'll grab this one? Here it's got this little flap, so you can easily remove it. Let's see if this one here can be used, it's all about stretching it out and it does and all you're doing is saving a lot of glad wrap, Especially if you have food that you want to keep in the fridge overnight. So that's the bowl.
Now I have a much bigger bowl compared to this one, so you can see that in terms of size, a lot different, I'm pretty sure I'll use this other bigger size. So just pull these little flaps on the edges, just pull them so that it covers the top of the bowl This one here you can cover it. It's not actually centred.
All the way fully covers the bowl. This one is pretty good. Let me try a couple of the blue ones, so you just have to mix and match to see whether a particular size fits within your bowl and they're very easy to clean, exactly the same size as the other one, the white ones, Small ones.
So let me try this one here, which I think I can use on this one. It would be good if you can actually just select particular sizes. There you go, so you got a picture of a smiley face too.
This is bowl and I'll put a blue one on it. So if you've got these 14 packs and you have two of each and using the same ball size, You can only cover two. If you do the math, obviously there you go another smiley face.
So all up, it's very fairly good. Three bowls were covered put in the fridge. No more glad wrap, save the planet.
There you go, I've got the silicone covers, they've been used to cover this bowl that has soup in it and one with noodles. So I'm going to show you that it's the cover is sort of leakproof, so I'm just putting it upside down and putting it on the sides and it's not leaking and to remove it. You just got to lift with this tab to remove the silicone cover.
It's pretty good that it didn't leak. It's very a lot of liquid in there in the soup is with the noodles. The noodles are also leak proof.

If this article helped you in any way and you want to show your appreciation, I am more than happy to receive donations through PayPal. This will help me maintain and improve this website so I can help more people out there. Thank you for your help.
HELP OTHERS AND SHARE THIS ARTICLE
LEAVE A COMMENT

I am an entrepreneur based in Sydney Australia. I was born in Vietnam, grew up in Italy and currently residing in Australia. I started my first business venture Advertise Me from a random idea and have never looked back since. My passion is in the digital space, affiliate marketing, fitness and I launched several digital products. You will find these on the portfolio page.
I've decided to change from a Vegetarian to a Vegan diet and started a website called Veggie Meals.
I started this blog so I could leave a digital footprint of my random thoughts, ideas and life in general.
If any of the articles helped you in any way, please donate. Thank you for your help.
Affiliate Compensated: there are some articles with links to products or services that I may receive a commission.