A few weeks ago my Holden Astra car wouldn't start. The car battery was roughly 1 year old and was surprised that there would be an issue with it. I decided to take out the Gooloo 800 AMP car jump starter power bank which I purchased roughly over 1 year ago. It was still brand new in the box and never actually had to use it. I initially thought that maybe the car battery was completely dead or it needed to be recharged so I could have easily jump-started the car using the Renault Koleos but thought that maybe it was time to use the Gooloo. You can buy the jump starter from here: GOOLOO JUMP STARTERS

When I opened the Gooloo box, the jump starter power bank and accessories were all inside a zipped bag.

Inside the zipped bag you will find the jump starter cables, the car jump starter power bank, power adaptor, car cigarette adaptor and the manual.

When tested to see how much battery charge was left I was surprised it was roughly 80% charged but there is a notice saying to fully charge the power bank before using it. Make sure you do this.

On the side of the power bank, there is an input port (15V ~ 1A), output port (12V ~ 10A), USB Output port (5V ~ 2.1A), USB3.0 5V ~ 2.4A/9V~2A and a torch button.

There is a torchlight at the front along with the cable inputs.

Having the torch and the USB to charge other devices is useful but the primary use of this car jump starter is to use it with a car. When I tested this with the Holden Astra there was no issue with starting the car.

You just need to make sure the jumper cables are connected the right way. The instruction on the back of the jump starter cables is:
Don't press the "BOOST" before connecting the car battery
Don't connect 2 clamps
Only for 12V vehicles. RED clamp for "+", BLACK clamp for "-"
Green light on. Start the engine
Red-light on with buzzing, reverse connection. Re-connect as step 3
Green light blinking with buzzing, press "BOOST" start the engine within 30s
No lights on and no buzzing, make sure correct connection, press "BOOST" start the engine within 30s.
If you see a green light when it's connected correctly then proceed with starting the car and it should work.

Here's a video of the unboxing, review and how to jump start the car using the Gooloo 800 AMP car jump starter power bank.


If this article helped you in any way and you want to show your appreciation, I am more than happy to receive donations through PayPal. This will help me maintain and improve this website so I can help more people out there. Thank you for your help.
HELP OTHERS AND SHARE THIS ARTICLE
LEAVE A COMMENT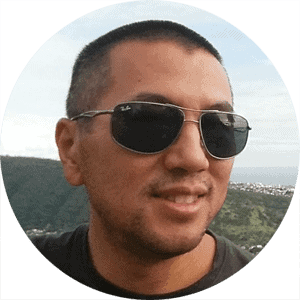 I am an entrepreneur based in Sydney Australia. I was born in Vietnam, grew up in Italy and currently residing in Australia. I started my first business venture Advertise Me from a random idea and have never looked back since. My passion is in the digital space, affiliate marketing, fitness and I launched several digital products. You will find these on the portfolio page.
I've decided to change from a Vegetarian to a Vegan diet and started a website called Veggie Meals.
I started this blog so I could leave a digital footprint of my random thoughts, ideas and life in general.
If any of the articles helped you in any way, please donate. Thank you for your help.
Affiliate Compensated: there are some articles with links to products or services that I may receive a commission.