Another hot day and what made it worse was the car had a problem with the air conditioner. It wouldn't turn on for some reason but I'm assuming because the outside of the car hit 41 degrees – maybe? When I was inside the car, I was sweating like crazy. The other thing I noticed with the car is whenever I changed gears, I could hear a few crunching noise and I do hope it's not a transmission issue.
Below is a summary of today's main activities, tasks and accomplishments:
Put together requirements for client's approval
Look at an interesting technology to potentially replace Beacons
[bar group="124″]
FITNESS WORKOUT
Today, I did a fitness workout which consistent of the below exercises:
Interval Rowing – 500 m, 5 burpee pull ups, 500 m, 5 burpee pull ups, 500 m, 5 burpee pull ups, 500 m, 5 burpee pull ups
Barbell Curls Half Reps – 5 Bottom, 5 Top, 5 Full (40pounds straight bar, 50 pounds straight bar, 60 pounds EZ bar)
Shoulders Upright Row – (10x 40pounds straight bar, 10x 50 pounds EZ bar, 10x 60 pounds EZ bar)
Straight Bar Shoulder Press – (10x 40pounds straight bar, 10x 50 pounds EZ bar, 10x 60 pounds EZ bar)
Cable overhead tricep extensions – 10x 7.5kg , 10x 11kg,10x 7.5kg
Rope pushdown – 10x 7.5kg , 10x 11kg,10x 7.5kg
Ab crunches – 150
Running 1km – 4:59 at 12km/h for 3 min and 2 min at 14km/h
I decided to go a bit lighter on the weights and try to focus on the eccentric motion instead of the concentric. Basically, the concentric movement is the part when you lift the weight (contract the muscle). Whereas the eccentric movement focuses on bringing the weights to its initial position. So if you're doing a barbell curl, the concentric is when you're lifting the bar (doing the curl) and the eccentric is when you bring the bar back down but in a controlled way. The eccentric movement results in a more pressure being applied to every muscle cell i.e tears the muscle which in turns helps the muscle grow. In the exercises I did today, I tried going slow and controlled in the eccentric movement.
I'm currently 68.1 kg.
[bar group="126″]
VEGETARIAN FOOD & MEALS
Breakfast
Half a bowl of the left over lasagna – yes still trying to finish off the food from The Vego Party
Lunch
Roasted potatoes, creamy potatoes with apple, bread roll x1.5 with veggie pattie and salad.
Dinner
Bread rolls with left over vegetarian buffalo soy. Rice with potatoes and vegetarian buffalo soy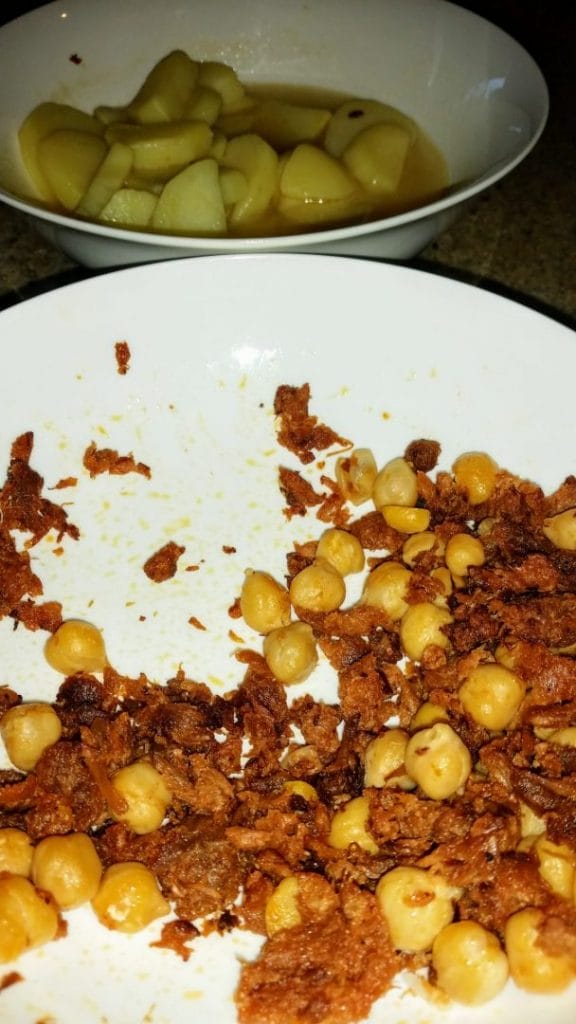 [bar group="125″]
DAILY REFLECTION
The Language Barrier – I struggle to have conversations with my parents because I'm unable to really use the right words they could understand in Vietnamese or in Italian. My mum is unable to understand English so I use words mixed in Vietnamese and in Italian – that's how we've communicated all this time. The problem is my Vietnamese and Italian vocabulary is very limited and the real struggle begins when I have to use an English word in the conversation knowing they don't understand. So yes, the language barrier is hard to overcome. I can understand more than I can speak in Vietnamese and in Italian. My brothers and sisters always mock me whenever I speak to my mum.
[bar group="127″]


If this article helped you in any way and you want to show your appreciation, I am more than happy to receive donations through PayPal. This will help me maintain and improve this website so I can help more people out there. Thank you for your help.
HELP OTHERS AND SHARE THIS ARTICLE
LEAVE A COMMENT

I am an entrepreneur based in Sydney Australia. I was born in Vietnam, grew up in Italy and currently residing in Australia. I started my first business venture Advertise Me from a random idea and have never looked back since. My passion is in the digital space, affiliate marketing, fitness and I launched several digital products. You will find these on the portfolio page.
I've decided to change from a Vegetarian to a Vegan diet and started a website called Veggie Meals.
I started this blog so I could leave a digital footprint of my random thoughts, ideas and life in general.
If any of the articles helped you in any way, please donate. Thank you for your help.
Affiliate Compensated: there are some articles with links to products or services that I may receive a commission.