In this post, I'm going to share with you how much I earned from the YouTube Partner Program monetisation. In a previous post, I wrote a post about being accepted in the YouTube Partner Program after reaching the requirement. Here's the article to that post: MY YOUTUBE CHANNEL IS GETTING MONETISED

I took this screenshot of the YouTube Studio dashboard with a date filter of a week (from the 20th December 2021 till 26th December 2021).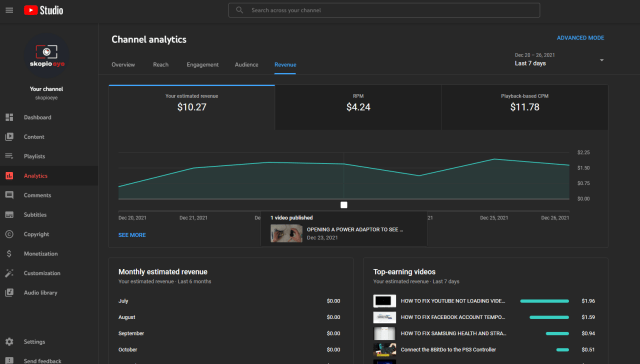 Here's a video of me breaking down the earnings:
My earnings for the first week was $10.27.
The RPM (Revenue per mille) is $4.24.
What is RPM?
According to YouTube, this is what RPM means:
RPM means revenue per mille and tells you how much you earned per thousand views. To calculate your RPM, your estimated revenue is divided by your total views in the same time period.

Your estimated revenue includes revenue from ads, YouTube Premium, memberships, Super Chat, and Super Stickers. This is the actual revenue you earned after YouTube's revenue share.

Total views is defined as all views, including views that weren't monetized. It doesn't include views in the YouTube Shorts player.

Because RPM is calculated with your share of the revenue and includes views that weren't monetized, it's typically lower than the playback-based CPM.
The Playback based CPM (Cost per mille) is $11.78
What is CPM?
According to YouTube, this is what CPM means:
Playback-based CPM means effective playback-based cost per mille and tells you how much advertisers paid per thousand monetized playbacks.

To calculate your playback-based CPM, the total revenue from ads is divided by estimated monetized playbacks. An estimated monetized playback happens when a viewer sees at least one ad impression when watching one of your videos.
The top 2 earning videos for this period are:
HOW TO FIX YOUTUBE NOT LOADING VIDEO SPINNING CIRCLE – this video earned $1.96
HOW TO FIX FACEBOOK ACCOUNT TEMPORARILY UNAVAILABLE – this video earned $1.59
HOW MUCH WILL I EARN IN A YEAR?
Based on the above figures and the number of views per day my channel gets, I would earn around $365- $400 per year. This will be the estimated revenue if the channel gets 1000 views per day. Also, keep in mind that the revenue doesn't take into account the 30% tax that needs to be paid.
Below is a rough guide of how much I'll be earning based on the number of views at roughtly $1 per mille per day:
1,000 views = $1 per day = $365 per year
10,000 views = $10 per day = $3,650 per year
100,000 views = $100 per day = $36,500 per year
1,000,000 views = $1000 per day = $365,000 per year
In order for my channel to earn $10 per day I would need to somehow get around 10,000 views per day on the channel which is a factor of 10x. Since I'm posting around 1 video per week, I would need to increase the frequency to around one per day and hope some of the videos go viral (unlikely as my videos are targeted to a specific audience).
This is not bad for a passive income and I can see why some YouTubers do this full time but it does take a lot of dedication and work to get the YouTube channel to a $100 per day income.
YOUTUBE AD TYPES BREAKDOWN
Here's the breakdown of the YouTube ad revenue types:
Skippable video ads (Auction) – 64.7%
Non-skippable video ads (Auction) – 12%
Display ads (Auction) – 11.6%
Bumper ads (Auction) – 11.5%
Unknown – 0.2%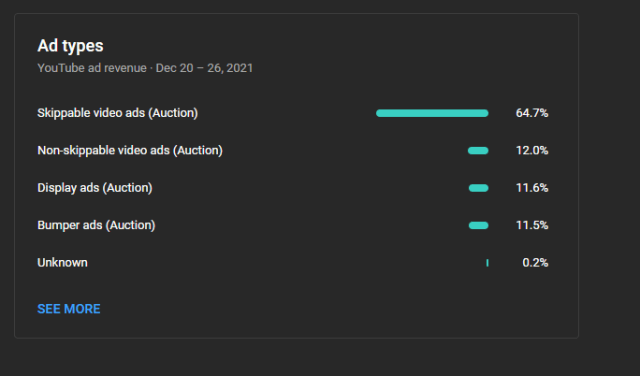 Skippable video ads
These are ad videos that are either at the start, in the middle or at the end of the video. After 5 seconds of playing this video ad, a SKIP ADS button is displayed and the viewer can press on this button to skip the ad.
Non-skippable video ads
These are similar to the above ads but they are only displayed at the beginning of the video. They are generally 15 or 20 seconds in length (depending on the regional standards) and there is NO SKIP ADS button.
Bumper ads
These are also non-skippable video ads but they are up to 6 seconds compared to the non-skippable video ads (15/20 seconds). There is also no SKIP ADS button on these. I'm assuming the would cost less compared to the longer video ad.
Display ads
These are overlay images or text ads that will appears at the bottom part of the video. They will be similar to the Google Ads you see on websites.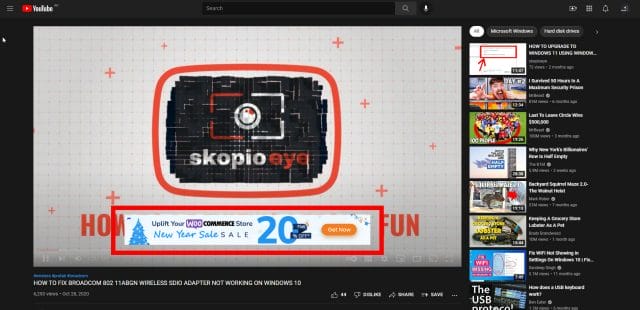 Based on the above information, in order to increase your YouTube revenue the idea would be to have more of the Bumper and Non skippable ads as you're guaranteed to earn money from displaying these ads.
As this is the first weeks worth of revenue, I do plan of sharing my monthly and yearly revenue as well. The hope is that by the end of the year, my number of views should increase if I still consistently post videos or if a video goes viral. There is a lot of time, dedication and luck required in order to make a video go viral.
This will be my last post for the year, I hope you all have a great new year and I hope you continue to follow my digital journey. I was able to achieve a few goals this years and was consistent in my fitness and business activities. Good luck to you all and don't forget to subscribe to my newsletter.

If this article helped you in any way and you want to show your appreciation, I am more than happy to receive donations through PayPal. This will help me maintain and improve this website so I can help more people out there. Thank you for your help.
HELP OTHERS AND SHARE THIS ARTICLE
LEAVE A COMMENT

I am an entrepreneur based in Sydney Australia. I was born in Vietnam, grew up in Italy and currently residing in Australia. I started my first business venture Advertise Me from a random idea and have never looked back since. My passion is in the digital space, affiliate marketing, fitness and I launched several digital products. You will find these on the portfolio page.
I've decided to change from a Vegetarian to a Vegan diet and started a website called Veggie Meals.
I started this blog so I could leave a digital footprint of my random thoughts, ideas and life in general.
If any of the articles helped you in any way, please donate. Thank you for your help.
Affiliate Compensated: there are some articles with links to products or services that I may receive a commission.