I just received an SMS from an unknown mobile number and I was pretty sure it was a scam. Please read this article before you take any action.

The SMS number starts with 0400 and ends with 287. I didn't include the other numbers just in case I'm wrong, but I thought I'd share my logic as to why I think it's a scam in case some vulnerable people also received this message.
Here's the full message:
Hi xxxx,

We'rereceived Rapid Antigen Test but very limited number. if you still need them please come or ring tomorrow morning to reserve yours.

Thank you Reply STOP to opt-out
Here's a list of reasons why I think the SMS is a scam.
The xxxx was actually someone I know in my family, so the message was not directed to me.
There are a lot of gramattical errors such as "We'rereceived", should be "We've received" and "if" should be "If". I'm sure a business wouldn't be including these errors in their customer communication messages.
There is no mention who the business is or where they are from.
My guess is that the scammers are intending to get the person to call or message back asking who it is and which business they are from. So even with the STOP message to opt out – DON'T DO IT. Don't reply or call!
If you respond to the scammer's message, then they will most likely mark your mobile number as active and then they will try to contact you to purchase the Rapid Antigen Test. They may even call you and ask you they can reserve stock but you need to pay for the Rapid Antigen Tests over the phone using your credit card but don't do it.
The best thing you can do is not reply, mark the message as spam and block it. On Android just click on the message and at the top right-hand corner click on the menu (3 dots)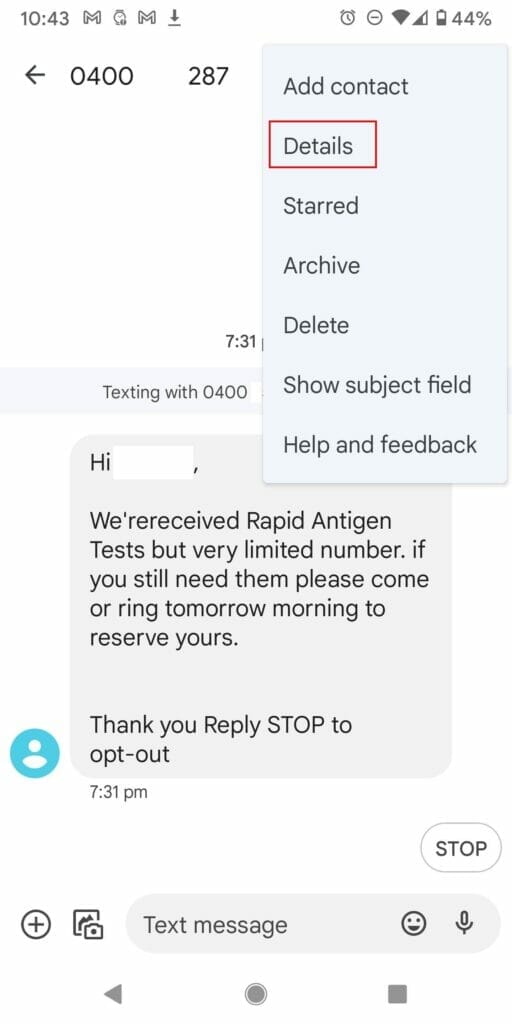 Then click on Block and report spam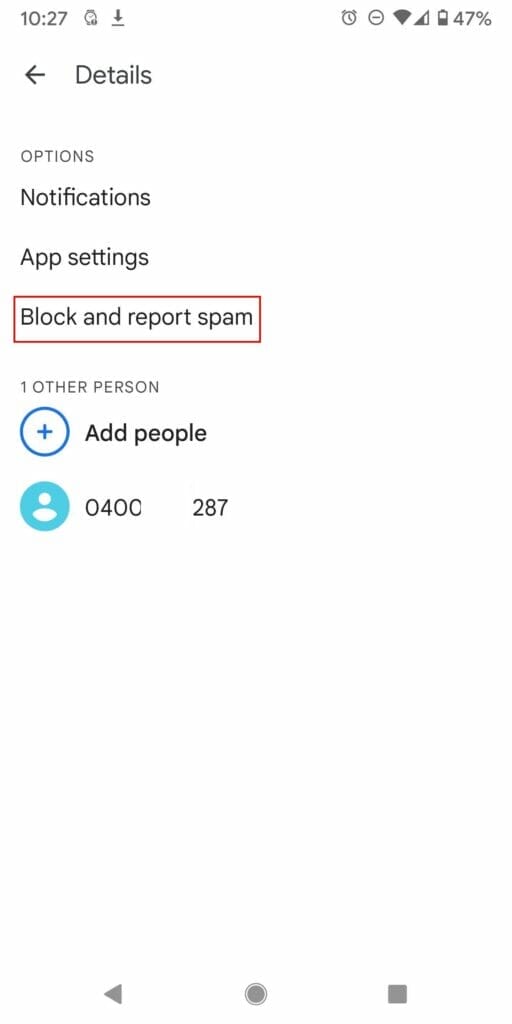 Press on OK and you will not receive any further messages from this number.
As always just be cautious when you receive these types of messages and I don't want you to fall victim to these types of scams. I hope this helps and if it does please share it with others.

If this article helped you in any way and you want to show your appreciation, I am more than happy to receive donations through PayPal. This will help me maintain and improve this website so I can help more people out there. Thank you for your help.
HELP OTHERS AND SHARE THIS ARTICLE
LEAVE A COMMENT

I am an entrepreneur based in Sydney Australia. I was born in Vietnam, grew up in Italy and currently residing in Australia. I started my first business venture Advertise Me from a random idea and have never looked back since. My passion is in the digital space, affiliate marketing, fitness and I launched several digital products. You will find these on the portfolio page.
I've decided to change from a Vegetarian to a Vegan diet and started a website called Veggie Meals.
I started this blog so I could leave a digital footprint of my random thoughts, ideas and life in general.
If any of the articles helped you in any way, please donate. Thank you for your help.
Affiliate Compensated: there are some articles with links to products or services that I may receive a commission.