I hit another milestone and managed to run at least 5KM per day for 200 days. You can read my other posts here: 5KM FOR 30 CONSECUTIVE DAYS OF RUNNING or RUNNING 100 DAYS 5KM PER DAY – THE ENTREPRENEUR MINDSET
How is my body feeling?
My body is feeling fine and strong. It's not sore at all and I believe my body is now used to running every day. In actual fact, since the COVID-19 lockdown, I've also been working out on a daily basis via zoom with a couple of friends. It's been about 6 weeks of doing at least 40 minutes of bodyweight workouts. I will share my workouts in another post in the near future.
When will I stop?
I honestly don't have a goal. I'm just aiming to maybe hit 300 days or 365 days. The biggest goal is to make sure I don't get injured or hurt from doing this and keeping fit.
What have I learnt from all this running?
The mind is stronger than the body. If you're dedicated and motivated to grow and achieve your goals then you will hit any milestone you put in front of you.
Now, on my 200th day, I decided to be a bit creative with the run and did some Strava art. If you can't tell, I drew the number 200 on my run. Hope you like it.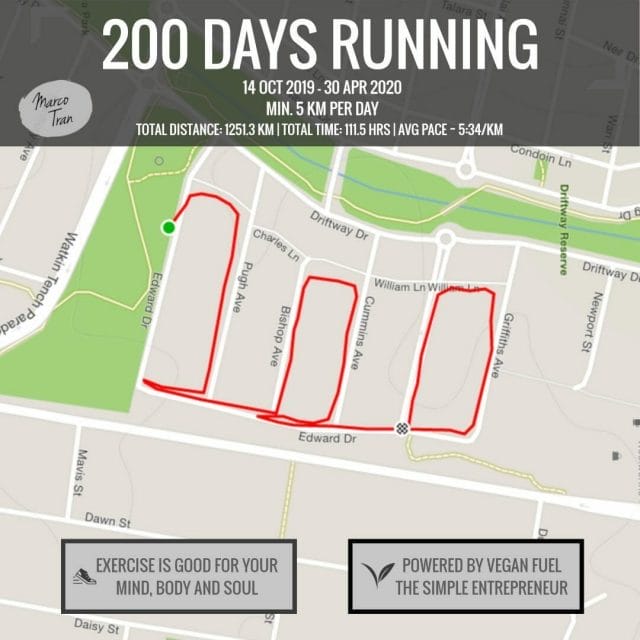 If this article helped you in any way and you want to show your appreciation, I am more than happy to receive donations through PayPal. This will help me maintain and improve this website so I can help more people out there. Thank you for your help.
HELP OTHERS AND SHARE THIS ARTICLE
LEAVE A COMMENT

I am an entrepreneur based in Sydney Australia. I was born in Vietnam, grew up in Italy and currently residing in Australia. I started my first business venture Advertise Me from a random idea and have never looked back since. My passion is in the digital space, affiliate marketing, fitness and I launched several digital products. You will find these on the portfolio page.
I've decided to change from a Vegetarian to a Vegan diet and started a website called Veggie Meals.
I started this blog so I could leave a digital footprint of my random thoughts, ideas and life in general.
If any of the articles helped you in any way, please donate. Thank you for your help.
Affiliate Compensated: there are some articles with links to products or services that I may receive a commission.