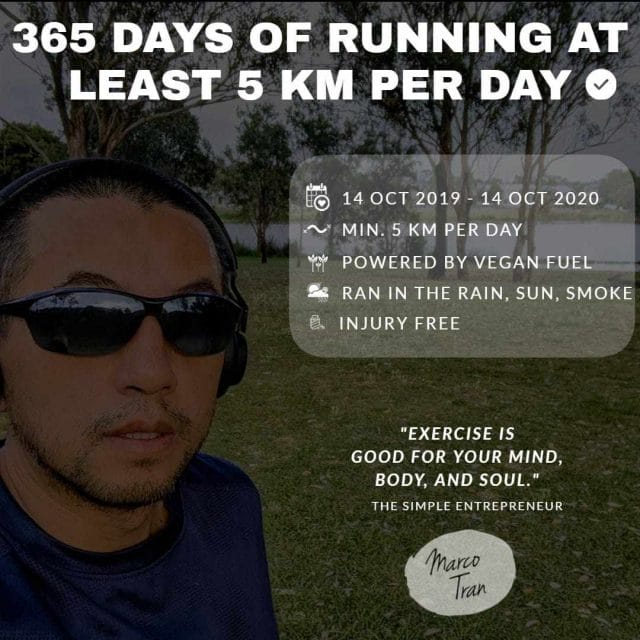 I made it everyone! I've run at least 5 KM per day for the past 365 days. What a journey it's been and will continue to be. Some of my friends have asked me whether I will stop when I hit 365 days and I honestly don't know. Since I have formed this good habit of getting up and going for a run, I might as well continue doing it and when I do need to take a break I can without feeling any regrets.
Here are some previous posts of this journey:
Here's a quick video reflection during my run:
As mentioned in the video, there are 3 key areas that you need to do this 365 challenge:
Dedication
Persistence
Strong mind
I've mentioned some of these in my previous posts so have a read when you have time. If you plan on doing a 365-day challenge, I would recommend you break it down to the following targets. So basically, aim to hit each milestone and don't give up – that's where the persistence will kick in:
7 days
30 days
100 days
200 days
300 days
365 days
Now, if you're a beginner and haven't been running frequently then I would suggest you run 2 KM 3-4 times a week with a rest day in between just so your body can get use to the running exercise.
From listening to a lot of podcasts, most of the successful people form good habits in the early stages of their lives and I wish I did this earlier. If you are deciding to start a 7-day or 30-day challenge, leave me a comment below to make yourself accountable and good luck.

If this article helped you in any way and you want to show your appreciation, I am more than happy to receive donations through PayPal. This will help me maintain and improve this website so I can help more people out there. Thank you for your help.
HELP OTHERS AND SHARE THIS ARTICLE
LEAVE A COMMENT

I am an entrepreneur based in Sydney Australia. I was born in Vietnam, grew up in Italy and currently residing in Australia. I started my first business venture Advertise Me from a random idea and have never looked back since. My passion is in the digital space, affiliate marketing, fitness and I launched several digital products. You will find these on the portfolio page.
I've decided to change from a Vegetarian to a Vegan diet and started a website called Veggie Meals.
I started this blog so I could leave a digital footprint of my random thoughts, ideas and life in general.
If any of the articles helped you in any way, please donate. Thank you for your help.
Affiliate Compensated: there are some articles with links to products or services that I may receive a commission.